Federal Skilled Worker
There are a number of available routes for UK citizens who wish to work in the UK. The Federal Skilled Worker program is a route available to individuals with specific skills who meet eligibility requirements.
Speak to Total Law today for immediate advice and support with your visa application. Our immigration advisors are on hand to assist with all aspects of your application process.
Call 0333 305 9375 or use the online form to request a callback. Phone for an immediate discussion with our immigration experts.
What is the Federal Skilled Worker Program?
UK citizens can enjoy a range of opportunities when it comes to immigration options for Canada. One of the available routes is the Federal Skilled Worker route.
Some of the most popular locations in Canada for UK citizens include:
Ontario
British Columbia
Alberta
Some of the program stipulations include the following:
Qualifying experience as a skilled worker
English or French language abilities
Appropriate educational history
It is essential that you meet all criteria in order to be considered. Following this, your application will be judged on whether you meet these six factors:
How old you are (12 points)
Your highest level of education (25 points).
Your career history (15 points)
Holding a valid offer of employment (10 points)
Your English and/ or French language skills (28 points).
How likely it is for you to settle permanently (10 points).
You must obtain at least 67 points out of 100 under the points-based system to qualify for the Federal Skilled Worker Program.
If you meet the requirements of the program, you can submit your application of interest to the express entry tool.
This means that your application will be assessed, and if accepted, you will be invited to apply for the Federal Skilled Worker program directly.
If you are a UK citizen, we can help you with your visa application. Speak to one of our expert immigration lawyers today for an immediate discussion about your case.
Whether you are applying for an immigration program, permanent residency, or to become a Canadian citizen, our qualified immigration lawyers are available to help you.
"I'm very happy with the standard of training received on the OISC Level 1 course, i passed my exam. Thank you!"
"My application was approved and a huge weight has been lifted from our shoulders this year "
"We used this service for the spouse visa extension application to assure that all the information was valid and correct."
Can I apply for a Federal Skilled Worker Visa?
To apply for this program, you should ensure that you meet the minimum requirements for Express Entry.
Below is a detailed outline of who can apply based on the requirements:
Relevant skilled work experience
Skilled work experience refers to roles within one of the following job groups (as outlined under the National Occupational Classification):
Managerial jobs (Skill Type 0)
Professional jobs (Skill Level A)
Technical jobs and skilled trades (Skill Level B)
Within these roles, you should have performed as a lead operator, carrying out all essential duties and most of the main duties.
In addition, your skilled work experience must be based on these criteria:
Within the same job category you wish to undertake in Canada
Took place within the last 10 years
The work was paid
You worked at least one year continuously (totalling 1,560 hours) or alternatively, an equal number of hours on a part-time basis spread over a longer time period
Language skills
To qualify for this visa, you are required to pass a French or English language test. You must pass your test in writing, speaking, listening, and reading skills.
You must obtain at least CLB 7 on the English test and NCLC7 on the French test in all four abilities.
When you have completed your test, you should enter your results to your Express Entry profile.
Educational background
If you attended school in Canada, you should be able to present proof of your attendance via a certificate, diploma, or degree from a secondary or post-secondary institution.
Alternatively, if you studied outside Canada, you should submit your certificate/ award as well as an Educational Credential Assessment (ECA) for immigration purposes from a designated organization.
Minimum funds
The amount of money you need to settle in Canada depends on the number of family members you wish to bring with you:
1 person: $13,213
2 people: $16,449
3 people: $20,222
4 people: $24, 553
5 people: 427,847
You must provide proof of funds unless you already hold the right to work in Canada or you have a formal job offer from an eligible Canadian employer.
Place you choose to live
You cannot live in Quebec under the Federal Skilled Worker program. This is because Quebec has its own route and you must apply directly via their application program.
How to apply as a UK citizen
UK citizens can apply for the Federal Worker route by following the below steps:
Ensure that you meet the minimum requirements for the Federal Skilled Worker program.
Prepare the supporting documents you need to submit with your application.
Obtain a written job offer from a Canadian employer (where relevant).
Gather your documents showing proof of eligible work experience, trade certification, and educational background (where relevant).
Present proof of finances
Fill out the application form for the Express Entry route.
Wait for a decision to be issued.
If you receive a positive decision, you will receive an invitation to apply to become a permanent resident in Canada.
You will be given instructions on how to apply and the steps you should follow.
What documents do you need for this visa?
The exact documents you need to submit will depend on your circumstances. During your application, you will be provided with a personal document checklist.
This will give you a list of the documents needed for your personal application.
In most cases, the Federal Skilled Worker document checklist includes the following:
Police certificates stating your clean criminal record
Medical (health and vaccination) certificates with confirmation of your health status
Bank statements or savings accounts statements showing proof of funds
Birth certificate (if you have dependent children)
Use of a legal representative form
Common-law union form (where relevant)
Certificate of marriage (where relevant)
Proof of cohabitation (e.g., joint bank accounts, leases, utility bills, etc.)
Certificate of divorce and/or legal separation (where relevant)
Death certificate of a spouse (where relevant)
Child adoption certificate (where relevant)
Proof of full custody of child dependents (where relevant)
If dependent child is aged 22 years of over, documents showing school records and transcripts since the age of 22, including letters of confirmation from the school
Proof of full financial support from parents since the age of 22
Copy of the pages of your passport or travel document for you and any dependents plus spouse
Certificate showing level of language proficiency
Two passport-style photographs of you and each family member
Proof of payment of the application fees
Professional qualifications certificates
Transcripts/ diplomas from higher education qualifications
Trade/ apprenticeship documents (where relevant)
How long is the processing time?
Approximately 80% of applications will be processed within six months.
Applying online via Express Entry is likely to result in a six-month waiting time.
Please note that due to the impact of COVID-19, applications have been slowed considerably and this is likely to impact your wait time.
To check your Canadian Federal Skilled Worker visa application status, visit the application status page.
Note that if there are any errors or inaccuracies in your application, you are more likely to have delays, which may be costly.
How much is the Federal Skilled Worker application?
The cost to apply for the program comes in two parts: the processing fee is $825 and the cost of right of permanent residence is $500, totalling $1,325.
Without the cost of the right of permanent residence, you can expect to pay $825.
To include your spouse or partner costs $1,325, but without the right of permanent residence for them, the cost is also $825.
To include a dependent child, you can expect to pay $225 per child.
How can Total Law help?
If you are interested in starting a new home in Canada permanently, we are here to help. Our team of lawyers is dedicated to helping you make your dream a reality through the Canada Federal Skilled Worker Program.
We can help assess your eligibility criteria for the immigration program, help you collect the necessary documents, and advise you on the best way to increase your CRS score.
If you need any help with completing the Express Entry process or with your application for permanent residence, we can help guide you through every step of the process. For more information about the services that we offer don't hesitate to get in touch with our team today at 0333 305 9375.
Advice Package
Comprehensive immigration advice tailored to your circumstances and goals.
Application Package
Designed to make your visa application as smooth and stress-free as possible.

Fast Track Package
Premium application service that ensures your visa application is submitted to meet your deadline.
Appeal Package
Ensure you have the greatest chance of a successful appeal. We will represent you in any case.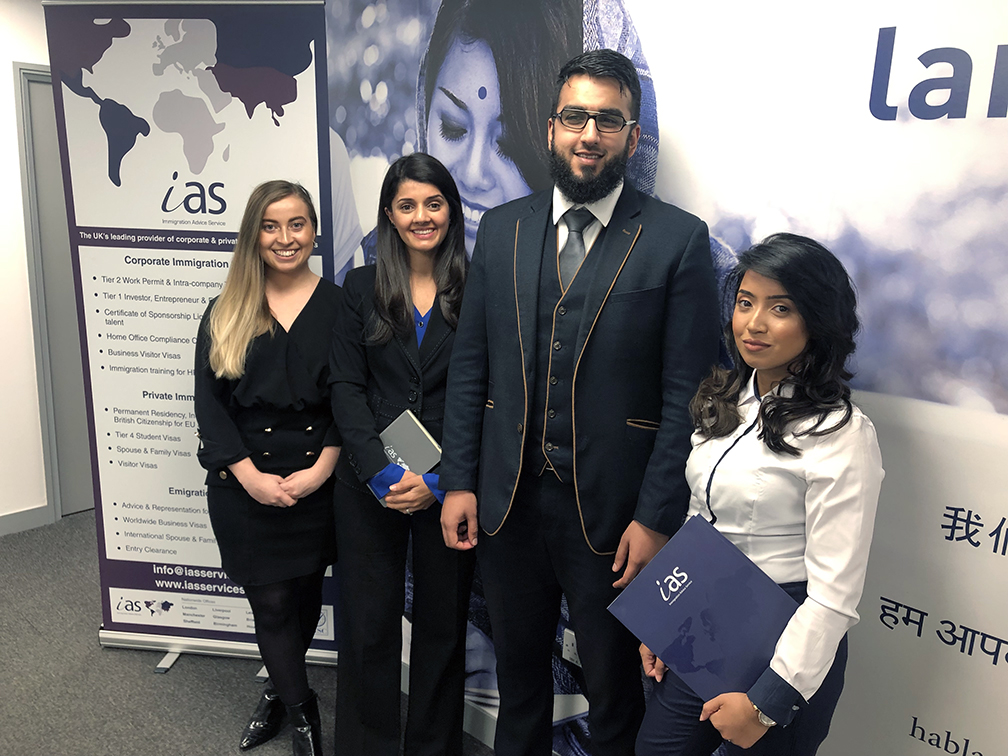 The Advice Package
During this untimed Advice Session with our professional immigration lawyers in London, you will receive our comprehensive advice, completely tailored to your needs and your situation.
Request the Advice Package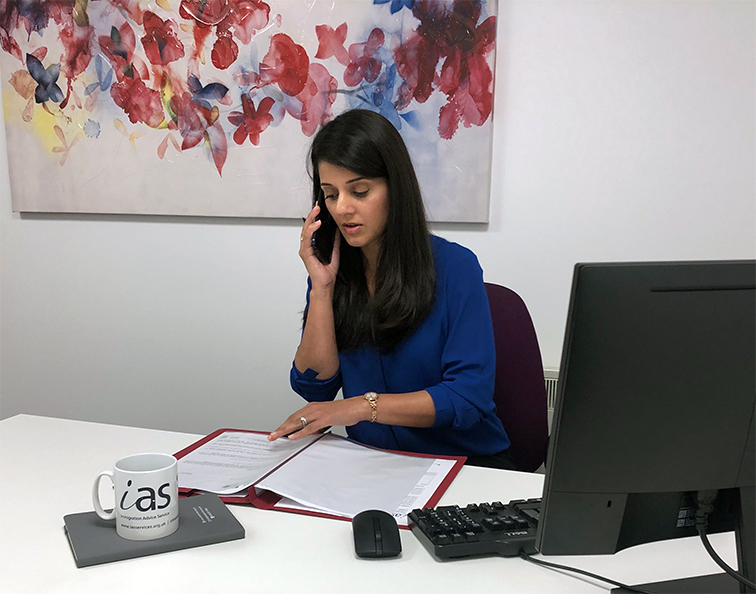 The Application Package
With our Application Package, your dedicated immigration lawyer will advise you on your application process and eligibility. Your caseworker will then complete and submit your forms to the Home Office on your behalf.
Request the Application Package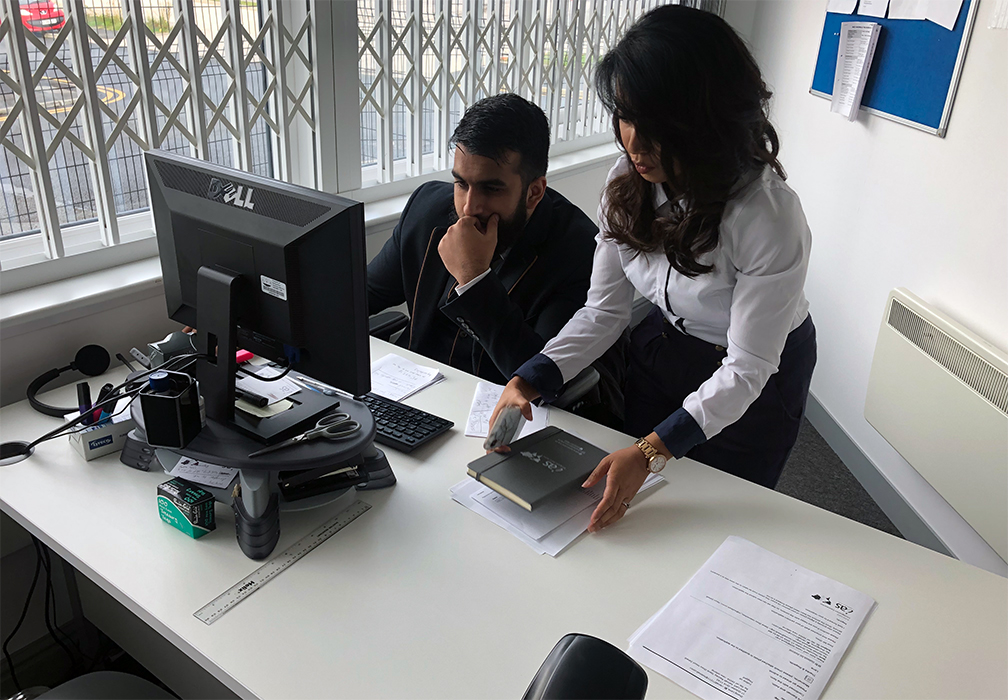 The Fast Track Package
Our Fast-Track Application Package is a premium service for those who need to submit their application in time with their deadlines. Your case will become a top priority for our lawyers and you will benefit from our highest-quality services.
Request the Fast Track Package
The Appeal Package
By choosing our Appeal Package, you can rely on our lawyers' legal knowledge and experience to ensure you have the highest chance of a successful appeal. We will also fully represent you in any hearings/tribunals.
Request the Appeal Package
Related pages for your continued reading.
Frequently Asked Questions
The FSW program has a 100-point system that scores individuals based on meeting certain eligibility criteria.
You must score at least 67 points under this system to be invited to apply for your chosen visa category.
The points are calculated when you can provide evidence of one of the six factors (age, education, work experience, language skills, offer of a job in Canada, and your degree of adaptability to life in Canada.
There are several immigration routes for UK citizens who want to move to Canada. Some of these options include:
It is recommended to apply based on the visa application you are most suited to based on your personal circumstances.
In your visa application, you must demonstrate to the satisfaction of the Canadian government that you meet the eligibility criteria set out in the Express Entry and FSW requirements.
For some immigration routes, you will be required to hold a valid job offer.
Please note that as a UK citizen, if you move abroad, you may be required to hold health insurance, choose a Canadian province that fits with your long-term plans, and inform the UK state pension agency if you leave the country.
Alternatively, you may be eligible for a temporary working visa.
If they meet eligibility criteria, your family member may be able to sponsor you to come to work in Canada. If they are a Canadian citizen aged over 18 years old (or a person registered as an Indian under the Canadian Indian Act), you may qualify for a visa under the family sponsorship route.
If you are unsure about your eligibility, you can work with a regulated Canadian immigration consultant to give you the most accurate and up-to-date advice.
Under the Federal Skilled Worker Program, there are 347 listed skilled roles whereby individuals can apply to become permanent residents (and even ultimately Canadian citizens) based on their qualifications.
The Canadian government uses the National Occupation Classification system to separate jobs based on the duties and the work performed.
These include:
Skill Type 0 (managerial):
Restaurant managers
Mine managers
Shore captains
Skill Level A (professional with a degree):
Doctors
Dentists
Architects
Skill Level B (technical with training):
Chefs
Plumbers
Electricians
Skill Level C (some high school and role-specific training):
Industrial butchers
Long-haul truck drivers
Food and beverage servers
Skill Level D (labour intensive, on-the-job training)
Fruit pickers
Cleaning staff
Oil field workers
Use the Canadian immigration information page to search for your job title and find out if it is on the list of eligible roles.