Family Sponsorship Canada for those in the UK
Canada supports family reunification through Family Class Sponsorship. If you are in the United Kingdom and have a family member who is a Canadian citizen or permanent resident, you may be able to apply for family sponsorship.
For more information or assistance with immigrating to Canada from the UK, please call 0333 305 9375.
What is family sponsorship in Canada?
Family Sponsorship or Family Class sponsorship is one of Canada's family reunification immigration programs. Through Family Sponsorship, Canadian citizens, permanent residents, and registered Indians can sponsor family members in the UK and other countries to settle in Canada.
Family sponsorship allows you to reunite with your family member who lives in Canada while also settling permanently in Canada; it is one of the most used immigration routes for immigrants all around the world because approved applicants are granted permanent residence.
After five years of holding PR status, Canadian permanent residents can become Canadian citizens if they meet the other requirements.
For more information or assistance with this immigration route, call us on 0333 305 9375 or email us at info@total.law.
"I'm very happy with the standard of training received on the OISC Level 1 course, i passed my exam. Thank you!"
"My application was approved and a huge weight has been lifted from our shoulders this year "
"We used this service for the spouse visa extension application to assure that all the information was valid and correct."
Who in the UK can be sponsored under family class?
Anyone in the UK can be sponsored to come to Canada under family sponsorship as long as they are immediate family members of a Canadian citizen, permanent resident, or person registered under the Indian Act. That means they should fit one of these categories:
Spouse, common-law partner, or conjugal partner
Dependent child
Parent or grandparent
Orphaned brother, sister, nephew, niece, or grandchild
Another relative, if you and the Canadian fits the requirements
Eligibility requirements for those in the UK
The Canadian government has specific requirements for each category. Before we look at them, we will look at the general eligibility criteria. They include that the sponsored relative:
Takes every effort to support themselves and dependents if they are not qualified to be dependents of the Canadian sponsoring them
Signs an undertaking with their responsibilities mapped out as part of the application process
Lives in the UK or, generally, outside Canada at the time of applying, they are in Canada as a temporary resident
Proves they are related to the sponsor
Poses no health risk to the general public of Canada
Has no bad criminal record
The different categories have varying criteria, so it's recommended you discuss with an immigration solicitor to save time and so your application provides enough evidence for your circumstance.
We look at the requirements for the British and the Canadian under each family category below.
Eligibility requirements for the Canadian citizen or PR
The Canadian citizen, permanent resident, or registered Indian that's sponsoring you must meet some requirements to be able to sponsor a foreign national to come to Canada under family sponsorship. That includes that they:
Are at least 18 years old
Are a citizen, permanent resident, or registered person under the Indian Act
Live in Canada when the UK person becomes a Canadian permanent resident
Have enough money to provide for the basic needs of the relative, specifically everyday living and health needs not covered by the public health services
Are not receiving social assistance from the government for reasons other than a disability
Are not bankrupt
Are not in debt due to a loan or unpaid child support
Are not in prison
Can prove they are related to the sponsored person
Have not received a removal order
Are not temporary residents, such as those on a visitors visa, study visa, or temporary work permit or work visa
Must already have been granted citizenship or permanent resident status, meaning their PR application shouldn't still be in the process
Requirements for sponsoring a child, spouse or partner
Requirement for UK citizen or resident who is a spouse or partner
Your Canadian partner can sponsor you if they are your conjugal partner, spouse, or common-law partner.
If they are your spouse, you must be:
Legally married to them
At least 18 years of age
If they are your common-law partner, you must:
Be at least 18 years old
Not be legally married to them
Have lived with them for at least 12 consecutive months in a conjugal relationship without any long periods apart
If they are your conjugal partner, you must:
Be at least 18 years old
Have been in a relationship with them for at least one year
Live outside Canada
Not be legally married to them or in a common-law relationship with them
Prove you are unable to live with them in the UK or marry them due to legal and immigration reasons such as your marital status or sexual orientation.
Requirements for dependent children
A Canadian can sponsor their dependent children who are in the UK to come to Canada. To be considered as dependent children, the child must:
Be under 22 years old
Not have a spouse or common-law partner
Be your own child, your spouse or partner's dependent child
If the child is older than 22, they may qualify as a dependent child if they:
Are unable to financially support themselves as a result of a mental or physical condition.
Have depended on their parents for financial support since before they became 22 years old
Requirement for the Canadian looking to sponsor a partner or child
Canadian immigration also has some requirements for Canadians who want to sponsor their child, common-law partner, conjugal partner or spouse. In addition to meeting the general requirements described above, they must:
Not have been sponsored by a spouse or partner to become a permanent resident less than five years before now
Not still be financially responsible for a previous spouse or partner that they sponsored.
There are other stipulations that may stop them from being able to sponsor you. Including that they:
Already applied to sponsor you, but Canadian immigration hasn't decided on that application.
Didn't pay back or have missed payments for an immigration loan, performance bond, or court-ordered family support payment.
Didn't financially support a relative they sponsored in the past despite signing a previous sponsorship undertaking for that
Were convicted of attempting, threatening to commit, or committing a violent criminal offence, an offence against a relative, or a sexual offence within or outside Canada?
Requirements for sponsoring a parent or grandparent
Those who have children or grandchildren who are Canadian citizens or permanent residents can be sponsored to come to Canada if they are their parents or grandparents by blood or adoption.
If the UK people are parents or grandparents of the Canadian's spouse (in-laws), the Canadian is not eligible to sponsor them, but they can be co-signers in the in-law's application when the spouse chooses to sponsor their parents or grandparents.
The Canadian must meet the income requirements for three tax years for all the people (parents, grandparents, and dependents) they want to sponsor. Contact us for advice or assistance with sponsoring your parents or grandparents.
Requirements for sponsoring a sibling, niece, nephew or grandchild
You can sponsor your brother, sister, niece, nephew, or grandchild if they are:
Orphaned: both their mother and father have passed away
Under the age of 18
Related to you by blood or adoption
Not married, in a common-law relationship, or a conjugal relationship
Canadian immigration is specific about this category being for those that are orphaned. As a result, the Canadian cannot sponsor their brother, sister, nephew, niece, or grandchild in some cases, for example, the parent(s) is in jail or abandoned the person, or no one knows where the parent(s) is.
Requirements for sponsoring other relatives
If you don't fit in any of the categories mentioned above, your Canadian relative may still be able to sponsor you. For that to happen, you must not have any other living relative (those listed above or aunt or uncle) who is a:
Canadian citizen
permanent resident
registered Indian under the Indian Act
Also, the Canadian relative must not have a living relative who they could sponsor instead. That means they don't have a spouse, partner, or family member related by blood or adoption who is a dependent child, parent, grandparent, or orphaned sibling, nephew, niece, or grandchild.
How to apply for family sponsorship
Applying to sponsor a relative
The first few steps in the application process are to be done by the Canadian who wants to sponsor their relative in the UK. Depending on how they are related, they can either apply to sponsor their relatives or submit an interest to sponsor form to the Immigration, Refugees and Citizenship Canada (IRCC).
If the Canadian is sponsoring their parent or grandparent, they must submit an interest to sponsor form first. If the IRCC approves that form, they can then apply to sponsor the parent or grandparent.
For every other relative, the Canadian can apply directly to sponsor the person in the UK. This step can be done alongside the UK person applying for Canadian permanent residence.
You can apply for family sponsorship online. If you are unable to apply online, the IRCC may allow you to apply through paper, braille, or large print; you must reach out to the IRCC to be approved for the alternative application methods.
When applying to sponsor a relative in the UK, the Canadian citizen or permanent resident is to fill, sign, and upload a few forms, including
Document Checklist — Sponsor
Application to Sponsor, Sponsorship Agreement and Undertaking
Financial Evaluation
Income Sources
Statutory Declaration of Common-Law Union, if it applies
Medical condition statement, if it applies
Statutory Declaration of Severance of a Common-Law Union, if it applies
Details Of Military Service, if it applies
Electronic copies of the uploaded forms should be sent to you in the UK so that you can sign the areas you need to and upload them in your online application for permanent residence.
If the Canadian is sponsoring a person with dependents (spouse or children), the main person should be listed as the principal applicant in the application and others as dependents. The principal applicant is to fill some PDF forms as well, including:
Generic application form for Canada
Schedule A – Background/Declaration
Additional family information form
Supplementary information – your travels
After filling the forms, they must pay some fees and submit the application online. Please note that the exact forms for your category may differ; you may need to submit some additional forms or not submit some of the forms listed above. It's recommended that you reach out to an immigration solicitor to help with your application or advise you on the forms to submit.
Also, some applications need extra specifics. For example, if you are sponsoring your grandparents who are divorced, you must submit two different applications, but if they are still married, one application where one beneficiary is listed as a principal applicant and the other as the dependent will suffice.
Permanent residence application
If the sponsorship application is approved, the IRCC will send an application for permanent residence to the person in the UK. That will usually be sent through the Canadian visa office. When you have received that, you are to fill out the application  and send the complete forms back to the Canadian visa office along with your:
Valid passport (or photocopies of the passport)
Recent photograph
The receipt of the right of permanent residence fee
To show that you met the requirements for family sponsorship, you must provide all the required forms, documents, and supporting evidence.
You may be invited for an immigration interview after this step. If you are, expect that a consular officer will ask you a few questions to determine your intent and eligibility.
The IRCC may request additional information, such as medical exams, police certificates, and biometrics while processing the application.
Processing time
The IRCC takes a few months to more than a year to process family sponsorship applications. If a spouse or partner is sponsoring you, expect the processing time to be about 12 months. If the beneficiary is a parent, that may take 20 to 24 months.
There's no exact processing time for a dependent child in the UK. It depends on several factors, including how easy it is to verify the sponsor's information (typically takes 23 days) and if the application is complete.
Required documents for Canada family sponsorship application
The different categories have varying supporting documents. Several of the documents prove that the sponsor and beneficiary are related, while the others provide evidence of eligibility for family sponsorship and proof of identity. The documents include:
Family sponsorship forms
Proof of the sponsor's Canadian status, such as:

Permanent Resident Card
Record of Landing
Confirmation of Permanent Residence
Canadian Citizenship Certificate or card
Canadian birth certificate
Canadian passport

The beneficiary's UK passport
Photograph of the beneficiary and dependants
Receipt of all fees
Evidence of a relationship such as a copy of your marriage certificate, if sponsoring a spouse, or birth certificate if sponsoring a child.
Proof of financial eligibility such as a bank statement or pay stubs
Proof of previous marriages or relationships that may affect the application, such as a divorce or death certificate
Police certificate for UK person
Medical examination results for UK person
An immigration solicitor can help you narrow down all the documents that will help your application. Call us today on 0333 305 9375.
What to expect after you apply
After your family sponsorship application has been submitted, you may need to give your biometrics at the visa centre. After that, the IRCC will process your application and let you know their decision.
The IRCC will send a Confirmation of Permanent Residence (COPR) and a permanent resident visa to you if they approve your application. Take these documents with you when you move to Canada as a Canada Border Services Agency (CBSA) officer will request them from you at the port of entry to determine if they should grant you entry.
When you have been granted entry into Canada as a permanent resident, expect your permanent resident card in the mail in a few weeks. On the other hand, if your application is rejected, you may be able to appeal the decision.
The different categories, steps, and requirements for family sponsorship make the process complicated for several people who want to handle it all by themselves. If you want a smoother experience and assistance from immigration lawyers, Total Law can help you.
We will assess your and your Canadian relative's eligibility to ensure you both qualify for family sponsorship. If you are eligible, we will move forward with the next steps, which include assisting with gathering documents and evidence, completing all the forms with the highest standards, and liaising with the IRCC where necessary on your behalf.
For more information on how we can help you, please call us at 0333 305 9375 or email info@total.law. You can also reach out to us through our live chat or contact form.
Advice Package
Comprehensive immigration advice tailored to your circumstances and goals.
Application Package
Designed to make your visa application as smooth and stress-free as possible.

Fast Track Package
Premium application service that ensures your visa application is submitted to meet your deadline.
Appeal Package
Ensure you have the greatest chance of a successful appeal. We will represent you in any case.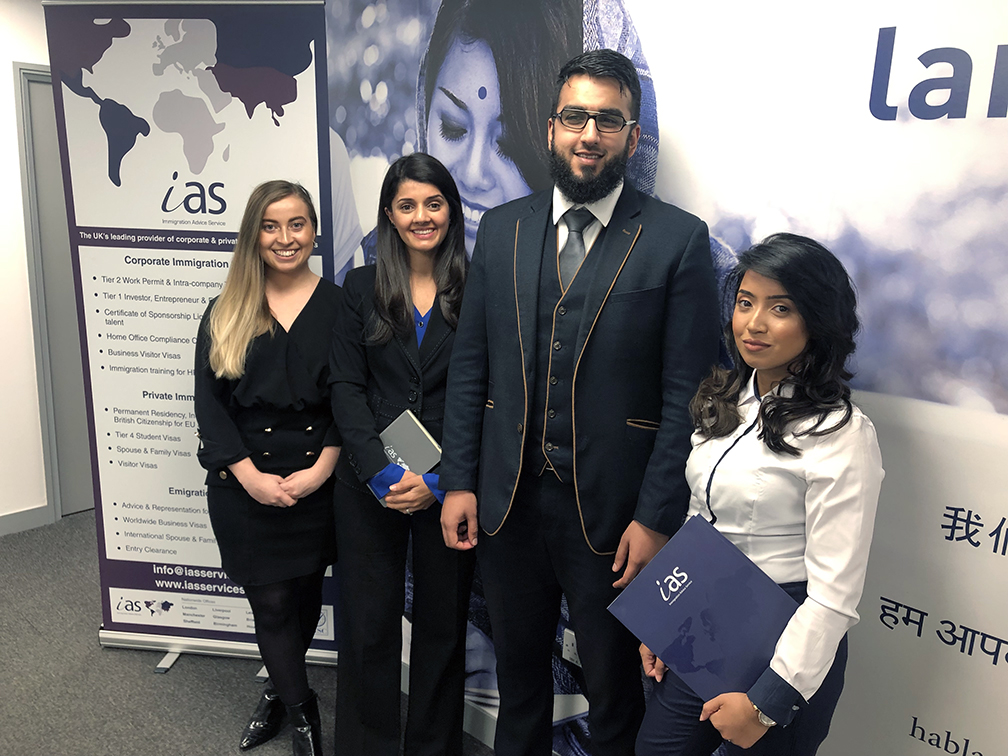 The Advice Package
During this untimed Advice Session with our professional immigration lawyers in London, you will receive our comprehensive advice, completely tailored to your needs and your situation.
Request the Advice Package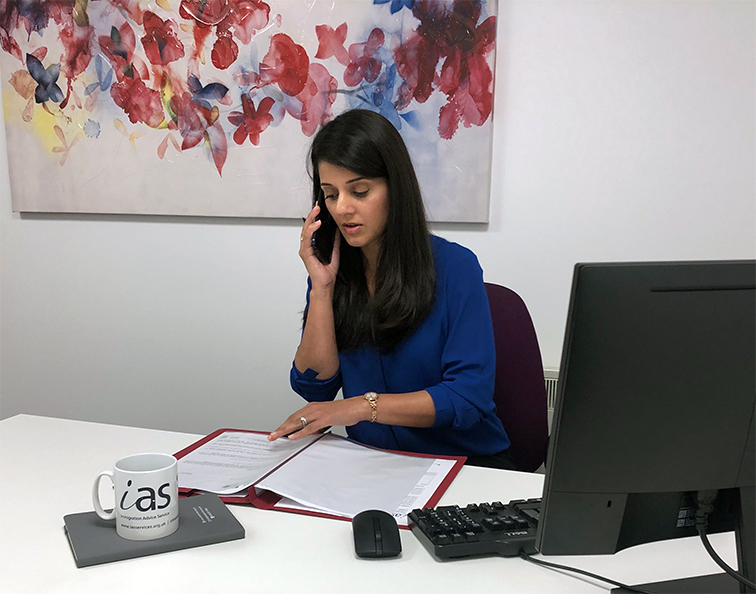 The Application Package
With our Application Package, your dedicated immigration lawyer will advise you on your application process and eligibility. Your caseworker will then complete and submit your forms to the Home Office on your behalf.
Request the Application Package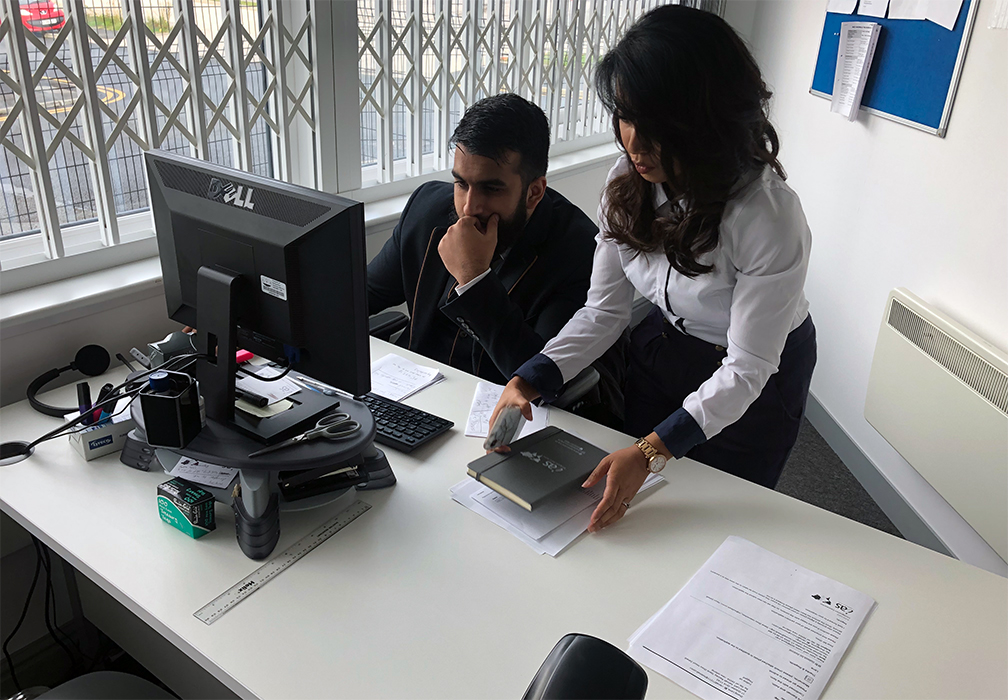 The Fast Track Package
Our Fast-Track Application Package is a premium service for those who need to submit their application in time with their deadlines. Your case will become a top priority for our lawyers and you will benefit from our highest-quality services.
Request the Fast Track Package
The Appeal Package
By choosing our Appeal Package, you can rely on our lawyers' legal knowledge and experience to ensure you have the highest chance of a successful appeal. We will also fully represent you in any hearings/tribunals.
Request the Appeal Package
Related pages for your continued reading.
Frequently Asked Questions
There are different fees at the step of the application process. They include:
Processing fees for the Canadian sponsor, the people in the UK being sponsored, and their dependants
The right of permanent residence fee
Biometrics fee
The right of permanent residence fee is $500. The processing fees depend on the category; usually, the fee for the sponsor is $75 while that of the person being sponsored usually is $475 or $75; that of dependents of the principal applicant differ. The biometrics fee is $85 or $170, depending on if multiple applicants are in one application.
Third-party fees include medical exam police certificate fees. Those vary depending on where you get them.
If your spousal sponsorship or even any other family sponsorship application has been rejected, you may be able to appeal, but this depends on the stage. If the application to sponsor was rejected, you might not be able to appeal. However, your Canadian relative can appeal if your permanent residence application is rejected and you are still in the UK.
They can submit the appeal to the Immigration Appeal Division (IAD). You will get the information on how to go about this in your rejection notice.
If you are unable to appeal or you are unsuccessful with your appeal, you can consider other immigration options. We can help review your rejected application and eligibility to advise on the best steps to take. Call us on 0333 305 9375 to get started.