Canadian PR
Canada welcomes thousands of UK citizens as new permanent residents each year.  If you're planning on moving to Canada from the UK permanently, find out which Canadian immigration programs lead to permanent residence.
For assistance with your Canadian immigration application, get in touch with Total Law's expert immigration lawyers today on 0333 305 9375.
Permanent Residency in Canada from the UK
If you wish to move to Canada from the UK, there are a variety of immigration programs that offer Canadian permanent residence (PR).
Obtaining PR will allow you to live, work and study in Canada indefinitely. Thousands of UK citizens and other foreign nationals are granted permanent residence in Canada each year, and the number of applicants accepted is growing. Canada is a popular choice of emigration for Brits due to English being an official language and an overlap in the two cultures.
The primary immigration programs that lead to Canadian permanent residents include:
Caregivers Program
Humanitarian and compassionate grounds
To be eligible for permanent residency you will need to show you meet certain requirements through supporting documentation.
If you're already in Canada on a temporary work permit, your chances of obtaining permanent residence are strengthened because certain Canadian work experience is valued under some immigration programs.
If you are granted permanent residency you will be given a Canadian PR card that is usually valid for 5 years, after which it can be renewed.
"I'm very happy with the standard of training received on the OISC Level 1 course, i passed my exam. Thank you!"
"My application was approved and a huge weight has been lifted from our shoulders this year "
"We used this service for the spouse visa extension application to assure that all the information was valid and correct."
Express Entry Programs
Express Entry is a points-based immigration system that processes permanent residence applications from foreign skilled workers. It's a popular Canadian immigration pathway as it allows applicants and their families to move to Canada within a matter of months. Express Entry accounts for a large part of the PR applications from the UK.
There are four Express Entry immigration programs that you can apply for, as follows:
The Express Entry system is a competitive ranking system that scores candidates using the Comprehensive Ranking System (CRS). The criteria that candidates are ranked against include age, education, language proficiency, work experience, and other factors. You also need to demonstrate you have enough money to settle in Canada, are admissible to Canada and you will need to undertake medical exams.
The first step in applying for an Express Entry program is to create an online Express Entry profile and then wait for a draw to take place.
When a draw occurs, Express Entry sends an invitation to apply (ITA) for permanent residence to those candidates with the highest scores. There are frequent draws from the Express Entry pools, and Express Entry is open throughout the year.
If you receive an ITA, then you can submit your application for the program you are applying for PR through. All applicants are required to submit numerous supporting documents to evidence the requirements, which can vary depending on the program in question.
Express Entry applications are usually processed within 6 months or less.
Find out more about Canada's work visas for UK citizens on the Work Visas page.
Family Class Sponsorship
If you have a family member over 18 years of age who is a Canadian citizen or a permanent resident of Canada, you may be able to obtain PR through the Family Class Sponsorship pathway.
If you are sponsored to move to Canada through family sponsorship, your family member who is your sponsor is responsible for supporting you when you arrive in Canada.
The following family members can be sponsored but bear in mind there are restrictions and conditions to certain family member types:
Spouse
Common-Law partner or conjugal partner – restrictions apply
Dependent children
Parents and grandparents – additional conditions apply
Siblings, nephews/nieces, granddaughters/grandsons who are orphaned, under 18 years of age, and are not married or in a common-law relationship
Accompanying relatives of the above
Other relatives of any age or relationship – under specific conditions only
To be a sponsor, the following requirements need to be met. The sponsor must:
Be 18 years of age or older
Sign a sponsorship agreement that commits them to provide financial support for the applicant for a certain amount of time, depending on which type of family member is being sponsored. The applicant must also agree to make an effort to support themselves
Be a resident in Canada, or alternatively, be able to prove their intention to live in Canada when the sponsored relative arrives in Canada
Not be incarcerated or charged with a serious offense
Not be bankrupt
Not be under a removal order if they are a permanent resident
How long a family sponsorship application takes depends on the Canadian Immigration Visa Office that the application was submitted to, and the type of family member being sponsored. In general, applications for spouses, common-law partners, and dependent children take about a month as they are considered to be priorities, whilst parents and grandparents can take more than three years.
Business Immigration
If you wish to buy a Canadian business or set up a new business in Canada then there are several business immigration options through which it is possible to obtain permanent residence.
In most cases, you will need to have significant financial means, and the experience and skills to run a business in Canada. You will usually be required to provide a detailed business plan showing you will create new Canadian jobs, and you will need to show that you will be the person who directs and manages your business.
There are several viable Canadian business immigration options for experienced business owners to apply through, each with its own varying requirements, including.
Start-up Visa Program
To be eligible for the Start-up Visa Program, your business will need to be innovative, create jobs for Canadian citizens, and be able to compete on a global scale. The business must qualify which is related to the percentage of voting rights you hold in the company. You will need the support of a designated organization, which will be a venture capital fund, an angel investor group, or a business incubator. Although you will need a certain amount of settlements funds, you will not need to invest your own funds, as the designated entity will provide the investment or support.
With the Start-Up Visa, you can bring your family with you to Canada, and you can apply for Canadian citizenship after 3 years. The time it takes to receive a decision on your visa application can be between 12 to 16 months.
Federal Self-Employed Persons Program
For the Federal Self-Employed Persons Program you will need to have experience in cultural activities or athletics at a world-class level. To qualify as a self-employed person in Canada, you must have two years of relevant experience in one of these areas and you must show that you intend to become self-employed in Canada.
Your experience must have been gained within 5 years before you apply. As with all Canadian immigration programs you'll need to show the required English or French language ability, as well as meeting education, age and admissibility requirements. Additionally, you'll need to show that you can financially support yourself whilst in Canada.
The processing time for the Self-Employed Persons Program is around 22 months on average, depending on how complete the application and supporting documents are.
Both these business immigration programs require numerous supporting documents to be submitted, fees to be paid, an English or French test to be taken, medical exams to be undertaken, and in most cases, biometrics to be given.
You can find out more about Canada's business programs for UK citizens on the Business Visas page.
A common challenge faced by business people wishing to move to Canada from the UK, is determining which immigration pathway to apply under. This is where Total Law can guide and assist you. We will assess your profile against all the current federal and provincial business immigration programs and discuss the best available options and timelines with you. So contact us and we'll verify your eligibility and get the process started.
Provincial Nominee Programs (PNP)
Most provinces and territories have their own business immigration programs, also called PNP Entrepreneur Immigration Streams.
A PNP is a Provincial Nominee Program that nominates successful applicants for settlement in that province, and which then opens up a pathway for the applicants to apply for permanent residence at the federal level.
If you apply through a PNP you would need to first select which province you wish to reside in. To be eligible for a PNP you will generally need to show that you can contribute to the local economy in that province.
The Provincial Nominee Program is one of the economic immigration programs managed under the Express Entry system.
Each PNP for entrepreneurs has its own individual eligibility criteria and program requirements. In general, you will need to fulfil requirements pertaining to age, business eligibility, minimum investment, minimum net worth, experience in business management, exploratory visit (business research visit), level of involvement in the business, and a business plan. There could also be additional requirements such as job creation.
The following provinces have PNPs currently but note that programs can be withdrawn or new ones created at any time: Alberta, British Columbia, Manitoba, New Brunswick, Newfoundland and Labrador, Northwest Territories, Nova Scotia, Ontario, Prince Edward Island, Saskatchewan, Yukon.
Caregivers Program
There are a few immigrations options for caregivers to obtain permanent residence in Canada, as follows:
Home Child Care Provider Pilot

Home Support Worker Pilot

Live-in Caregiver Program
For the Home Child Care Provider Pilot and Home Support Worker Pilot, you'll need to meet the eligibility requirements and have a job offer to work in one of these occupations. The work permit you will receive through these pilot schemes is an open work permit to come to Canada and work temporarily. This work permit is occupation-restricted which means you have to work in that specific occupation, but it doesn't need a Labour Market Impact Assessment (LMIA). Through these schemes, you will gain the work experience that is needed to be eligible for permanent residence.
The Live-in Caregiver Program (LCP) is currently closed to new applicants. If and when it re-opens, to obtain permanent residence through this program you will need at least 2 years of work experience under an LCP work permit and one of the below must be true for you:
You are already working in Canada with an LCP work permit, or
You were approved for your first LCP work permit based on a Labour Market Impact Assessment submitted to Employment and Social Development Canada on or before November 30, 2014
Humanitarian and compassionate grounds
Another route to Canadian permanent residence is a less common one of humanitarian and compassionate (H&C) grounds, which is usually only applicable in exceptional circumstances.
You can apply for permanent residence on H&C grounds if you:
Are currently living in Canada as a foreign national
Require an exemption from one or more requirements of the Immigration and Refugee Protection Act (IRPA) or Regulations to apply for PR in Canada, and you believe that humanitarian and compassionate considerations justify the exemption(s) you need, and you
Are not eligible for permanent residence in any of these classes:

Spouse or Common-Law Partner
Live-in Caregiver
Caregivers: caring for children or people with high medical needs
Protected Person and Convention Refugees
Temporary Resident Permit Holder
Factors that will be taken into account in an H&C application include how settled you are in Canada, what family ties you have if any in Canada, the best interests of any children involved, and what the consequences will be if the request is not granted. 
If any of the below apply you will not be eligible to apply on H&C grounds:
You are a Canadian citizen or permanent resident already
You have already submitted an H&C application and are awaiting a decision
You have already made a refugee claim
You became a designated foreign national within the last 5 years
If you are seeking protection for reasons of persecution, danger of torture, risk to life or cruel and unusual treatment or punishment you can also take a look at the in-Canada refugee process.
Transitioning from Temporary Resident Status to PR
If you don't satisfy the admissibility requirements for entering Canada, in other words, you are inadmissible, but you have valid reasons to travel to Canada you may be granted a temporary resident permit (TRP).
If you are a holder of a TRP and wish to become a permanent resident, you may be eligible if you can meet the following requirements:
You are not inadmissible to Canada on any grounds other than those which were applicable when the original TRP was issued
You hold a valid TRP
You have continuously resided in Canada under a permit for 3 to 5 years, depending on the permit
Your accompanying family members are not allowed to be included in your PR application, they must apply separately on the basis of their own TRP, which they have received upon entering Canada originally.
Get Help
Moving to Canada from the UK is a complex process. There are many immigration options and evaluating the best one for you is not an easy task.
Total Law's immigration lawyers offer reliable and professional Canadian immigration advice. We can assess whether you are eligible to become a permanent resident of Canada and can advise you about the best immigration options available to you and your family (if applicable).
We have in-depth knowledge of the requirements and processes involved in emigrating to Canada, and, alongside our international teams of lawyers, we have the experience and the means to help you achieve your goal of moving to Canada from the UK.
Call us on 0333 305 9375 to find out more about Total Law's dedicated Canadian immigration services.
Advice Package
Comprehensive immigration advice tailored to your circumstances and goals.
Application Package
Designed to make your visa application as smooth and stress-free as possible.

Fast Track Package
Premium application service that ensures your visa application is submitted to meet your deadline.
Appeal Package
Ensure you have the greatest chance of a successful appeal. We will represent you in any case.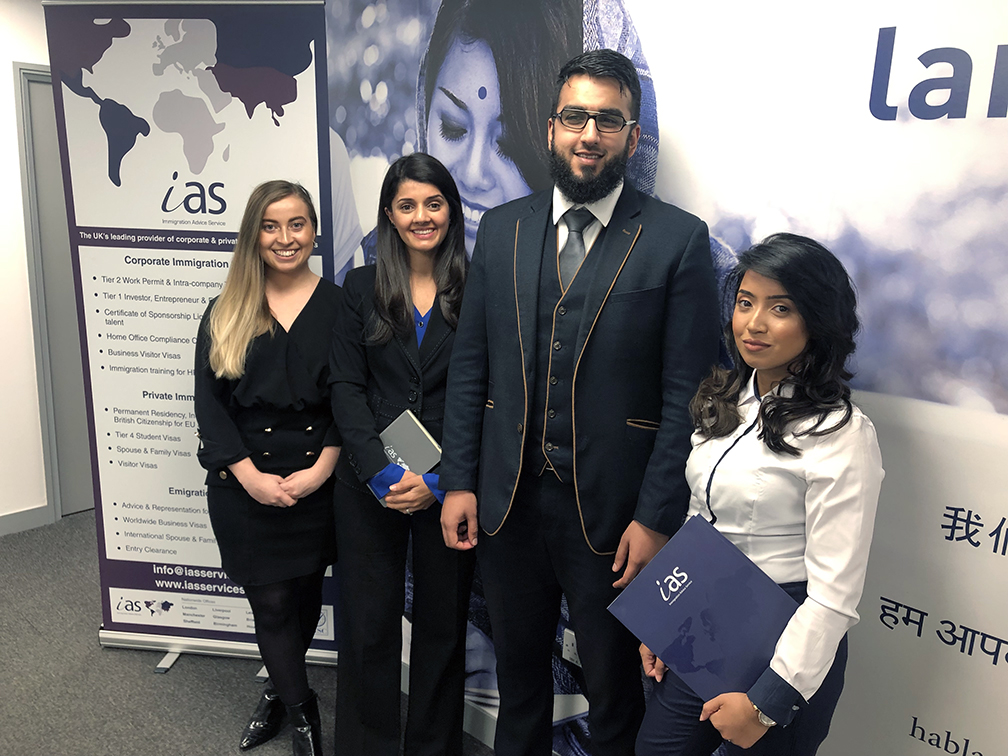 The Advice Package
During this untimed Advice Session with our professional immigration lawyers in London, you will receive our comprehensive advice, completely tailored to your needs and your situation.
Request the Advice Package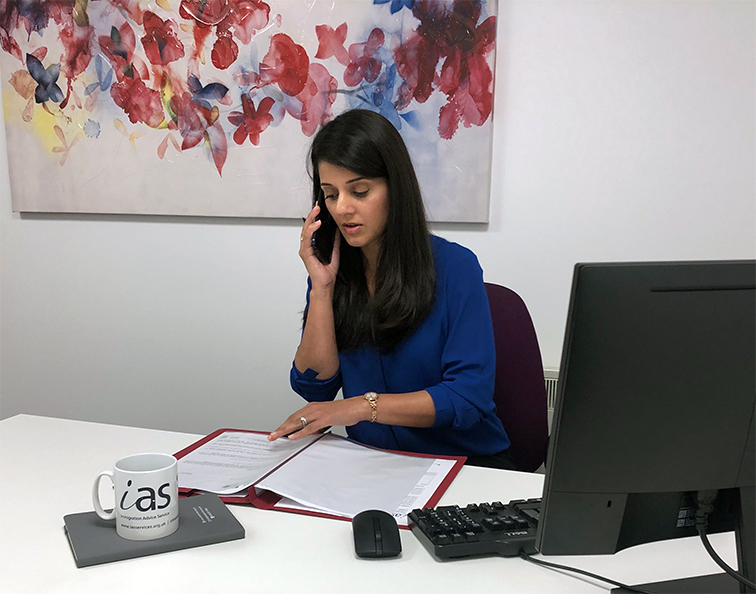 The Application Package
With our Application Package, your dedicated immigration lawyer will advise you on your application process and eligibility. Your caseworker will then complete and submit your forms to the Home Office on your behalf.
Request the Application Package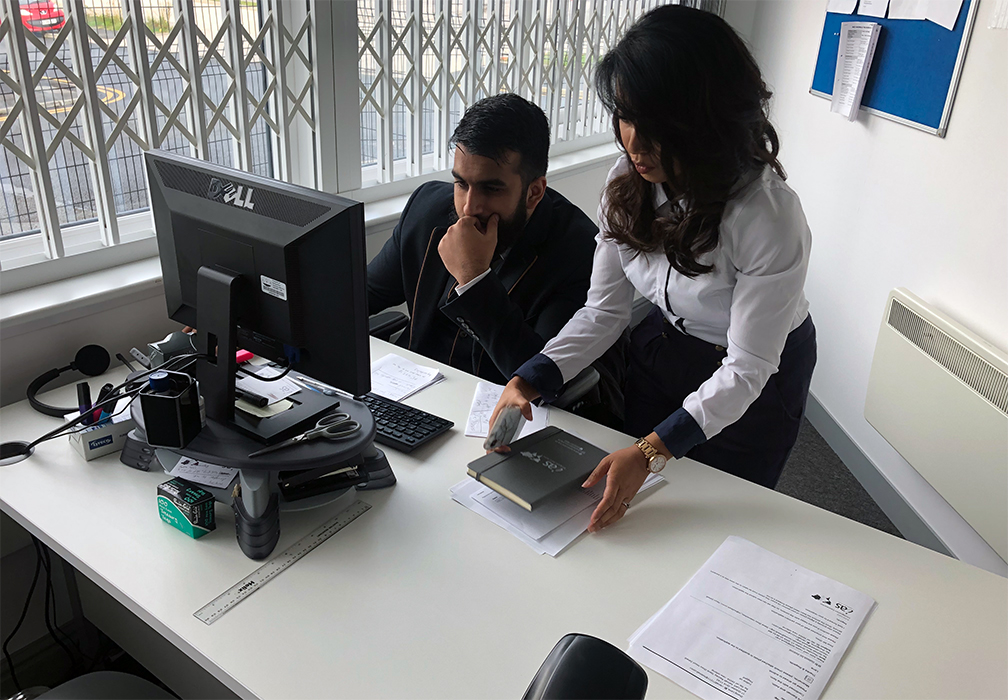 The Fast Track Package
Our Fast-Track Application Package is a premium service for those who need to submit their application in time with their deadlines. Your case will become a top priority for our lawyers and you will benefit from our highest-quality services.
Request the Fast Track Package
The Appeal Package
By choosing our Appeal Package, you can rely on our lawyers' legal knowledge and experience to ensure you have the highest chance of a successful appeal. We will also fully represent you in any hearings/tribunals.
Request the Appeal Package
Related pages for your continued reading.
Frequently Asked Questions
A PR card is a Permanent Residency card that Canadian permanent residents receive.
It should be shown when traveling as you will need to show it when re-entering Canada to prove your PR status.
If you are a retiree wishing to move to Canada, unfortunately, many of Canada's immigration programs are designed for people who are most likely to contribute to the country's economy, through work or business.
One route to PR for retirees however is through family sponsorship, if you have a family connection to Canada.
There's also the Super Visa, a multi-entry visa that lasts for up to 2 years for UK citizens with children or grandchildren in Canada. However, this visa has its limitations as well as additional complications that relate to any UK state pension which won't rise with inflation if you move to Canada.
Alternatively, you can establish or buy a business in Canada which can lead to permanent residence.
It's also useful to bear in mind that UK citizens can live in Canada for up to 6 months a year without a visa.
If you're under 30 years of age, you may be eligible for the International Experience Class (IEC). The IEC allows young people from the UK to travel and work in Canada for up to a year.
The work experience gained can then be used to support a permanent residence application.