NAFTA Intra-Company Transfer Work Permit
NAFTA professionals who are U.S. citizens can transfer to their parent company's branch or affiliate in Canada under the Canadian NAFTA Intra-company Transfer Work Permit.
For help with your Canadian work permit application, get in touch with us at IAS for expert legal guidance. Call us at +1 844 290 6312 to find out how we can best help you.
What is a Canadian NAFTA Intra-Company Transfer (ICT) Work Permit?
The North American Free Trade Agreement (NAFTA) Treaty was signed in 1994 for the purpose of creating special economic and trade relationships between Canada, Mexico, and the United States. Under this treaty, business persons from these three countries are entitled to special entry requirements for temporary entry for the purposes of employment. These include the following NAFTA work permits:
Business Visitors (for individuals engaging in international business activities)
Intra-Company Transferees (For international companies looking to transfer employees from one place of work to another)
Professionals (For individuals working in the NAFTA professionals category)
Traders and Investors (For those individuals who intend to engage in substantial trade of goods or services OR those individuals who intend to commit a substantial amount of capital to an existing or new Canadian business)
Employees who are citizens of Mexico or the United States and are looking to temporarily transfer to a new or existing Canadian affiliate, branch, or subsidiary of their parent company can apply for an Intra-Company Transferee (ICT) work permit. This temporary work permit is specifically designed for those qualified employees who work in either an executive capacity, managerial capacity, or specialized knowledge capacity.
In order to be eligible for an ICT work permit, the temporary worker must be a highly skilled foreign worker from the United States or Mexico. Furthermore, their parent company to whom they work must have a qualifying relationship with the Canadian enterprise to which they are transferred. Since this NAFTA work permit falls under Canada's International Mobility Program (IMP), intra-company transferees are exempt from the Labour Market Impact Assessment.
"I'm very happy with the standard of training received on the OISC Level 1 course, i passed my exam. Thank you!"
"My application was approved and a huge weight has been lifted from our shoulders this year "
"We used this service for the spouse visa extension application to assure that all the information was valid and correct."
What is the Labour Market Impact Assessment?
If a Canadian employer wishes to seek foreign workers for a position of employment, they must first undergo a Labour Market Impact Assessment (LMIA). In order to complete their LMIA, the Canadian employer will need to prove that their company or enterprise was unable to find a suitable candidate from the local Canadian labour market. If the employer is able to prove this, they will then be issued with a document that gives them permission to hire a temporary foreign worker from abroad.
Since NAFTA professionals are considered to provide significant economic benefit to Canada via their expertise, transferees are exempt from this Labour Market Impact Assessment requirement. However, it should be noted that transferees still need to apply for a work permit by submitting both a job offer letter and a contract from their employer along with a copy of the LMIA and the LMIA number.
Who is eligible for an Intra-Company Transfer Work Permit?
In order to apply for an ICT work permit, applicants must be either Mexican or U.S. citizens who work as employees of an American or Mexican enterprise that is looking to transfer them for employment to their Canadian counterpart. In addition, NAFTA intra-company transferees must also meet the following requirements:
The employees must be employed by a foreign company that has a parent, branch, subsidiary, or affiliate company in Canada
The employees work in a managerial, executive, or specialized knowledge position in both the foreign and Canadian company
The employees must have worked for the company at least 1 year in the past 3 years
The foreign company must have a qualifying relationship with the Canadian company (qualifying organizations are a parent company, branch, subsidiary, or affiliate)
Transferees who work as specialized knowledge workers must demonstrate that they have advanced knowledge or expertise in the company's products or services.
Individuals who work in a managerial capacity must prove that they are able to manage and supervise employees along with overseeing the organization's essential function with only general supervision from higher-level executives.
Those who work in an executive capacity must prove that they have the ability to make decisions of wide latitude without much oversight.
How to apply for an ICT Work Permit?
Transferees who are looking to apply for an ICT work permit can apply for it at these locations:
A Canadian port-of-entry
Upon arrival in Canada
A Canadian visa office prior to entry into Canada
Intra-company transferees who are already in Canada as temporary residents can apply for their work permits within the country. It should be noted that those who apply for an ICT work permit at a Canadian port-of-entry will need to provide all necessary documentation to Canadian immigration officials at the time of application.
What documents do you need for an ICT work permit?
American and Mexican citizens who are NAFTA professionals that are looking to apply for an ICT work permit in Canada will need to provide the following documents:
Proof of Mexican or U.S. citizenship
Confirmation of current and pre-arranged employment by an enterprise outside of Canada (Ex. a signed contract, an offer of employment from a Canadian employer, a letter from the foreign company on whose behalf the service will be provided, etc)
Proof that the American or Mexican citizen has been employed full-time by the foreign company for at least one year within the last three years
Evidence that the foreign worker is qualified to work in an executive or managerial capacity or in a position that requires specialized knowledge
Outline of the duties and responsibilities of the job position in Canada along with the intended duration of stay
Description of the relationship between the Canadian and foreign employer
It should be noted that only Mexican and U.S. citizens are eligible for NAFTA work permits. Those who are self-employed or are permanent residents of Mexico or the United States are not eligible for an ICT work permit.
How long is the work permit valid?
NAFTA ICT Work Permits are valid for up to 3 years. Although the amount of time for which the work permit is valid will be dependent on the length of intended employment. If needed, NAFTA ICT work permits can be renewed for an additional 2 years. Executives and managers can stay in Canada for a maximum of 7 years under this work permit. However, those whose duties require specialized knowledge are only permitted to stay in Canada for the maximum duration of 5 years.
Transferees who have reached the maximum allotted duration time for their work permit must leave the country after their work permit expires. If they wish to return under an ICT work permit, they must complete at least 1 year of full-time employment outside of Canada in order to apply for another Intra-Company Transfer work permit.
What is the Processing Time for Intra-Company Transferees?
Processing the NAFTA ICT work permit will depend on the transferee's country of residence and the location where they apply. Normally, ICT work permits are processed within 4 months or 2 weeks if expedited.
Those applicants who are eligible for the Global Skills Strategy can have their application expedited for 2-week processing.
What is the cost to obtain a NAFTA ICT permit?
Applying for a NAFTA ICT permit will include the following fees:
Immigration, Refugees and Citizenship Canada (IRCC) application fee (per applicant): $155.00 (CAD)
IRCC Employer Compliance Fee: $230.00 (CAD)
IRCC Biometric fees(per person): $85 CAD
How can Total Law help me?
At Total Law, our team of immigration lawyers is well experienced in the complexities of intra-company transfers. Our goal is to help you with an easy and stress-free transition for you or your employees as they move from one country to another for work at your Canadian branch.
We offer the following services for international companies who are looking to transfer their employees:
An expert assessment of your options and eligibility
Detailed support with all stages of the NAFTA work permit application process
Help with gathering the necessary documents and evidence to obtain your work permits
Liaising with Canadian immigration authorities on your behalf
Get in touch with us online or over the phone at +1 844 290 6312 to find out how we can help get the necessary work permits for your employees and help your business thrive.
Advice Package
Comprehensive immigration advice tailored to your circumstances and goals.
Application Package
Designed to make your visa application as smooth and stress-free as possible.

Fast Track Package
Premium application service that ensures your visa application is submitted to meet your deadline.
Appeal Package
Ensure you have the greatest chance of a successful appeal. We will represent you in any case.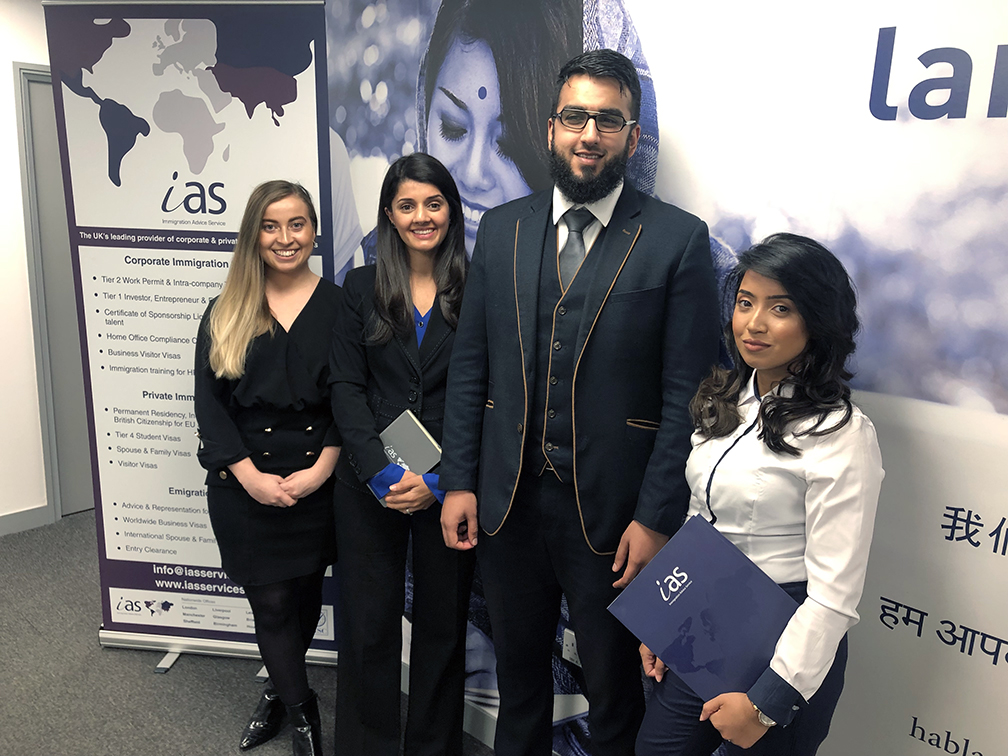 The Advice Package
During this untimed Advice Session with our professional immigration lawyers in London, you will receive our comprehensive advice, completely tailored to your needs and your situation.
Request the Advice Package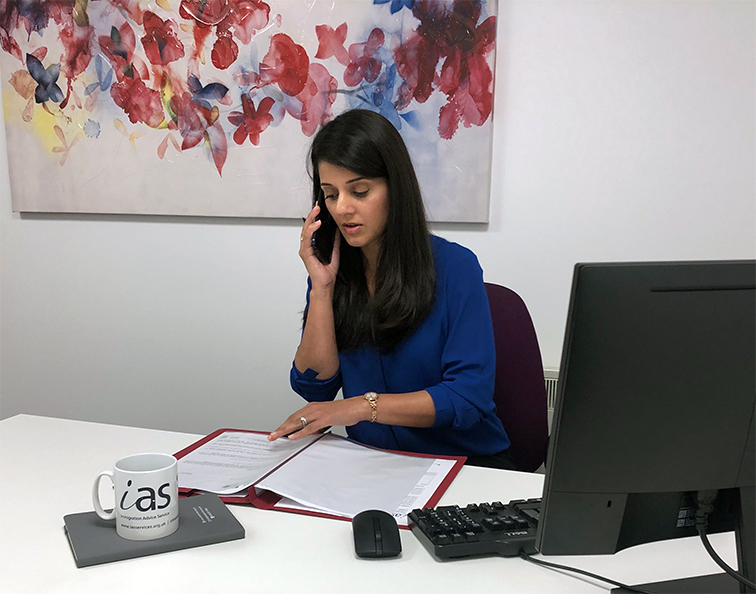 The Application Package
With our Application Package, your dedicated immigration lawyer will advise you on your application process and eligibility. Your caseworker will then complete and submit your forms to the Home Office on your behalf.
Request the Application Package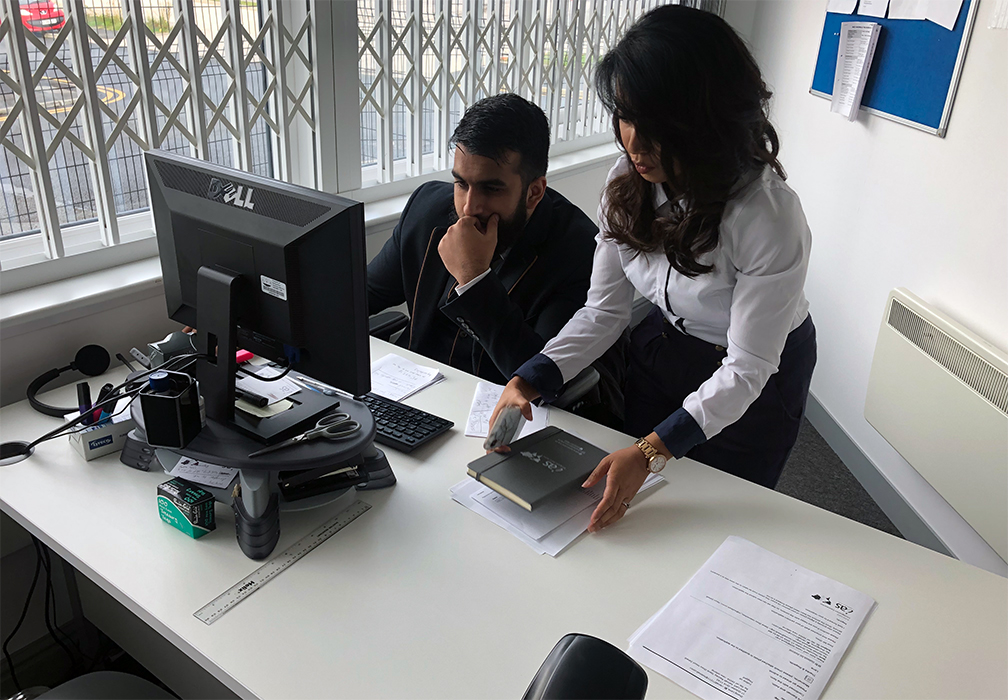 The Fast Track Package
Our Fast-Track Application Package is a premium service for those who need to submit their application in time with their deadlines. Your case will become a top priority for our lawyers and you will benefit from our highest-quality services.
Request the Fast Track Package
The Appeal Package
By choosing our Appeal Package, you can rely on our lawyers' legal knowledge and experience to ensure you have the highest chance of a successful appeal. We will also fully represent you in any hearings/tribunals.
Request the Appeal Package
Related pages for your continued reading.
Frequently Asked Questions
The NAFTA ICT work permit is a closed permit which means that it is specific to one Canadian employer or business. If you choose to change employers whilst in Canada under this work permit, you will need to apply for a different work permit.
Those working in Canada under a NAFTA ICT work permit are eligible to bring their spouse, partner and/or minor children (under 21 years of age) with them to live in Canada. Eligible spouses/partners can work in Canada under an open work permit, meaning they can work anywhere. Dependent children are allowed to study in Canada and are exempt from international tuition fees.
A NAFTA ICT work permit will not grant the recipient with Canadian permanent residence. However, it can help with any future permanent residence application. For example, those who work in Canada under a NAFTA Intra-Company Transfer work permit will be granted a higher score in the Comprehensive Ranking System (CRS). The CRS is used to grant numerical value to applicants in Canada's points-based immigration system. A higher CRS score will be beneficial if the NAFTA ICT work permit holder decides to apply for Canadian permanent residence in one of the Provincial Nominee Programs (PNPs).