Canadian Self Employed Persons Program
Citizens and residents of the United States can come to Canada through the Self-Employed Persons Program. If you would like to settle in Canada, you may be eligible for this visa. This page contains the requirements and how to apply from the US.
Call our immigration lawyers on +1 844 290 6312 today for assistance with applying for Canada's Self-Employed visa.
What is the Self-employed Persons Program?
The Self-Employed Persons Program, also called the Self-Employed visa, is a Canadian immigration route that enables individuals who intend to establish self-employment in Canada to enter the country to establish a business that will create employment for themselves.
The Canada Self-Employed visa is a business immigration route aimed at skilled people who can prove that they can make a significant contribution to Canada's cultural or athletic life through self-employment.
If approved, applicants become permanent residents, and in a few years, can become Canadian citizens. For more information or assistance with immigrating to Canada under the self-employed class, call us on +1 844 290 6312.
"I'm very happy with the standard of training received on the OISC Level 1 course, i passed my exam. Thank you!"
"My application was approved and a huge weight has been lifted from our shoulders this year "
"We used this service for the spouse visa extension application to assure that all the information was valid and correct."
Who can apply for the Self Employed visa Canada?
To be eligible for the Self Employed class, you must already be self-employed doing cultural activities or athletics. If you are not already self-employed but are experienced in cultural life or athletics and are willing and able to be self-employed in those areas in Canada, you can immigrate with this visa.
Canadian immigration has provided a list of occupations in the National Occupation Classification for Canada's artistic, cultural and athletic fields. The career types within the cultural area include:
Authors and writers
Creative and performing artists
Musicians
Painters
Sculptors and other visual artists
Technical support and other jobs in motion pictures
Creative designers
Craftspeople
The athletic category includes coaches, athletes, referees, and program leaders. Employment and Social Development Canada (ESDC) has a full list of qualifying jobs. For advice on if your activity qualifies for this immigration route, call us on +1 844 290 6312.
Relevant Experience immigration requirement
When applying for the Self-Employed visa Canada, you should prove that you have relevant experience, can meet the program's selection criteria, and meet the medical, security and other conditions.
Immigration, Refugees and Citizenship Canada (IRCC) has requirements for applicants looking to immigrate to Canada through this route. One of them is the relevant experience criteria.
For your experience to be relevant, you must have at least two years of experience where you must have:
Taken part in cultural or athletic activities at a world-class level or
Been self-employed in cultural or athletic areas
The two years of experience must fall within five years from the day you apply. The minimum experience for cultural activities or athletics must be:
Two one-year periods of being self-employed, or
Two one-year periods of taking part in cultural activities or athletics on the global scene, or
A combination of two one-year periods from the first and the second points
Selection Criteria
There are two selection criteria that you must meet if you are applying for the Self-Employment Program from the USA. The criteria are that you must:
Be a self-employed individual
Get at least 35 points based on your application
A self-employed individual is someone admitted to Canada because they have relevant experience in working for themself. The person must intend and be able to become self-employed in Canada in the arts or athletics.
The 35 points are based on the grade that the IRCC gives your application based on their five-point system.
Canadian Five-point immigration system
The five-point selection system includes an assessment of your experience, age, language ability, education, and adaptability to determine if you will be able to contribute to Canada's economy.
For each area, you are awarded points based on your submitted documents, the score you give yourself, your fitting the description of a self-employed person, and, if interviewed, the visa officer's decision. Each area has maximum points that you can obtain, of which the total is 100. They are:
| | |
| --- | --- |
| Area | Maximum points |
| Education | 25 |
| Experience | 35 |
| Age | 10 |
| Language ability | 24 |
| Adaptability | 6 |
Security checks and financial factors
You must prove that you have a clean criminal record by obtaining police certificates in the US.
Another requirement for this business immigration route is the financial requirement. The Canadian government expects self-employed individuals to have enough money to support themselves and any dependents they come with for at least one year from their arrival date in Canada.
There's no exact amount that is sufficient settlement funds, but you must have enough to live in the region of Canada that you intend to live in and cover any initial business cost. Usually, you will declare your net worth to prove you have enough funds.
For more information or assistance with applying for this federal entrepreneur immigration route, call +1 844 290 6312 or send an email to info@total.law.
Medical requirement
To be admissible into Canada as a permanent resident, you must meet the medical requirements. Since the Canada Self-Employed visa confers permanent residence on approved applicants, you must see a panel physician to do a medical exam.
Depending on your circumstances, you may be able to take this exam before or after submitting your application.
You and all your dependents are to take the medical exam. That includes dependents who are not immigrating with you. Note that if any of your dependents are inadmissible, you will be inadmissible as well.
How to apply for the Canada self-employed visa
Intended self-employed individuals can apply online or mail their application to the Centralized Intake Office (CIO) in Sydney, Nova Scotia.
For this business immigration application, you should fill out the required forms. One of them is the Generic Application Form for Canada. If you plan on mailing your application, ensure you use the "validate" button in the form to get a barcode page. You are to print out the filled form and barcode pages.
For the online application process, sign into the Permanent residence online application portal and fill out the digital versions of the application forms.
The next step is to pay your fees. That includes your application processing and biometrics fees. Ensure you print out the payment receipts and attach them to your application. After paying for biometrics, you will receive a letter confirming where you can go to give your fingerprints and photograph.
The processing times for most applications fall within 36 months. However, if you leave out critical information from your application, your processing time may be longer.
Required documents
The required and supporting documents include:
Completed forms as it applies to you:

Generic Application Form for Canada
Document Checklist
Additional Dependants/Declaration
Schedule A – Background/Declaration
Schedule 5: Economic Classes—Declaration of Intent to Reside in Quebec
Schedule 6A Business Immigrants – Self-employed persons
Additional Family Information
Supplementary Information – Your travels

Proof of your educational qualifications
Language test results
Proof of relevant experience
Valid passport or other travel documents
Police clearance certificates
Identity document
Two recent photographs
What is the cost for a self-employed person in the US?
When applying, you are to pay fees that may include:
Application processing fee – $1,575
Right of permanent residence – $500
Fees for accompanying family members

Child – $225
Processing for spouse or partner – $825
Right of permanent residence for spouse or partner – $500

Biometrics fee
Third-party fees (medical exams, police certificates, language testing)
The above figures are in Canadian dollars.
The process of acquiring a self-employed visa can be difficult to do alone. At Total Law, we understand the intricacies of immigrating to Canada through the self-employed program. Our immigration law firm has helped several people in the United States to settle in Canada through this and the other immigration routes.
We can support you throughout the immigration process by providing these services:
Assessing your eligibility for the program
Ensuring you have all the required and supporting documents
Filling the forms and paperwork on your behalf
Completing your application with the highest of standards
Liaise with the IRCC on your behalf
If we find out that you will have a better chance with other immigration routes, we will inform you of that option so you can successfully immigrate to Canada and become a Canadian citizen in the future. For more information on how we can help you, call us today on +1 844 290 6312.
Advice Package
Comprehensive immigration advice tailored to your circumstances and goals.
Application Package
Designed to make your visa application as smooth and stress-free as possible.

Fast Track Package
Premium application service that ensures your visa application is submitted to meet your deadline.
Appeal Package
Ensure you have the greatest chance of a successful appeal. We will represent you in any case.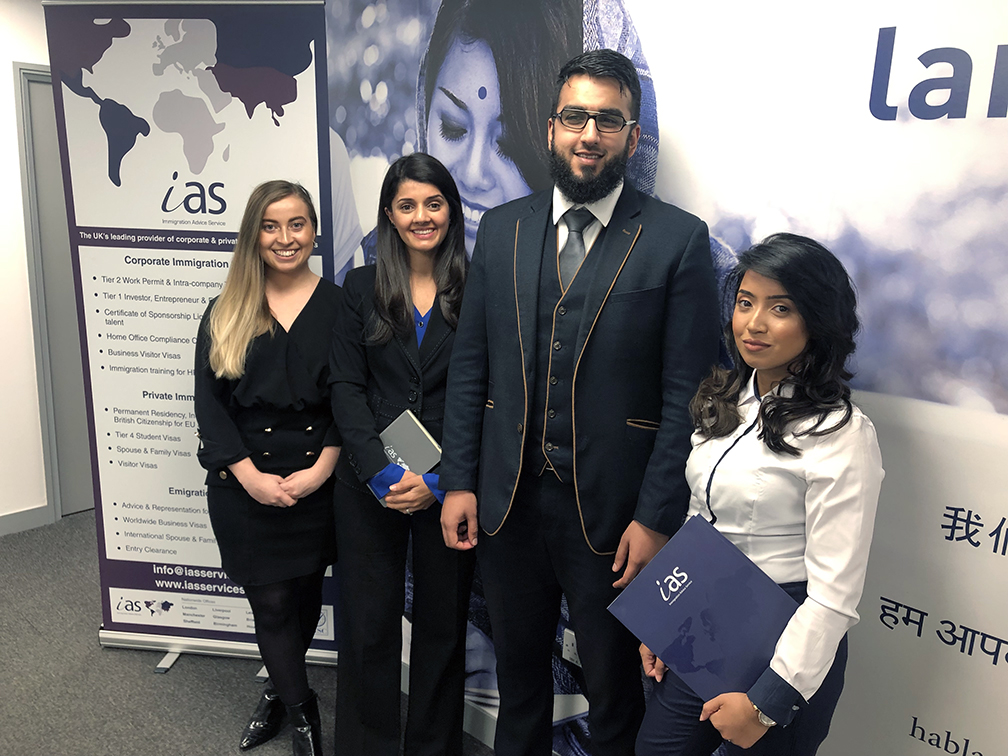 The Advice Package
During this untimed Advice Session with our professional immigration lawyers in London, you will receive our comprehensive advice, completely tailored to your needs and your situation.
Request the Advice Package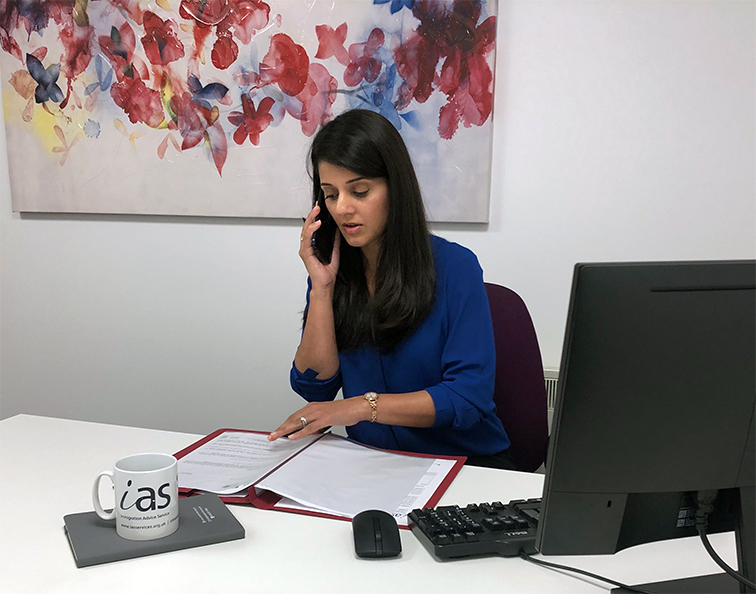 The Application Package
With our Application Package, your dedicated immigration lawyer will advise you on your application process and eligibility. Your caseworker will then complete and submit your forms to the Home Office on your behalf.
Request the Application Package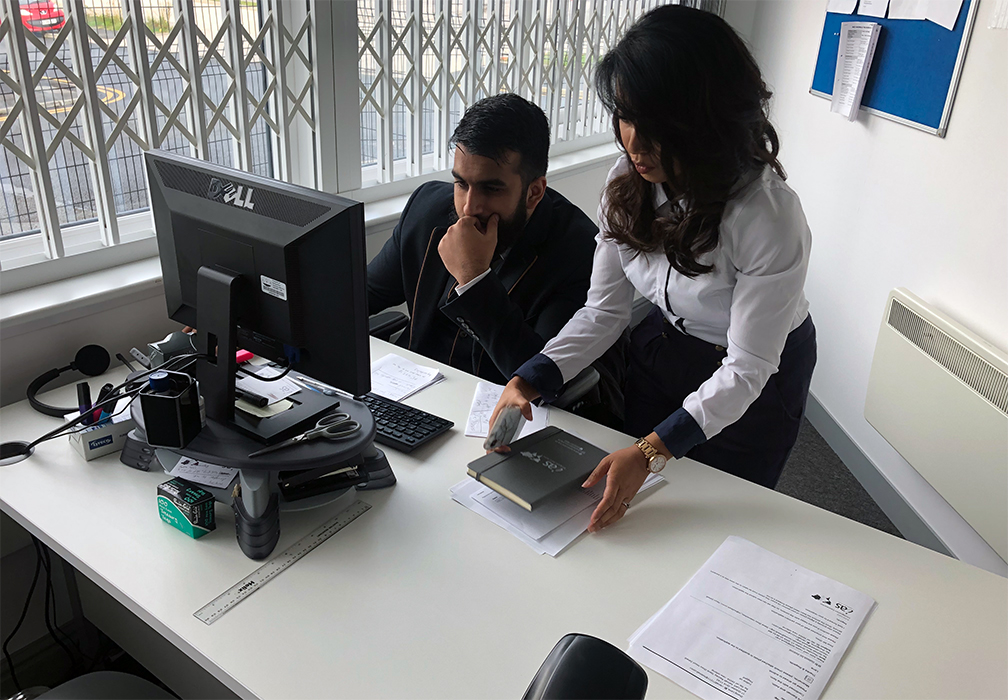 The Fast Track Package
Our Fast-Track Application Package is a premium service for those who need to submit their application in time with their deadlines. Your case will become a top priority for our lawyers and you will benefit from our highest-quality services.
Request the Fast Track Package
The Appeal Package
By choosing our Appeal Package, you can rely on our lawyers' legal knowledge and experience to ensure you have the highest chance of a successful appeal. We will also fully represent you in any hearings/tribunals.
Request the Appeal Package
Related pages for your continued reading.
Frequently Asked Questions
If you plan to live and work in Quebec, you should apply for Quebec's Self-Employed Program rather than the federal self-employed program. The requirements are about the same. However, this Quebec entrepreneur program comes with a $100,000 minimum net worth requirement but is not limited to athletics and cultural activities.