Canadian Family Visas and Immigration
If you and your family members are looking to immigrate to Canada from the United States, you may all be eligible for one of Canada's family visas or immigration programs. This page contains all the information that you will need to immigrate to Canada.
For advice or assistance with obtaining a Canadian family visa, please contact our immigration lawyers by calling +1 844 290 6312.
What are the Canadian Family Visas?
Canadian Family Visas are all immigration permits that allow individuals, their dependents and entire families to immigrate to Canada. Canada is an immigration magnet for families around the world, including families from its neighbour, the United States.
It supports thousands of individuals looking to immigrate every year through its various immigration programs. Some are specifically for families, and some allow visa holders to bring their spouse/partner and children to settle in the country. Some of Canada's other immigration permits allow holders to bring family members as well.
If you want to immigrate with your family to Canada, your best options are Family class sponsorship and Express entry programs.
For advice, an assessment of your eligibility, or assistance with immigrating to Canada with your family, call us on +1 844 290 6312.
"I'm very happy with the standard of training received on the OISC Level 1 course, i passed my exam. Thank you!"
"My application was approved and a huge weight has been lifted from our shoulders this year "
"We used this service for the spouse visa extension application to assure that all the information was valid and correct."
Family Class Sponsorship
Family sponsorship or Family class sponsorship allows those already in Canada to sponsor certain family members in the US or other countries so that such relatives can settle in Canada as permanent residents.
If you have a relative in Canada who is a Canadian citizen, Canadian permanent resident, or registered Indian, they may be able to sponsor you and other members of your family to immigrate to Canada.
There are certain individuals that can sponsor a relative, and there are certain relatives those individuals are allowed to sponsor to come to Canada. For more information or assistance with this immigration route, call +1 844 290 6312 or contact us online.
Which immigrants be sponsored under this Canadian family visa?
Under family sponsorship, a Canadian citizen or permanent resident can sponsor their:
Spouse, common-law partner, or conjugal partner
Dependent children
Parents and Grandparents
Sibling, grandchild, niece, and nephew
The sponsored family member must meet some criteria to obtain Canadian permanent residence and settle in Canada under family sponsorship. In general, the foreign national must:
Live outside Canada as at the time of application unless they were legally in Canada under temporary status.
Be able to prove they are related to their sponsor
Must have a clean medical exam and criminal record
Take every effort to financially support themselves and their dependents (if they are not dependent children of the sponsor).
Alongside these general requirements, each of the relative categories has specific requirements. Such as age for children and how they must relate to you if you claim a specific relationship. To find out more about the requirements and how you can apply, see our family sponsorship page.
What Canadian citizen or permanent resident can sponsor a relative
The first criteria are that they must be a Canadian citizen, Canadian permanent resident, or a person registered under the Canadian Indian Act. In addition, the sponsor must:
Be at least 18 years old
Live in Canada
Be able to provide financial support to the beneficiary based on the basic requirements for everyday living and health care not covered by the public health services.
Not be bankrupt
Not be in debt as a result of an unpaid loan or child support payment
Not be in prison
Have not received a removal order
Are not receiving social assistance for reasons other than a disability
Are related to the person they are sponsoring, and that relationship is eligible
Have not violated the law or sponsorship agreement when they sponsored a relative in the past
Have been invited to apply, if they are sponsoring their parent or grandparent
Meet the requirements of their province, if there are any.
Be able to take a promise of undertaking to provide financial support to the beneficiary for a specific period.
How to apply to be sponsored by a family member
The Department of Immigration, Refugees and Citizenship Canada (IRCC) have a laid down application process for those looking to immigrate to Canada under family sponsorship. The first few steps are to be done by the sponsor.
Canadian permanent resident or citizen's steps
It starts with filing a petition to be invited to sponsor the family member; this step depends on the relationship as it is not required for other family members. Those who need to do this must be invited by the IRCC to apply to be able to bring their family member to Canada.
When submitting the sponsorship application, the sponsor will need to pay a few fees, which may include the application processing fees, biometrics, and right of permanent residence fee. The exact fees that apply may differ.
US citizen or resident's steps
After paying for biometrics, the sponsored person will be invited by Citizenship and Immigration Canada to give their fingerprints and photograph at a collection point in the United States. They will also be required to do a medical exam and obtain a police certificate.
If the sponsorship application is accepted, the sponsored relative will receive an application for permanent residence from the Canadian visa office in the United States. They are to complete that application and send it alongside a few documents.
Due to the different relationship categories and their varying rules and processes, handling it alone can be confusing. Our Canada immigration solicitors can help. Please call us on +1 844 290 6312 for assistance.
Family immigration to Canada with Express Entry
Express Entry is a popular and fast Canadian immigration program. This system has allowed hundreds of thousands of foreign nationals all around the world to obtain permanent resident status and come to Canada.
With Express Entry, you or your spouse can obtain permanent residence and bring dependents (spouse/partner and children) when moving to Canada. Unlike the Family class sponsorship, the principal applicant can only come with their immediate family, not grandparents, parents, siblings, and so on. To be specific, you can immigrate with your:
Spouse, common-law partner, or conjugal partner
Dependent child
Spouse or common-law partner's dependent child
Dependent child of a dependent child
Please note that whether your partner or children are accompanying you or not, you must include them in your Express Entry profile. If you do not include them and they are coming later, you may not be able to sponsor them when that time comes.
It's not every child that can come with you regardless of if they are your biological or adopted child. A child that can come with you must be dependent, meaning they are under the maximum age of 22 and are not married or in a common-law relationship.
The exception to the age limit is if the child had depended on you for financial support since before they reached the limit and are unable to support themselves due to a mental or physical condition.
What is Express Entry
Express Entry is a system that the Canadian government uses to assess the eligibility of immigrants who wish to join the Canadian workforce through these programs:
Federal Skilled Trade Workers Program
The first three programs have a specific skill set that the principal applicant must have and the occupation they must be in to qualify for that category. The Provincial Nominee Programs is a way for provinces in Canada to nominate individuals to come to settle in their territory if they believe that person will positively contribute to their economy.
When applying for Express Entry, your profile will be given a score based on your age, language ability, occupation, and other factors. That is called the Comprehensive Ranking System. The higher your score, the better chances you have of receiving an invitation to apply for permanent residence.
Including your spouse or common-law partner in your Express Entry profile may boost your CRS points because spouses and common-law partners can gain points for their education, work experience, and language skills, which will boost your profile as well.
For more information on the requirements for Express Entry, please visit our Express Entry page. To immigrate with your family using this route, you can call us at +1 844 290 6312 or email info@total.law.
How to immigrate from the US to Canada on other Canadian visas
Like the Express Entry programs, some other Canadian visas or programs allow you to bring certain relatives as dependents.
Some Canadian visas may allow for temporary stay; some allow you and your family members to obtain permanent residency in the future from your temporary permit; some others allow you and your family members to become new permanent residents from the get-go.
Family members who are US citizens, and not just residents, can visit Canada for a few months without a visa. If you plan to visit Canada and are a US citizen, you only need to travel with a valid US passport.
If any member of your family plans to study or work, they may need a valid Canada work permit or study permit. If the plan is to settle in Canada permanently, all family members must go through a visa application process to ensure they acquire permanent residence.
What Canadian visas allow you to immigrate with family members?
Families moving to Canada permanently can use family sponsorship. Alternatively, one of the adults can be a principal applicant for a Canadian dependent visa and list others as dependents. The Canadian work permits that allow that include:
Quebec Skilled Worker
Temporary resident to permanent resident pathways
Eligible pilot programs, such as the Atlantic Immigration Pilot Program
For more information on family class immigration to Canada from the US, Call us at +1 844 290 6312. We can help you obtain Canadian family visas.
Family immigration to Canada isn't the easiest thing, especially when unfamiliar with the Canadian immigration system. Our Canada immigration attorneys have assisted several individuals and families in the US to immigrate to Canada through our immigration and visa services that include:
Assessing the eligibility of the immigrants
Providing advice on the best immigration route for all the family members
Assisting with gathering the necessary evidence and required documents
Completing a high-quality application on behalf of the immigrants
Liaising with the IRCC on behalf of everyone involved
Advising on the best actions to take to ensure the immigrants qualify for Canadian citizenship without delays
For more information on how we can help you and/or your family members to obtain Canadian family visas, please call us at +1 844 290 6312 or email info@total.law. You can also reach out to us through our live chat or contact form.
Advice Package
Comprehensive immigration advice tailored to your circumstances and goals.
Application Package
Designed to make your visa application as smooth and stress-free as possible.

Fast Track Package
Premium application service that ensures your visa application is submitted to meet your deadline.
Appeal Package
Ensure you have the greatest chance of a successful appeal. We will represent you in any case.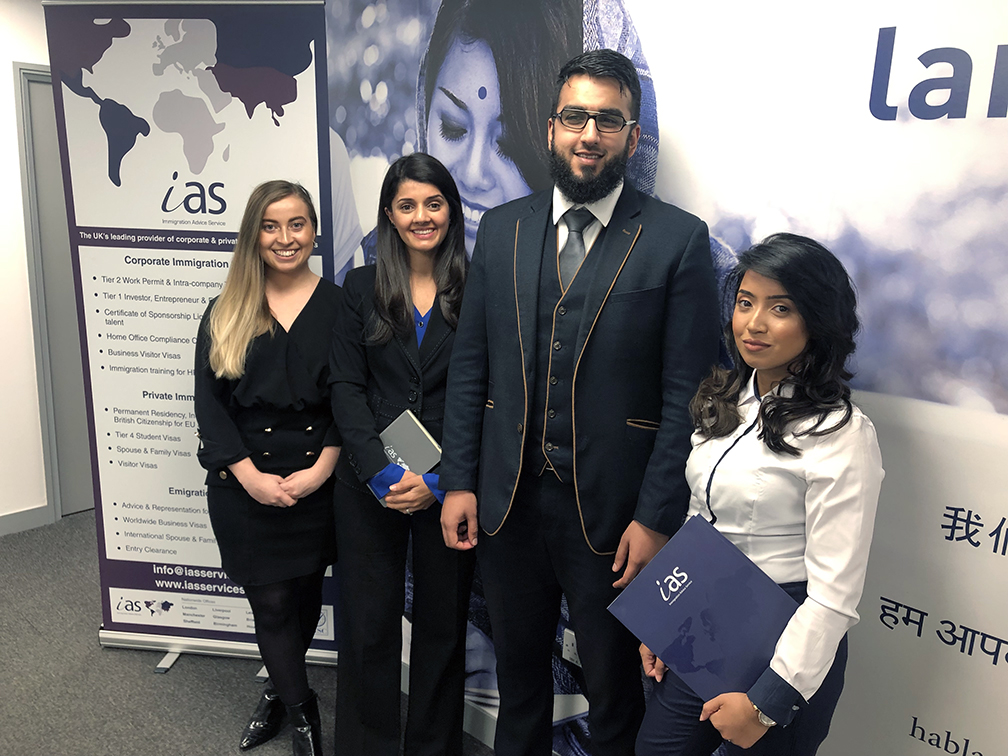 The Advice Package
During this untimed Advice Session with our professional immigration lawyers in London, you will receive our comprehensive advice, completely tailored to your needs and your situation.
Request the Advice Package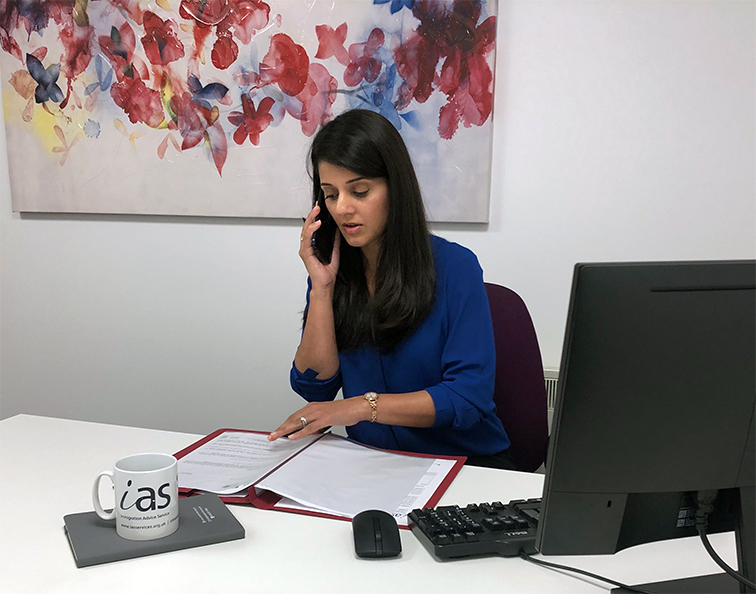 The Application Package
With our Application Package, your dedicated immigration lawyer will advise you on your application process and eligibility. Your caseworker will then complete and submit your forms to the Home Office on your behalf.
Request the Application Package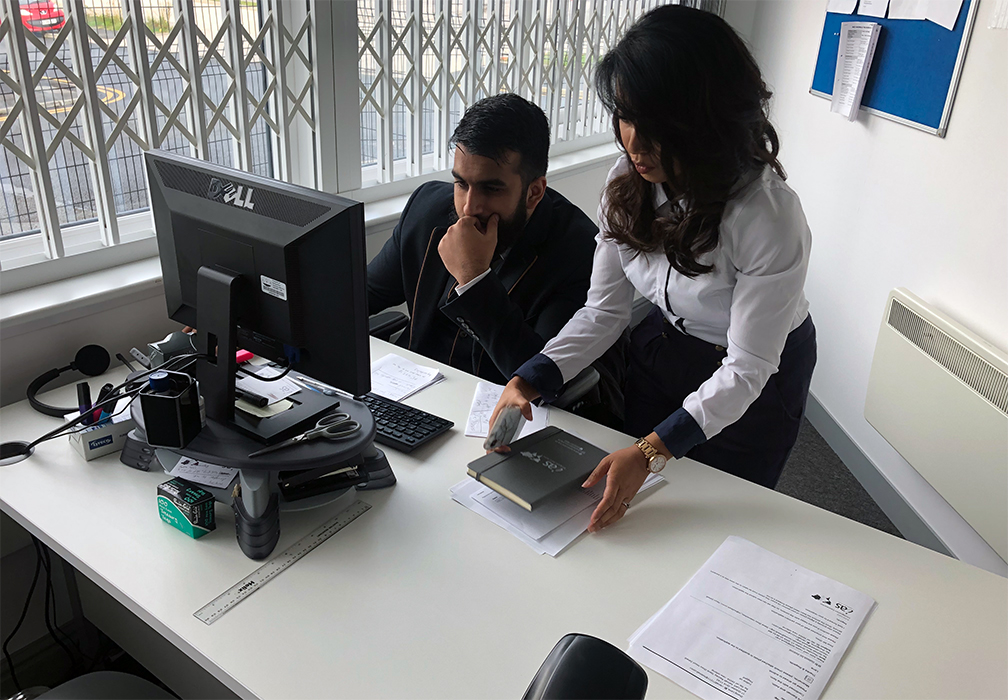 The Fast Track Package
Our Fast-Track Application Package is a premium service for those who need to submit their application in time with their deadlines. Your case will become a top priority for our lawyers and you will benefit from our highest-quality services.
Request the Fast Track Package
The Appeal Package
By choosing our Appeal Package, you can rely on our lawyers' legal knowledge and experience to ensure you have the highest chance of a successful appeal. We will also fully represent you in any hearings/tribunals.
Request the Appeal Package
Related pages for your continued reading.
Frequently Asked Questions
The amount of money you need depends on your program and the financial support your family needs.
If you were moving to Canada through the Canadian Experience Class, Canadian immigration might not ask you to provide proof of funds. If you and your family immigrate through other routes, you may need to prove you have enough money to support yourself, your spouse or partner, and dependent children even if any of the dependent children are Canadian citizens or permanent residents or they are not coming with you.
For those moving to Canada from the United States, you will need $CAD13,213 for one family member. With each family member, the money increases. You must show the IRCC that you have this settlement fund in actual cash at hand or in the bank when you apply for your Canadian family visa.
Apart from the settlement funds, you may also need money to settle immediate needs such as housing and utilities.
The requirements for each Canadian family visa differ. For example, children under family sponsorship must be under the age of 22, not be married or in a common-law relationship, and be the sponsor's biological or adopted child or a child of the sponsor's spouse or partner. The requirements are different if the family member being sponsored is a spouse, common-law or conjugal partner.
If you are unsure of the best immigration route for you and your family or need advice on your eligibility and immigration process, call us on +1 844 290 6312, and we will be happy to help.
Yes, a couple of immigration routes allow foreign nationals to immigrate to Canada with their family permanently. They include family class sponsorship, Express Entry, and some of the work and business visas. For more information on family class immigration to Canada, please call our immigration law firm on +1 844 290 6312 or contact us online.