Portugal Citizenship For Australian Citizens
Portugal offers several pathways through which you can acquire citizenship. Each of these routes has specific requirements.
For more information on Portugal citizenship, including determining which route suits you and how to apply, call our immigration lawyers at +44 (0)333 305 9375 or request a callback via the online contact form.
An Introduction to Portuguese Citizenship
Portugal, renowned for its rich history, has become an attractive destination for individuals seeking new citizenship. Australian citizens, in particular, are increasingly exploring the avenues to acquire Portuguese citizenship for various compelling reasons.
Firstly, with Portuguese citizenship, Australians gain access to the privileges of  European Union (EU) membership, which includes the ability to live, work, and study anywhere within the EU. This not only broadens horizons for career and educational opportunities but also allows for seamless travel throughout Europe.
Additionally, Portugal allows its citizens to hold multiple citizenships, including dual and even triple citizenships. This appeals to individuals who wish to maintain ties to their home countries while enjoying the privileges and opportunities of Portuguese citizenship. This flexibility allows Australians to maintain their Australian citizenship while also becoming Portuguese citizens.
"I'm very happy with the standard of training received on the OISC Level 1 course, i passed my exam. Thank you!"
"My application was approved and a huge weight has been lifted from our shoulders this year "
"We used this service for the spouse visa extension application to assure that all the information was valid and correct."
Routes to Obtaining a Portugal Citizenship
Portugal offers various routes to citizenship, making it accessible to a diverse range of individuals. The most common or easiest way of obtaining Portuguese citizenship is by birth or descent, but other options are available if you don't fall under these categories.
If you are an Australian seeking Portuguese citizenship, here are the different routes you can use:
By birth
By adoption
By descent
By marriage
By investment
Through naturalisation
Sephardic Jewish ancestry
It's important to note that each of these routes has specific requirements that you must fulfil before you can apply for citizenship.
Consider discussing with an immigration lawyer before you make a decision. Our Portuguese immigration lawyers at Total Law can help you determine which citizenship route is most appropriate for you. Call us at +44 (0)333 305 9375 for immediate help.
Portuguese Citizenship By Birth
If you were born in Portugal, you automatically hold Portuguese citizenship by birth. Also, if you were born outside of Portugal, but either of your parents was born in Portugal, you are also eligible for citizenship by birth.
To be eligible, at least one of the following must apply to you:
If you have at least one Portuguese parent who was a Portuguese national when you were born, regardless of your place of birth
If you were born in Portugal to foreign parents, and at least one of them has been living in Portugal for five years (since 1981), two years (since 2018), or one year (since 2020) at the time of your birth
If you were born in Portugal to foreign parents and at least one of them has lived there for five years and are now 18 or above, you can apply for citizenship.
If you are below 18 or have a severe disability, and at least one of your parents acquired Portuguese nationality after your birth, and you've lived in Portugal for five years.
The documents required to apply for Portuguese citizenship by birth include the following:
The child's birth certificate
The Portuguese parent(s) valid passport and identification card
The birth certificate of the non-Portuguese parent, issued by the government of the country where they were born.
A certified copy of a long-form birth certificate legalized by Apostille or by the Consulate of Portugal if the child was born outside of Portugal.
If you are over 18 at the time you're applying, you must submit the following additional documents:
A valid identification document such as a passport or driver's licence
A marriage certificate, if applicable
Portuguese Citizenship by Adoption
If you were legally adopted by Portuguese parents, you can apply for citizenship through this route. However, you must be fully adopted by your Portuguese parents, meaning you are fully integrated into the family and have no ties with your biological family.
To be eligible for citizenship by adoption, you must also meet the following requirements:
Be under 18 at the time of your legal adoption
Have a proven connection to the Portuguese community
Have no criminal record punishable with a sentence of more than 3 years.
Have not held public functions or completed non-military service obligations in another country.
Complete the language proficiency test, also called Certificado Inicial de Português Língua Estrangeira (CIPLE), or if you are under 18, prove that you attended a Portuguese school.
Additionally, if you were adopted before October 18, 1981, you must express your wish to acquire Portuguese citizenship by filing the official declaration form.
To apply for citizenship by adoption, you must present the following documents:
A copy of your legal birth certificate. If you were born overseas, the birth certificate must be legalized by an Apostille or a Portuguese consulate
The certificate of adoption from the court
Your Portuguese parent's birth certificate
A copy of your passport or valid ID if you are over 14 years old.
A copy of your criminal record from all foreign countries where you resided from age 16. These records should be certified and translated into Portuguese.
A document confirming if you held a public function in another country and details of the role they performed.
A document confirming if you completed non-military service obligations in another country.
Portuguese Citizenship Descent
The Portuguese citizenship by descent route allows you to obtain citizenship as a result of ancestral ties. This means you must come from a line of Portuguese ancestors or have ties to Portugal through a parent or grandparent.
To meet the requirements, you must satisfy at least one of the following requirements:
You were born in Portugal to a parent who is a Portuguese citizen
You were born outside of Portugal to a Portuguese parent who works for the Portuguese State
You were born abroad to a Portuguese parent and are listed in the Portuguese civil registry
You were born outside Portugal and have a grandparent(s) who is a Portuguese citizen. Your grandparent(s) must have strong ties to Portugal, and their birth must have been registered with the civil registry.
When applying for citizenship by descent, you must submit the following documents:
Your birth certificate proving that your Portuguese parents recognized you as their child while you were a minor
Birth certificate of grandparents (if applying through your ties with your grandparents)
Birth certificate of your parent that is the child of your Portuguese grandparent (if applying through your ties with your grandparent)
Criminal record certificate issued by any country you lived in after you turned 16
Proof of language proficiency.
Your parents' marriage must reflect on your birth certificate. If they were married abroad and their marriage was not registered in Portugal, they must register their marriage. Otherwise, you may not be able to apply for citizenship.
However, if your parents were not married at the time of your birth, you must provide a document signed at the time of your birth that they acknowledged paternity.
Portuguese Citizenship Marriage
You can acquire Portuguese citizenship if you get married to a Portuguese national. However, you must be married to your spouse for at least 3 years, and your marriage must be registered with the Portuguese Civil Marriage Registry.
You can also apply for citizenship if you are in a recognized de facto union with a Portuguese national that has lasted for at least 3 years.
To apply for citizenship through marriage, you must prove that your relationship with your spouse is genuine. You must also submit the following documents:
A copy of your birth certificate legalized by an Apostille or Portuguese consulate
A copy of the Portuguese spouse's passport,  identification card, and birth certificate
A copy of your marriage certificate registered in Portugal
A criminal record certificate issued by the countries you've lived in before turning 16
Proof that you haven't served in the military or been employed as a civil servant in your home country.
Proof of Portuguese language proficiency (not applicable if you have been married to a Portuguese national for five years).
Portuguese Citizenship By Investment
Portuguese citizenship by investment, also called the Golden Visa program, is one of the easiest and most common ways to obtain citizenship in Portugal.
The investment program requires you to make a significant minimum investment in any acceptable scheme in Portugal. The qualified investments for Portugal's Golden Visa program include the following:
Setting up a business of €500,000 or more in a company, creating ten jobs minimum.
Investing €500,000 in a commercial company that will create a minimum of 5 new jobs
Making a venture capital investment of at least €500,000
Investing a minimum of €500,000 in research programs.
Investing a minimum of €250,000 in cultural art or national heritage reconstruction.
You must obtain a tax number, create a Portuguese bank account, and make the investment before you can apply for the Portugal Golden Visa.
Additionally, you must maintain this investment for five years, after which you can apply for citizenship through the naturalisation route. However, within the five-year period, you are only required to reside in Portugal for seven days within each one-year period.
After you've obtained citizenship, you will no longer be required to maintain your investment, and you can sell or liquidate it as you wish.
Portuguese Citizenship By Naturalisation
The citizenship by naturalisation route is another common way to get citizenship in Portugal if you don't qualify to apply through family ties or are unable to go through the investment route.
You can apply for citizenship through this route if you have lived in Portugal as a legal resident continuously for at least the most recent five years. Other eligibility requirements for the citizenship by naturalisation route include:
You must demonstrate proficiency in the Portuguese language
You must have a clean criminal record
You must not be linked to any terrorist activity
You must be actively involved in the Portuguese community and show proof of it.
To apply for citizenship by naturalisation, you must submit the following documents:
Your Portuguese residence permit
A valid passport
A criminal record certificate
Your birth certificate
Certificate of proof of knowledge of the Portuguese language up to an A2 level n the Common European Framework of Reference for Languages (CEFR) scale.
By Sephardic Jewish Route
Portuguese citizenship for Sephardic Jews was established in 2015 by the Portuguese parliament with the new decree, Decree-Law 30-A/2015.
Under this law, descendants of Portuguese Jews expelled from Portugal and Spain in the fifteenth century can return to Portugal and obtain citizenship.
Eligibility for Portuguese citizenship through the Sephardic Jewish heritage route requires applicants to demonstrate a substantial connection to Portuguese Sephardic culture. This may include having a Portuguese surname or speaking Ladino, a Judeo-Spanish language.
Applicants can provide one of the following three documents as evidence of their Sephardi ancestry:
A certificate issued by a Sephardic community officially recognised under Portuguese law. This certificate should explicitly state that the applicant has connections to a Portuguese Sephardic community through language, surname, lineage, or family memory.
A certified document issued by the applicant's own Jewish community, affirming that the applicant speaks Portuguese Sephardic languages or participates in cultural practices characteristic of the Portuguese Sephardic community.
A marriage, death, or birth certificate that provides evidence of the applicant's family ties to the Portuguese Sephardic community.
Additionally, applicants must be at least 18 years old. If younger, they must be emancipated under Portuguese law. They must be able to demonstrate that they have no criminal record.
If you're applying for citizenship as a Sephardic Jew, be aware that citizenship through this route is granted at the discretion of the Minister of Justice. The decision to grant citizenship hinges on your ability to provide substantial and convincing evidence of your Sephardic ancestry.
If you do not submit the necessary documentation or fail to provide adequate proof of your Sephardic heritage, the Minister of Justice retains the authority to decline your citizenship application.
Portuguese Citizenship Fees
Here are the application fees associated with each of the Portuguese citizenship routes:
| | |
| --- | --- |
| Citizenship route | Fee |
| By birth | €250 |
| By adoption (adopted before October 18, 1981) | €20 |
| By adoption (adopted after October 18, 1981) | Free |
| By descent | €175 |
| By marriage | €250 |
| By naturalisation | €250 |
| By Sephardi ancestry | €250 |
These fees are non-refundable and must be paid in full when submitting your application. Additional fees may be associated with your application, depending on your case.
Step-By-Step on How To Apply For Portuguese Citizenship
Take the Language Proficiency Test
The Portuguese language proficiency test is one of the requirements to obtain Portuguese citizenship. This test is a simple A2 Portuguese language test that measures your basic understanding of Portuguese, and it is called the Certificado Inicial de Português Língua Estrangeira (CIPLE).
The CIPLE A2 test is a 2-hour long test that consists of three sections, including oral comprehension, oral expression, and reading and writing. To pass the test, you'll need to score 55% or higher.
Gather Your Documents 
Depending on your chosen route, collect all necessary documentation to support your application. These documents may include birth certificates, marriage certificates, criminal records, proof of residency, and any other specific documents required for your situation.
Apply at the Portuguese Embassy or Consulate
Get the application form and submit your documents at a Portuguese Embassy or Consulate to begin the application process.
If you are applying for citizenship from Australia, fill out the personal details form and, if you're over 18, the Declaration of Portuguese Nationality form.
Then, post your documents to the office of the Consulate General of Portugal in Sydney. Upon receipt of your documents, the consulate will send you an email stating the application fee cost and bank details for you to make payments.
However, if you already reside in Portugal, you can visit any of the following locations in person to make an application:
The Civil Registry Offices in Portugal
The Central Registry Office in Lisbon
The Register of the Citizen's Office of Odivelas
The Lisbon National Immigration Support Center
The Porto National Immigration Support Center
The Nationality Desk of the Central Archive of Porto
The Registration Space of the Campus of Justice and Benfica
Alternatively, you can apply by sending your application form and supporting documents to the Central Registry Office at Rua Rodrigo da Fonseca, 198, 1099-003, Lisbon, or to any of the Nationality Desk of the civil registry office in over 40 municipalities in Portugal.
Attend an Interview
After submitting your application, you may be required to attend an interview at the embassy or Consulate at a later date. If you're applying for citizenship for a child, they don't have to be present with you at the interview.
During the interview, you will be asked about your background to determine if you meet the eligibility requirements. The consulate officers will review your application and give you a decision afterwards.
Processing Time After The Portuguese Citizenship Application Is Submitted
The processing time for a decision on a Portuguese citizenship application can vary depending on several factors, including the complexity of the case and the workload of the relevant immigration offices.
Generally, you should expect a waiting period of several months to over a year.
What Happens When The Application is Successful?
You will typically receive an official notification confirming the approval of your citizenship application. This notification will include essential details about the next steps.
You may be required to attend a Portuguese citizenship ceremony and take an oath of allegiance to Portugal as part of the ceremony. This oath signifies your commitment to becoming a Portuguese citizen.
After the ceremony, you will receive a Portuguese citizenship certificate as evidence of your new status. You can then apply for a Portuguese passport, which you can typically get within a couple of days.
What Are The Benefits Of Portuguese Citizenship?
Dual citizenship: The Portuguese passport allows you to enjoy dual citizenship. You can retain your Australian citizenship and also enjoy the benefits of Portuguese citizenship.
Enjoy the rights of a citizen: As a Portuguese citizen, you'll enjoy the privilege of residing, working, and pursuing education within Portugal without any restrictions. You'll also have access to Portugal's healthcare system without additional costs.
Also, Portuguese citizens have the right to participate in local and national elections actively, and with your passport, you can also participate.
EU membership: Portugal's membership in the European Union allows you to live and work in any EU member state without additional requirements or visa applications.
Strong passport: The Portuguese passport is one of the strongest passports without common visa restrictions. You can enjoy visa-on-arrival and visa-free travel to over 150 countries with your passport.
Can a Portuguese Citizenship Be Revoked?
Portuguese citizenship can be revoked under specific circumstances, although it is a complex and rare process.
Revocation typically occurs if the immigration authorities discover that the individual poses a significant threat to national security or public order, commits a serious crime, or is involved in terrorism.
It's important to note that the Portuguese government will not revoke an individual's citizenship if it will leave them stateless.
How Can Total Law Help?
Navigating the intricate process of obtaining Portuguese citizenship from Australia can be overwhelming. However, you don't have to do it alone. Our team of experienced immigration lawyers at Total Law can help you.
Our lawyers are knowledgeable about Portuguese immigration law and understand the complexities of citizenship requirements. We work closely with you to understand your specific circumstances and provide personalised solutions to your needs and concerns.
We will streamline the application process for you, ensuring you meet all the criteria, helping you compile all required documents, complete the necessary forms accurately, and submit your application efficiently.
For more information on how we can help, call us at +44 (0)333 305 9375. You can also reach us by filling out the online contact form.
Advice Package
Comprehensive immigration advice tailored to your circumstances and goals.
Application Package
Designed to make your visa application as smooth and stress-free as possible.

Fast Track Package
Premium application service that ensures your visa application is submitted to meet your deadline.
Appeal Package
Ensure you have the greatest chance of a successful appeal. We will represent you in any case.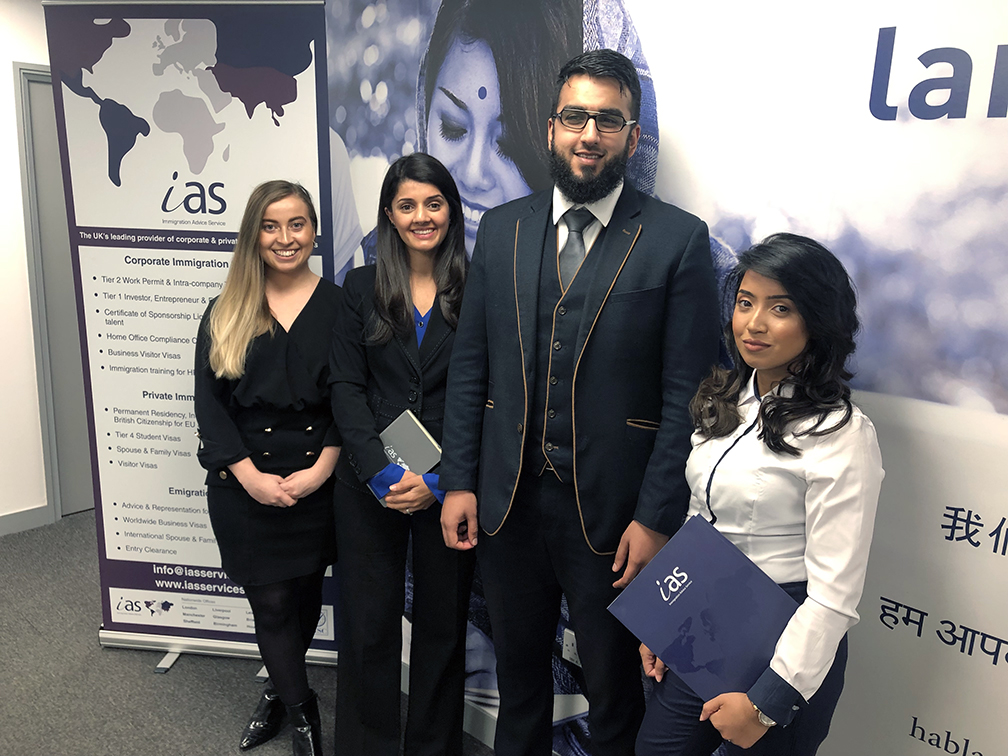 The Advice Package
During this untimed Advice Session with our professional immigration lawyers in London, you will receive our comprehensive advice, completely tailored to your needs and your situation.
Request the Advice Package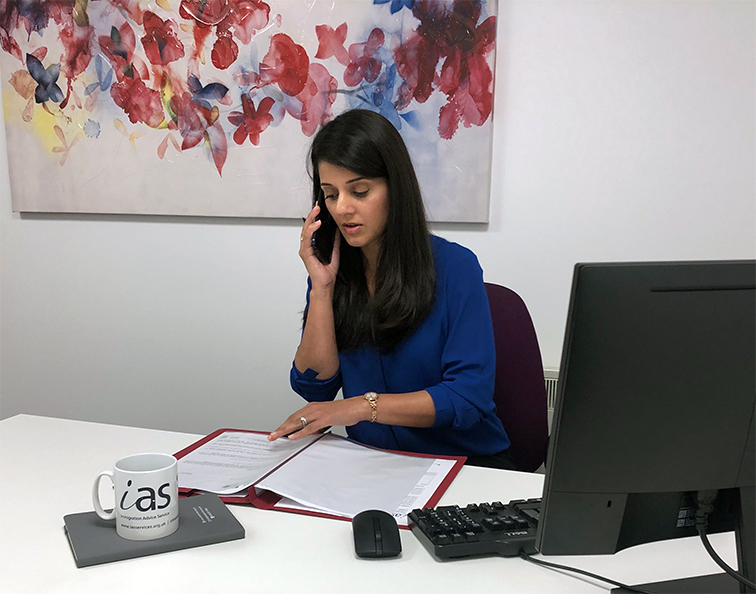 The Application Package
With our Application Package, your dedicated immigration lawyer will advise you on your application process and eligibility. Your caseworker will then complete and submit your forms to the Home Office on your behalf.
Request the Application Package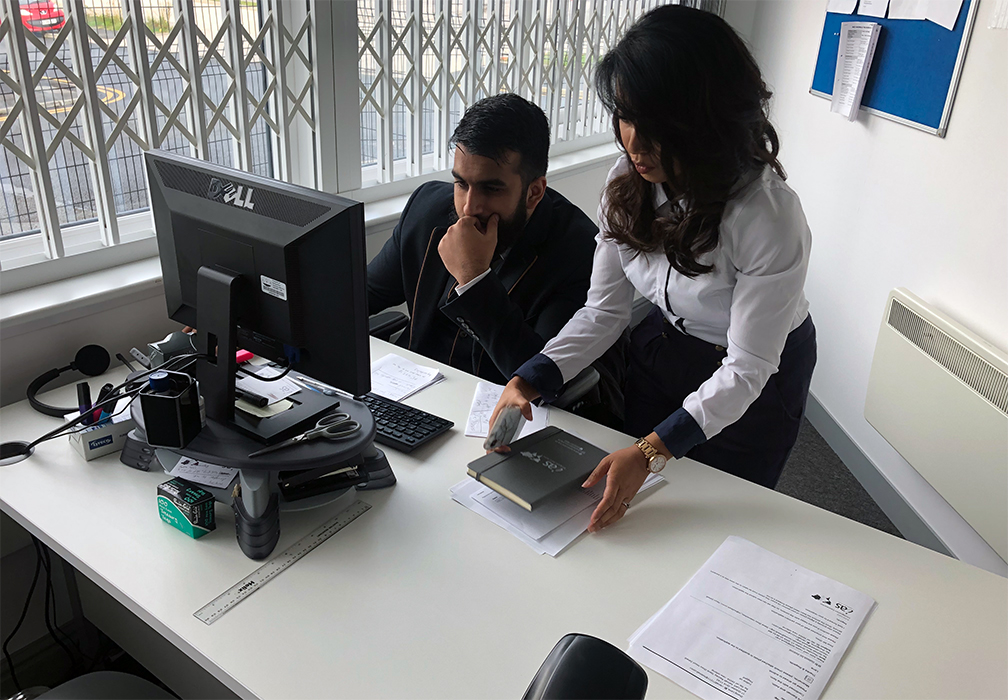 The Fast Track Package
Our Fast-Track Application Package is a premium service for those who need to submit their application in time with their deadlines. Your case will become a top priority for our lawyers and you will benefit from our highest-quality services.
Request the Fast Track Package
The Appeal Package
By choosing our Appeal Package, you can rely on our lawyers' legal knowledge and experience to ensure you have the highest chance of a successful appeal. We will also fully represent you in any hearings/tribunals.
Request the Appeal Package
Related pages for your continued reading.
Frequently Asked Questions
Applying for Portuguese citizenship from Australia can be complex as there are several requirements you must meet to be eligible. However, with the help of an immigration lawyer, you can navigate the process smoothly.
You do not have to relocate to Portugal to obtain citizenship, depending on the route you're applying through. While the citizenship by naturalisation route requires you to be resident in Portugal for a specific time, other paths like citizenship by descent and the Sephardic Jewish routes don't need you to relocate to Portugal as a requirement.
Portugal doesn't offer an appeal process for citizenship applications. As such, you must meet the requirements and prepare your documents accurately to increase your chances of success.