Portugal D3 Visa From UAE
UAE citizens who are highly qualified experts in their field can seek to obtain residency in Portugal based on their skills and qualifications via the Portuguese D3 Visa.
To know how you qualify, how to meet the requirements, and how to apply for a D3 Visa, Total Law can assist you. We specialise in immigration law and can help you navigate the entire process. Call us at +44 (0)333 305 9375 or chat with us online to see how we can help.
Overview of the Portugal D3 Visa from the UAE
The D3 Visa, also known as the Highly Qualified Activity Permit, is designed for highly qualified, skilled professionals, including UAE citizens planning to work in Portugal on a long-term basis.
With the D3 Visa, you have the opportunity to travel to Portugal and apply for either the Blue Card or Residence Permit, granting you the ability to live, work, and stay temporarily in the country.
This permit is renewable for two consecutive periods of two years each, provided you continue to meet the visa criteria.
After five years of legal residence in Portugal, you have the option to apply for Portuguese nationality or citizenship.
However, it is important to note that the Portuguese D3 Visa requires you to have confirmed employment opportunities or a self-employed contract to provide services to a Portuguese company.
"I'm very happy with the standard of training received on the OISC Level 1 course, i passed my exam. Thank you!"
"My application was approved and a huge weight has been lifted from our shoulders this year "
"We used this service for the spouse visa extension application to assure that all the information was valid and correct."
What is a Highly Qualified Activity for UAE Nationals?
In accordance with Portuguese immigration law, highly qualified activity refers to the performance of an activity that demands specialised technical skills of an exceptional nature or appropriate qualifications for the specific job role.
Highly qualified activities are typically undertaken by professionals falling into one of these two categories:
Leadership and managerial positions, including executives, officers, legislators, senior public administration officers, directors, administrative and commercial managers, service managers, and company directors.
Professionals in intellectual and scientific fields, such as engineers, scientists, healthcare professionals, educators, business and management experts, cultural specialists, legal professionals, and IT specialists. In IT specialist roles, there are two distinct application pathways for the D3 Visa: the general regime and the Tech Visa, with IT professionals qualifying for both.
If you believe you have a specialised skill but are unsure or unclear if it falls under a highly qualified activity, speak to an immigration expert.
Total Law can help you clarify any confusion you may have. Call us at +44 (0)333 305 9375  or chat with us online; we are happy to help.
Benefits of the Portugal D3 Visa for UAE Nationals
As a UAE citizen you must provide a range of paperwork to support your D2 Visa application and demonstrate your plans to run a successful enterprise in Portugal. You must ensure that all documents are in English or Portuguese or translated certified copies provided.
When applying you must supply the following important documents to evidence your business aims when living and working in Portugal:
Overview
The D3 Visa for Portugal offers several benefits to its holders, including:
Visa-free access and unrestricted movement across 27 European countries within the Schengen Area.
Eligibility for the EU Blue Card after residing legally in Portugal for 18 months. This card allows highly-skilled UAE nationals to live and work in 25 European Union countries, excluding Ireland and Denmark.
The ability to bring dependents to Portugal.
Access to public healthcare and education services, along with Portuguese residency rights.
Qualification for permanent residency or citizenship in Portugal after a period of five years.
EU citizenship entitlement for your children if they are born after you have legally resided in Portugal for 12 months.
The option to apply for Portugal's Non-Habitual Resident (NHR) tax arrangement.
Tax benefits of the Portugal D3 Visa for Citizens of the UAE
The NHR tax system is a special programme aimed at enticing foreign individuals, especially high-net-worth UAE individuals, to become tax residents in Portugal.
You are eligible if you haven't previously participated in the NHR regime and have not been a resident of Portugal within the last five years. Tax benefits of the D3 Visa comprise:
Tax-free income for the initial decade upon transferring tax residency to Portugal
A fixed 20 per cent personal income tax rate for high-value employment
Relief from taxation on additional income sources like pensions and dividends is available as the UAE has a Double Taxation Agreement with Portugal.
Eligibility Requirements for the Portugal D3 Visa for Citizens of the UAE
One of the major requirements is to have a valid employment contract or a self-employed contract to provide services to a company based in Portugal. In addition, the following specific requirements should be fulfilled:
Clean criminal record
Engage in a highly qualified activity, demonstrating appropriate qualifications or experience for the role.
Have a valid employment contract or a preliminary employment contract for an indefinite period or at least one year.
Provide evidence of an expected annual salary that is at least 1.5 times the Portuguese national average gross annual salary or three times the Index of Social Support, which is €480,43.
Evidence of professional qualifications or a professional certificate is mandatory.
If you intend to work in an unregulated profession, you must obtain a professional certificate appropriate for your field of work or sector, as stated in your employment contract or formal job offer.
Documents Required for the Portugal D3 Visa for UAE Nationals
Submitting an application for the D3 Visa requires the following documents:
Two passport-sized photos
Valid passport with an expiration date at least three months beyond the intended stay duration
A valid employment contract from a Portuguese company
Police clearance certificate from your country
A completed form granting permission to the Portuguese Immigration and Border Service (SEF) to access your criminal record (not applicable to minors under 16)
Proof of travel arrangements
Documentation verifying your accommodation plans in Portugal
Valid travel insurance, inclusive of health coverage
Proof of financial resources to support yourself during your stay in Portugal
An invitation letter from a professional training institution is necessary if you're seeking admission to a Portuguese educational institution, such as for a teaching or research position
Proof of qualifications enabling practice in Portugal is required for regulated professions
For professions not subject to regulation, evidence of qualifications pertinent to the specified activity or sector in your contract is necessary
Application Process for the D3 Visa Portugal for Citizens of the UAE
As a person residing in the UAE, you can apply for the D3 Visa through one of the following:
The E-Visa Portal, operated by the Portuguese Consulate in the UAE
VFS Global, a third-party appointment booking system
To apply for the Portugal D3 Visa, you must acquire a NIF and establish a bank account in Portugal. Acquiring an NIF can be accomplished online or in person at a tax office in Portugal, and opening a bank account can be done remotely. Furthermore, it is obligatory to designate a tax representative in Portugal as part of the procedure.
To obtain the D3 Residency Visa, you must submit your application to a Portuguese Consulate or Embassy, VFS Global, or a similar facility in your home country, the UAE. It is important to note that applications should not be submitted within Portugal.
Subsequently, you need to arrange an interview for your Portugal D3 Visa at a Visa Application Centre or the Portuguese Consulate. Upon successful completion of the process, a visa will be granted to you.
Once the visa is granted to you, it remains effective for 120 days and permits two entries into Portugal during its validity period.
When you arrive in Portugal, you are required to acquire a residency permit from the SEF. This permit grants you the ability to remain in Portugal for the complete duration of your visa.
To determine whether the D3 Visa aligns with your needs or if other alternatives like the Portugal Golden Visa Programme or a Startup Visa might be more suitable, schedule a consultation with Total Law today.
Processing Times and Fees for the Portugal D3 Visa
The processing time for the Portugal D3 Visa is 30 days, a relatively quick time frame when compared to other programmes like the Portugal Golden Visa and the D2 Visa.
The visa application fee is typically €90, and there is an additional €170 fee for processing and obtaining your residency permit from SEF in Portugal.
The D3 Visa Validity for UAE Nationals
The D3 Visa allows entry into Portugal and requires applying for a residence permit at SEF within 4 months from the arrival date in the country.
After obtaining your D3 Visa, the next step involves applying for Portuguese residency. The residency permit is initially valid for 12 months, especially for a permanent employment contract.
Following this period, you can renew your residency for two consecutive 2-year terms through the local SEF branch. After completing five years of legal residency, you become eligible to apply for citizenship through naturalisation.
Please note that all documents, including the criminal record and marriage and birth certificates (if you're applying for family reunification), must be apostilled and translated into Portuguese when applying for residency.
D3 Visa Portugal Refusal Reasons for UAE Citizens
There are specific reasons for visa refusals. If your D3 Visa application for Portugal is rejected, the Portuguese Consulate will provide a rejection proposal, and you have the option to challenge and appeal this decision.
Incomplete Application
Incomplete visa applications present a significant challenge in the visa application process. The forms distributed by consulates or embassies are designed to collect specific details relevant to your visa category, and any omissions or unclear information can lead to visa denial.
It is highly advisable to thoroughly review and complete the application form, ensuring accurate completion of every section. In addition, it is crucial to include all required supporting documents and pay close attention to any additional instructions provided by the immigration authorities.
Insufficient Financial Means
Proving financial stability is a vital component of the D3 Visa application. Immigration officials require confirmation that you have enough financial means to sustain yourself without resorting to illegal employment or seeking public aid during your stay.
Therefore, you will need to provide comprehensive and up-to-date financial documentation, such as employment or sponsorship letters, that aligns with your intended duration and purpose for the trip.
False Information and Documentation
Submitting incorrect or deceptive details or falsified documents in a visa application is a severe violation and can result in visa denial, along with possible legal penalties. It is crucial to emphasise the necessity of absolute honesty during the entire application procedure.
You should note that the immigration authorities thoroughly verify the information provided. Therefore, you need to double-check all details, including personal information, travel history, documentation, and any declarations you make, to avoid your visa being denied.
Criminal Record
Having a criminal record can substantially affect the D3 Visa application, as immigration authorities frequently perform background checks to evaluate an applicant's criminal background. In fact, several countries enforce stringent entry policies for individuals with specific types of criminal convictions, particularly those related to violence, fraud, or drug-related offences.
It is, therefore, vital to be fully aware of the possible repercussions of having a criminal record and, when required, be guided in applying for waivers or legal solutions to resolve these concerns.
If you have had your D3 Visa refused, Total Law can appeal your visa refusal on your behalf. We will present your case persuasively, explain why your refusal was incorrect or unfair, and provide compelling evidence to support your claims.
As appealing a visa refusal can be a complex legal process, it is therefore encouraged to seek the help of an immigration expert before submitting your D3 Visa application to avoid refusal.
How Can Total Law Help?
With over a decade of collective expertise in immigration, Total Law provides unparalleled support for obtaining Portugal's D3 Visa.
Our diverse team, skilled in immigration, guarantees the success of your application by overseeing the entire process from beginning to end.
Total Law also simplifies the process and alleviates the stress associated with obtaining your visa. We offer real-time visa updates, and our reliable lawyers ensure your application proceeds seamlessly.
For more information about the services we offer and how we can assist you, schedule a consultation with us today by calling +1 844 290 6312. Alternatively, you can chat with us online for a prompt response to your inquiries.
Advice Package
Comprehensive immigration advice tailored to your circumstances and goals.
Application Package
Designed to make your visa application as smooth and stress-free as possible.

Fast Track Package
Premium application service that ensures your visa application is submitted to meet your deadline.
Appeal Package
Ensure you have the greatest chance of a successful appeal. We will represent you in any case.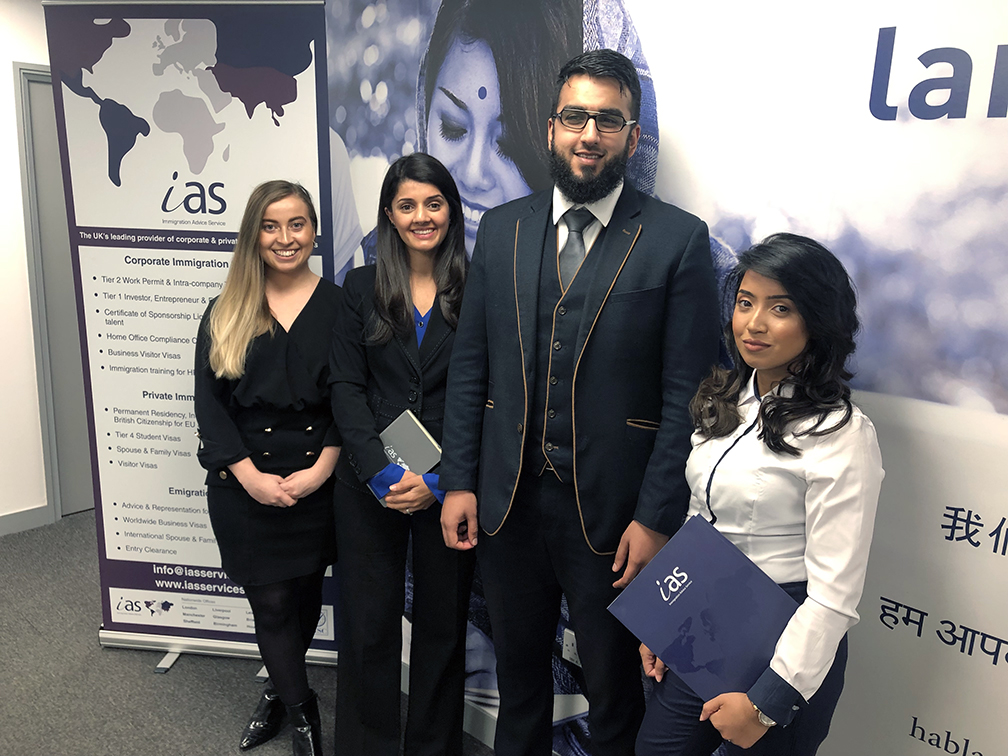 The Advice Package
During this untimed Advice Session with our professional immigration lawyers in London, you will receive our comprehensive advice, completely tailored to your needs and your situation.
Request the Advice Package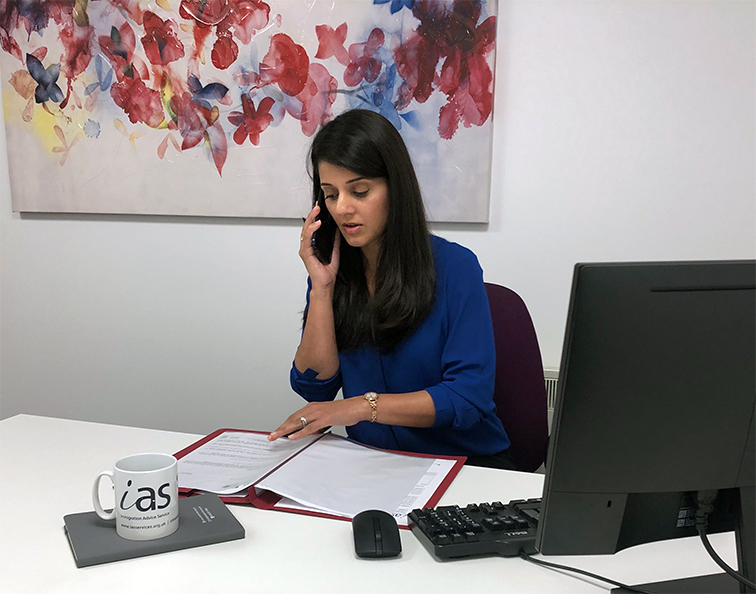 The Application Package
With our Application Package, your dedicated immigration lawyer will advise you on your application process and eligibility. Your caseworker will then complete and submit your forms to the Home Office on your behalf.
Request the Application Package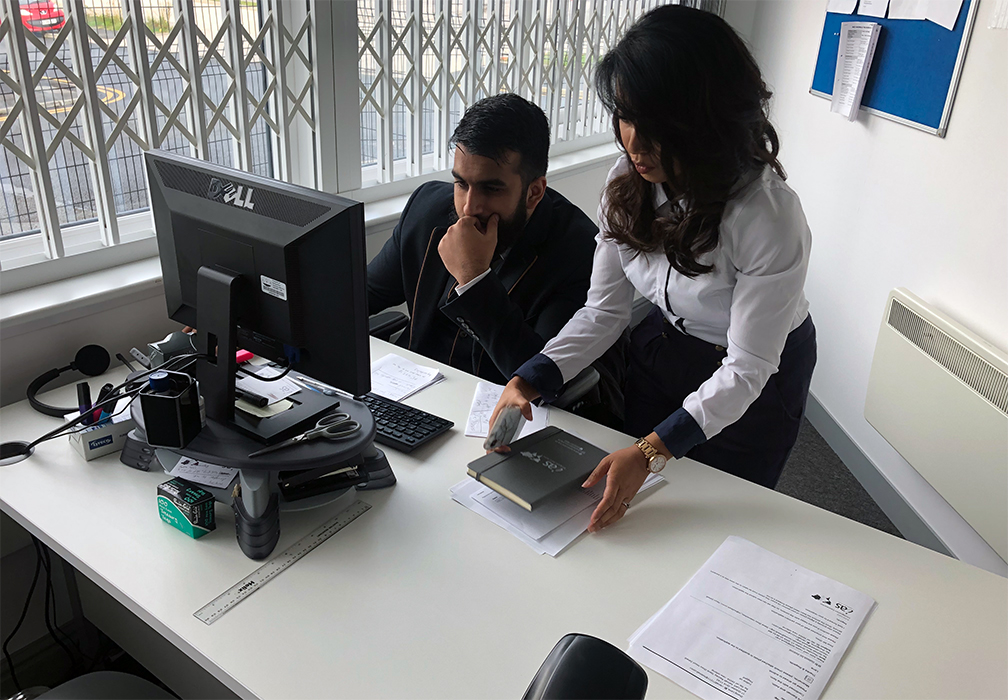 The Fast Track Package
Our Fast-Track Application Package is a premium service for those who need to submit their application in time with their deadlines. Your case will become a top priority for our lawyers and you will benefit from our highest-quality services.
Request the Fast Track Package
The Appeal Package
By choosing our Appeal Package, you can rely on our lawyers' legal knowledge and experience to ensure you have the highest chance of a successful appeal. We will also fully represent you in any hearings/tribunals.
Request the Appeal Package
Related pages for your continued reading.
Yes, it can. If the visa has expired due to the 120-day validity period without you being in or relocated to Portugal, you must submit a fresh visa application.
Certainly, you have the flexibility to engage in employment, pursue studies, establish a bank account, start a business, and undertake various activities while holding the D3 Visa.
No, proficiency in the Portuguese language is not mandatory for this visa.
Although you may change your residence permit once you're in Portugal, you must still start a new process for the appropriate type of visa.