Portugal Work Visas For Saudi Arabia
Citizens of Saudi Arabia who wish to work in Portugal can apply for a Portugal work visa if they meet the eligibility requirements.
Are you considering working in Portugal? Contact our team at Total Law today by calling +1 844 290 6312 or message us online. We are ready to take your questions about Portugal work visas, including details on how to apply, eligibility requirements and the overall cost.
An Overview Of Portugal Work Visas For Saudi Arabia
You can apply for a Portugal work permit from Saudi Arabia. This visa is available for Saudi Arabian citizens who meet the requirements.
One primary requirement for this visa is to have a job contract from a Portuguese employer. Without this job offer, you cannot apply for a work visa.
Unlike other Portuguese visas, you are not the one who kickstarts the application process. Your employer from Portugal starts the application process by applying to the Ministry of Labour. When this application to the Portuguese labour authorities is approved, you can begin your application.
The application must specify your work location and role. If you switch jobs and move out of the location specified in your work permit, you must reapply for a new work visa.
You cannot do another job in Portugal different from what is specified on your permit. Neither can you change location without permission.
There are generally 2 categories of work visas: the short-stay visa, which permits you to do a job in Portugal that will not last for more than 90 days, and a temporary residence permit for a job that will last more than 90 days.
The temporary permit is usually valid for 2 years and is renewable for an extra 3. And it is a pathway to permanent residence or citizenship.
"I'm very happy with the standard of training received on the OISC Level 1 course, i passed my exam. Thank you!"
"My application was approved and a huge weight has been lifted from our shoulders this year "
"We used this service for the spouse visa extension application to assure that all the information was valid and correct."
Different Types of Portugal Work Visas You Can Apply For
The kind of Portugal work permit visa you need to apply for depends on the work you are going to Portugal to do. This also depends on your qualifications or profession.
Below are the different types of visas Saudi Arabian citizens can apply for:
Skilled Worker Visa 
This visa is for skilled Saudi Arabians with a job offer in a qualifying field or profession. In order to apply for this visa, your contract must be a permanent one. Some qualifying areas or occupations in this category are medicine, information technology, biological sciences, engineering, and HR and admin.
The skilled worker visa is valid for 1 year and can be renewed as long as your employer needs you.
EU Blue Card 
The EU Blue Card is a residency visa available for Saudi Arabians who have demonstrated to be highly qualified. To apply for this visa, you must present documents that showcase your qualifications, skills and portfolio.
The validity of the EU Blue Card is dependent on your job contract. Usually, the first approval will permit you to work in Portugal for 2 years, after which you can renew for an extra 3.
With the EU Blue Card, you do not just have a work permit in Portugal; you are also free to take up employment in other EU nations.
An EU Blue Card applicant must:
Have a gross salary that is 1.5 times bigger than the national salary average in Portugal, that is €665,00 per month.
Have an employment offer that must keep you in Portugal or any other country in the EU for a minimum of 1 year.
Have the highest possible qualification that is attainable in your field.
Highly Skilled Worker Visa
Saudi Arabians can apply for a highly skilled worker visa if you are a professional with exceptional skills and expertise. This visa is only granted to those who prove that they can carry out jobs that need high knowledge in their field.
Scientists, engineers and medical professionals coming to Portugal for specialised duties are eligible to apply for this visa. Teachers and renowned performing artists can also apply for this visa.
Tech Visa 
Portugal is also open to admitting Saudi Arabians with a job offer from tech companies. This is a means of attracting brilliant minds in science and technology to Portugal.
Note that the company employing you under this category must not be a start-up, a new company or one undergoing reconstruction.  The company must not also be in tax or social security debt.
Also note that this is the only work visa that requires you to be proficient in French, English or Spanish.
Work-Visa for the Self-Employed
If you are self-employed, you are eligible for a work visa. You can apply for a residency or a temporary stay visa in this category. The temporary stay visa's validity is 1 year and can be renewed for another 2.
The residency visa's validity is 2 years and can be renewed for 3. Saudi Arabians on this visa are prohibited from working for any company based in Portugal. The income you earn must come from outside of Portugal. An advantage of this visa is that you are not required to pay taxes.
This visa is called the D7 visa, independent work visa or digital nomad visa.
Volunteer or Training Work Visa
You can apply for this visa category if you want to volunteer in Portugal. You must have a valid volunteer contract to stay in Portugal for at least 1 year.
Note that this visa is not renewable. So, if the volunteer or training contract lasts more than 1 year, it must be specified so a residence permit would be granted accordingly.
Saudi Arabians who have this visa can switch to other types of work visas if they have a valid contract. The switch must happen before the volunteer work visa expires. Upon the receipt of the job offer, you are expected to make an application to the SEF.
All The Portugal Work Visa Requirements
If you want to apply for a work permit visa for Portugal, there are some documents you and your employer must submit to prove eligibility.
Your employer has to submit these documents to the Ministry of Labour in Portugal:
Valid Portugal Residence Permit
If your employer is not a Portuguese citizen, they must prove that they are legally staying and operating in Portugal. Your employer will prove this by submitting a residence visa or permanent resident card.
Valid Passport 
Your employer must submit a copy of your Saudi Arabian passport or any other travel document you have issued by the government.
Evidence of Accommodation
If your employer intends to provide accommodation for you, they can mention it. They will need to submit the address where you will be living upon arrival.
Recent Passports
Your employer must submit 2 passport photographs not taken later than 3 months. The passport must be coloured and meet the photo requirement for Portuguese visas.
Work Contract
One of the most important documents your employer has to submit is the agreed work contract. The contract must specify the kind of work you will do, the hours you are expected to work, how long the contract would be binding on both parties, your duties to the company and finally, how much you will earn while working with the employer.
Note that a breach in the contract terms by you or your employer will cost you your permit or cost your employer their rights to hire overseas.
Criminal Record Certificate
Your employer must also submit a criminal record certificate that shows you have not committed any criminal offence before your visa application. You should get this certificate from the Saudi Police and send it to your employer.
Employer's Tax Statements
The Portuguese government wants to be sure your employer is in good standing with the financial laws of Portugal. The tax statement proves your employer has been paying tax when due.
Evidence No Portuguese/ Swiss/ EU or EEA Citizen Could Fill the Role
The Portuguese government wants to be sure foreign nationals are not taking jobs that could have been done properly by the citizens and residents. So, before a company files for an overseas recruit, they must prove that no one in the country could do the job.
This is proven by submitting a job ad you placed in the local job listings for some weeks.
Evidence Your Employer is Registered with Social Security in Portugal
Your employer must also present proof that they are registered to assess social security in Portugal.
Below are the documents you will submit when you are set to make your application in Saudi Arabia:
Complete an Application Form
The first thing you need to do is to fill out a Portugal visa application. You can get this form by downloading it from the Ministry of Foreign Affairs website. You must download and print out this form and complete and sign it before attaching it to your other supporting documents.
Criminal Record Certificate
Even though you have submitted this before, you must re-submit it here.
Agreement Form to Check Background
You must also complete and sign a form that authorises the SEF to conduct a background check. Even though you submitted a criminal record certificate, the SEF would also like to carry out their private investigation about you.
Proof of Funds
You must also show you have enough money to fend for yourself in Portugal. This is usually proven by submitting bank statements. There is no specific amount required by the Portuguese government, but it is always advised you have between €45 to €75 for every day you spend in the country.
Proof You Have Accommodation
It is also required for you to prove you have a place to stay before moving to Portugal. You can confirm this by showing your employer offered you accommodation, a friend or family member gave you an invitation letter, you rented an apartment or hotel room, or you purchased a property in Portugal.
Medical Insurance
Your application must include a health insurance certificate acceptable by every country in the EU. The medical insurance must cover at least €30000 of your medical expenses.
Employment Contract
You must also show that you have a valid job offer in Portugal by submitting the contract agreed upon between you and your employer.
Proof You Are A Legal Resident
If you are not living in Saudi Arabia at the time of your application, you are expected to submit a document proving you are a legal resident. This could be a residence card or passport showing your visa.
Marriage and Birth Certificates
If you intend to move to Portugal with your family, you must present marriage and birth certificates as proof of your civil status.
Fees Associated with the Work Visa Application
Below are the fees you must pay when applying for a work visa.
€75 if your work will last 4 to 12 months when applying to the Portuguese Embassy.
€90 if your work will last more than 1 year when applying to the Portuguese Embassy.
€83 when applying for a residence permit at the SEF upon arrival to Portugal.
€72 after a residence permit has been issued to you by the SEF.
You can pay these fees via bank transfer, debit or credit card, cheque or money order. The receipt of visa fee payment is also part of your documents, as an application without proof of visa fee payments will be rejected.
Note that you may also need to pay extra fees for translation and legalisation of your documents. It may also cost you a certain amount to make a complete application. It will also cost you more if you intend to travel to Portugal with your family.
Also, note that your visa fee payment will not be refunded should your application be refused. To improve your chances of getting approval, you can hire our services to help you make an outstanding application. Call +1 844 290 6312 or message us online.
How to Apply for a Portugal Work Visa From Saudi Arabia?
After you have gotten a job offer from a Portuguese employer, the application process for the Portugal work visa from Saudi Arabia is threefold. The employer does the first part of the application. The second part is done by you in Saudi Arabia, and the final part is done when you get to Portugal.
 See the breakdown of the steps below:
Step 1
Employer Applies for Your Permit
After getting your job offer from the Portuguese employer, you will be required to submit certain documents to him. With these documents, he can apply to the Ministry of Labour in Portugal on your behalf.
The onus is on your employer to prove that you are the best fit for the job and that no Portuguese, EU/EEA/Swiss national could do the job.
If the SEF approves the application, you can proceed to the next step.
Step 2
Complete the Application Form
Go to the website of the Portuguese Ministry of Foreign Affairs and download the national visa application form. Fill it out by hand and sign. Ensure all the details on the form match the ones on your documents, especially your passport.
Gather Supporting Documents
Use the required documents section of this article as a checklist for all the documents you need to get. We can also help you gather your documents if you contact our team at Total Law at +1 844 290 6312 or message us online.
Note that if your documents are in Arabic, you must translate them to English or Portuguese. After translating them, you must also legalise and get an Apostille stamp on them to prove authenticity. You can do this at the Portuguese Embassy.
Pick an Appointment Date 
You must schedule an appointment with the Portuguese Embassy in Riyadh. The Embassy does not accept walk-in submissions. You must pick an appointment date online.
You must also be physically present on the day of your appointment with the Embassy. On that day, you will submit your documents and attend an interview.
Get Your Visa
If your interview and application are successful, you can make arrangements to move to Portugal.
Step 3
Get a Social Security Number
When you get to Portugal, you must apply for a social security number at a social security office in the country.
Get A Tax Number
After getting a security number, you have to also get an NIF or tax number from a tax office in Portugal.
Open a Bank Account
After getting your NIF number, use it to open a bank account in Portugal.
Apply for a Residency Permit at the SEF
The visa you get at the Portuguese Embassy in Riyadh permits you to enter Portugal and stay for 120 days. Upon entry into Portugal, you must apply for a residence permit before 120 days elapse.
When applying in Saudi Arabia, the Embassy will schedule an interview for you with the SEF. If this was not done, you can schedule an interview with them yourself.
Your biometrics will be collected at the interview, and a residency permit will be issued to you.
The Processing Time for a Portuguese Work Visa
It can take up to 60 days for approval to come from the Labour authorities in Portugal.
If you are applying for a work visa that will last less than 90 days, then it could take 30 days for a decision to be made on your application.
If you are applying for a work visa that will last for more than 90 days, then it could take 60 days for a decision to be made on your application.
It may take the SEF up to 14 days to issue you a residence permit after your interview with them.
Processing times vary according to the workload of the Embassy or SEF at the time of application. Also, they may take time to ensure all the details you submitted are correct.
Work Visa Validity & Extension
The validity of your work visa depends on the type of work visa you applied for.
If you applied for a short-stay work visa, you have just 90 days to stay in Portugal, which is not renewable. If you want to stay longer, you must switch visas; otherwise, you return to Saudi Arabia and reapply.
Long-stay work visas also have ranges depending on your employment contract. Typically, long-stay work visas are valid for 1 to 2 years and can be extended depending on the agreement you have with your employer.
Portugal Work Visa To Permanent Residency
You can get permanent residence after living and working in Portugal with a work visa for 5 years. Upon the approval of the permanent residence application, you are now free from the restrictions of the work visa. You can live and work anywhere you want to in the country. You can also leave and re-enter Portugal without any immigration rules hampering you.
Portugal Work Visa To Citizenship
The Portugal work visa is also a pathway to Portuguese citizenship if you have worked in Portugal for 5 years as a temporary or permanent resident. For your application to be successful, you must learn the Portuguese language, take the proficiency exam and attain at least the A2 proficiency level.
If you succeed with your application for citizenship, you will enjoy the full rights of a Portuguese citizen. Then, you can get a Portuguese passport. With this, you get visa-free access to over 180 countries.
How Can Total Law Help?
Applying for a Portuguese work visa can be challenging due to the many documents required and the steps needed to complete an application. This is usually why employers and employees shy away from overseas recruitment. But Total Law can make the process seamless for both employer and employee.
Our team at Total Law is well-versed in the immigration and employment laws of Portugal and can help employers make the initial application to the Labour authorities. Our team can also offer legal advice and help the employer draw up job contracts for overseas recruits.
We can also help break down the application process for you as an applicant and ensure that your application is hard to refuse.
If you need more details on the Portuguese work visa or any other kind of Portuguese visa, do not hesitate to call us on +1 844 290 6312 or message us online.
Advice Package
Comprehensive immigration advice tailored to your circumstances and goals.
Application Package
Designed to make your visa application as smooth and stress-free as possible.

Fast Track Package
Premium application service that ensures your visa application is submitted to meet your deadline.
Appeal Package
Ensure you have the greatest chance of a successful appeal. We will represent you in any case.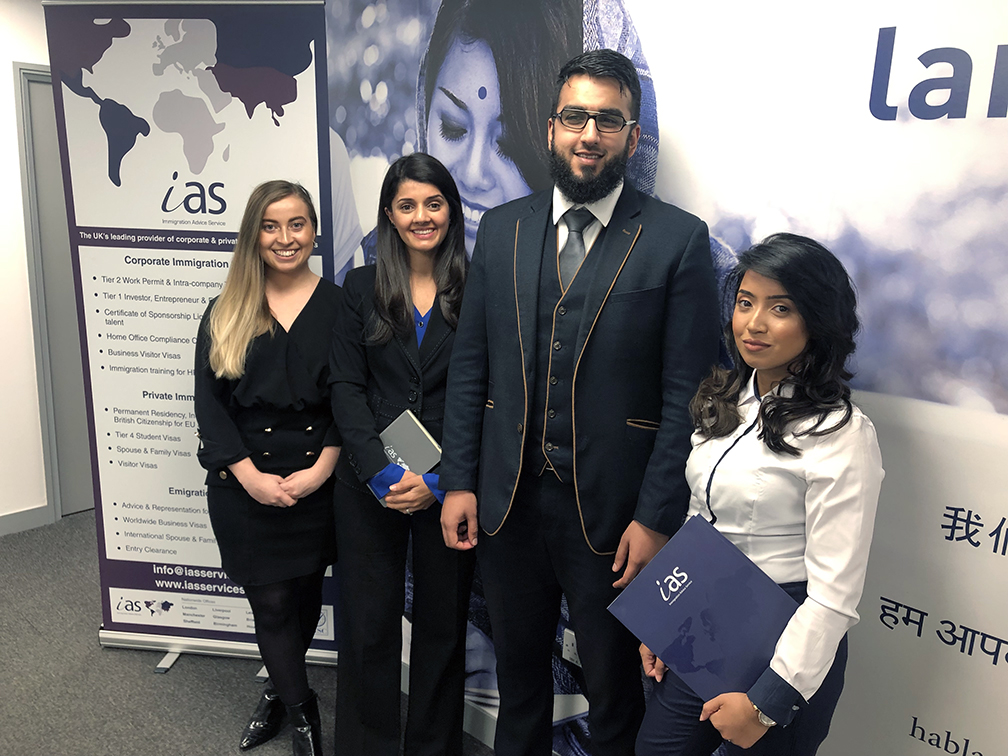 The Advice Package
During this untimed Advice Session with our professional immigration lawyers in London, you will receive our comprehensive advice, completely tailored to your needs and your situation.
Request the Advice Package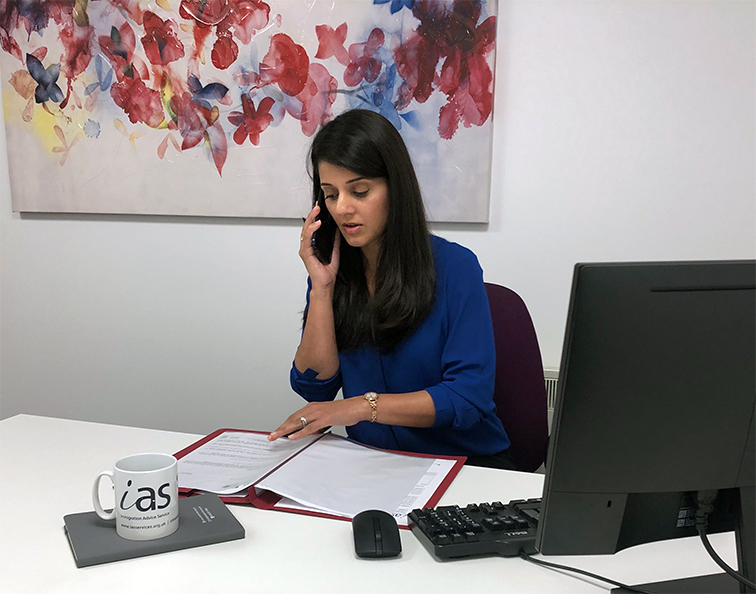 The Application Package
With our Application Package, your dedicated immigration lawyer will advise you on your application process and eligibility. Your caseworker will then complete and submit your forms to the Home Office on your behalf.
Request the Application Package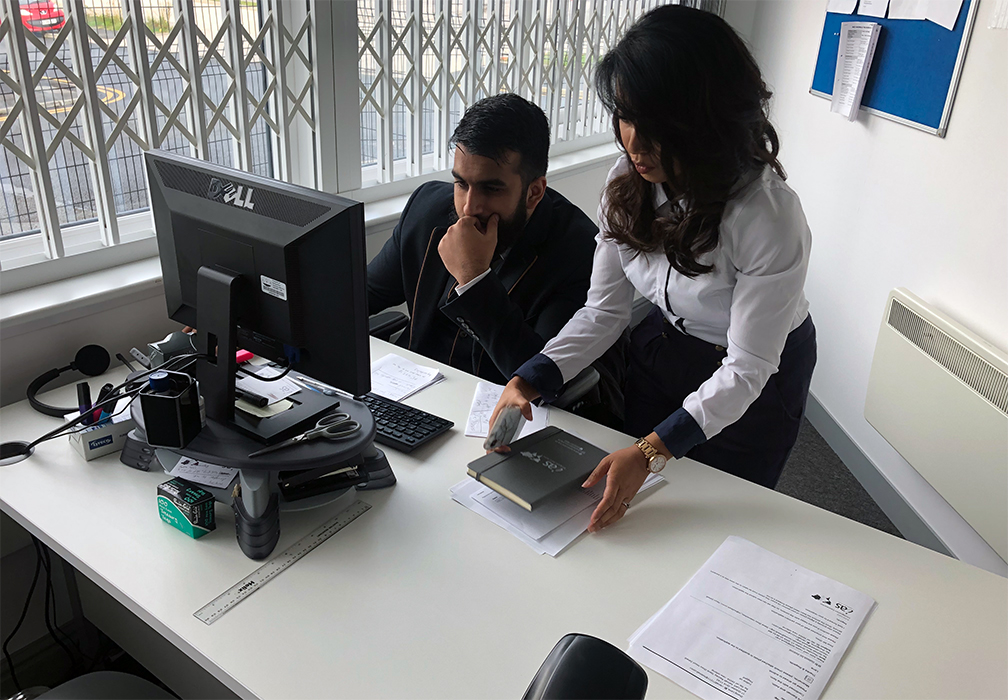 The Fast Track Package
Our Fast-Track Application Package is a premium service for those who need to submit their application in time with their deadlines. Your case will become a top priority for our lawyers and you will benefit from our highest-quality services.
Request the Fast Track Package
The Appeal Package
By choosing our Appeal Package, you can rely on our lawyers' legal knowledge and experience to ensure you have the highest chance of a successful appeal. We will also fully represent you in any hearings/tribunals.
Request the Appeal Package
Related pages for your continued reading.
Frequently Asked Questions
Portugal is currently accepting applications for work permits. If you have a job offer from a Portuguese employer, they must get permission from the Labour heads in Portugal before you can apply for a work permit. Once they get the approval, you are free to make your application.
You can get a job in Portugal even if you only speak English and Arabic. If your job terms do not require you to know how to speak Portuguese, then you have nothing to worry about. Again, most Portuguese people know how to speak English, so communication will not be a problem.
You cannot apply for a Portuguese work visa online. You must submit your documents and attend a physical interview at the Embassy.