Portugal D7 Visa
The D7 is a residence visa for South Africans that may eventually result in citizenship or permanent residency. Unlike the Golden Visa program, you do not need to invest or buy a property.
For more information on D7 visas and other visa opportunities, call our immigration lawyers on +44 (0)333 305 9375 for immediate help and assistance with your situation. We're here to help you in person, via the phone, or online
What Is a D7 Visa?
The D7 visa is a Portuguese immigration visa that grants temporary residency to South Africans who wish to retire or live in Portugal.
D7 visas are for retirees, digital entrepreneurs, and self-employed foreigners who earn regular passive income. The passive income must be sufficient to fund their means of livelihood. In other words, you must have a recognised stable income, such as:
Dividends.
Intellectual property.
Financial investment.
Pensions.
Real estate.
Rental properties.
Royalties.
Transferable equity.
The D7 visa is also a passive income or retirement visa. It is open to South Africans and other foreign citizens who are:
Non-EU citizens.
Non-EEA citizens.
Non-Swiss citizens.
Portugal D7 visa is an alternative to Portugal's Golden Visa Program. It offers unmatched value for individuals who want to migrate there for more than six months yearly.
"I'm very happy with the standard of training received on the OISC Level 1 course, i passed my exam. Thank you!"
"My application was approved and a huge weight has been lifted from our shoulders this year "
"We used this service for the spouse visa extension application to assure that all the information was valid and correct."
Here are the types of Portugal Schengen visas available for South Africans:
Overview
The Portugal Golden Visa is a residency program for non-EU foreign nationals with investment initiatives. It is open to non-EU citizens who have made a substantial investment in Portugal, such as:
Acquiring real estate.
Making a financial investment.
Providing job opportunities.
You must make a minimum investment to be eligible for a Golden visa. As long as you are a resident under a Golden visa, you must keep up your investment. You are not required to keep the investment if you do not want to keep your visa.
You are eligible to seek citizenship and permanent residency after five years. You do not need to make investments or keep any investments active after you become a permanent resident of Portugal.
You must also send money to your Portuguese bank account to invest. To open the account, you will also need a NIF, Portugal's tax identification number.
You need to invest a minimum of €250 000 into a property or non-property asset in Portugal.
D7 Visa Eligibility Criteria
The categories of South Africans the D7 visa is open to are as follows:
Retired foreign citizens with enough, secure, and continuous pension income.
Remote workers, digital nomads, and professionals in the IT industry with a sufficient, reliable living outside of Portugal. This might be advantageous if you have substantial funds in your savings.
Remote consultants, life coaches, digital entrepreneurs, affiliate marketers, and cryptocurrency traders with enough consistent regular income. Best when combined with considerable and easily accessible savings.
Landlords who rent out mobile or immovable properties overseas and make a sizable long-term profit.
Other expatriates receive adequate, consistent dividend income or those who have investments that generate stable recurrent income.
The bottom line is to have sufficient income that is at least equivalent to the minimum salary set by the Portuguese government to be eligible.
Why Should You Consider a Portugal Passive Income Visa?
One of the initiatives of the Portuguese government to boost its economy is providing immigration benefits through the passive income visa, thus attracting wealthy or financially independent individuals.
The benefits a passive income visa offers are:
Residency Permit
Applying for a D7 visa is equivalent to applying for a residence visa. It has a validity of two entries and allows you to stay in Portugal for four months.
Residence Permit
Applying for a D7 visa is the same as applying for a resident visa. A D7 visa provides the opportunity for you to get a temporary residence permit for a duration of 1 year.
The residence permit is valid for one year, after which you can subsequently apply for renewal for two years. You can also convert it to a permanent residence permit after five years.
Portuguese Citizenship
You have an opportunity to apply for citizenship after five years of permanent residency, provided you meet the additional conditions outlined in the Portuguese Nationality Law for citizenship.
Family Reunification
As a residence permit holder through the D7 visa, family members are eligible for residence permits due to the family reunification statute.
Resident Rights
As a residence permit holder, you are entitled to some fundamental rights without special authorisation concerning your South African citizenship status. These rights are:
Access to the National Health Service's care.
Privilege to the Portuguese National Education Service and schools.
Access to Portuguese vocational schooling.
Access to initial and further professional training and retraining.
Access and protection from Portuguese law.
Freedom to practice any professional activity as an independent professional.
Visa-Free Travel
You can freely travel across the provinces of Portugal and all Schengen countries.
Tax Residency
After you obtain Portuguese residency and spend 183 days there, you begin to enjoy tax benefits under the Non-Habitual Tax (NHR) Regime. In other words, you have the chance of getting a tax exemption on nearly all your foreign-source income.
In addition, you may get a flat rate of 20% on personal income tax for specific Portuguese-sourced income that will be taxed instead of the standard 48% Portuguese income tax rate. The 20% flat rate does not apply to all source income from all professions and self-employment; only specific ones.
Dependents Family Members
You can add the following dependent family members in their application:
Spouse or companion.
Minor or a disabled kid.
Children above 18 who are single and enrolled at a Portuguese educational institution.
Dependent parents or their spouses.
Minor siblings legally under your care.
Family Reunification Required Documents
You will require the following to apply for a Portugal family reunification:
Proof of family relationship: Birth certificates or marriage certificates.
Evidence that your partner or other family members (Portuguese residents) can support you financially in Portugal.
Evidence that your spouse or family member can accommodate you in their home.
Minimum Passive Income Requirements
The minimum passive income requirement depends on the Portuguese minimum wage of €705. Hence, your eligibility as a passive income earner depends on your minimum financial earnings to the national minimum wage of Portugal. You may need to provide proof of at least the equivalent of a 12-month wage rate in a Portuguese bank account.
Your minimum income eligibility depends on the number of family members travelling with you.
The following are the minimum income requirements you must satisfy to demonstrate passive income-earning ability:
The principal applicant (first adult) must earn 100% of the minimum wage per year.
The principal applicant's spouse (second adult) must earn 50% of the minimum wage per year.
The parents (additional adults) must each earn 50% of the minimum wage per year.
The children, people under 18, and non-minor dependent children must have 30% of the minimum wage per year.
Passive Income Visa Requirements
Here are the conditions to fulfil to be eligible for passive income visa applications:
Foreign Citizenship
A D-7 visa is only open to foreigners from countries outside Portugal, non-participants in the European Union and European Economic Area, and non-Swiss citizens. As a South African citizen, you fit this category.
Proof of Financial Stability or Foreign Income
Your financial stability is necessary for eligibility. You must provide proof that shows sufficient regular income. It demonstrates that you can cater for your needs and those of your family throughout your stay in Portugal. You will need to provide documents that prove recurring savings to a Portuguese immigration officer.
Portuguese NIF (Tax Number)
You will need to acquire a Portuguese tax number. You cannot engage in any fiscal activities in Portugal without a Portuguese tax identification number. You can get your tax number remotely through an attorney without needing to enter Portugal.
NIF, or Numero de Identificacao Fiscal, is a tax number containing nine digits assigned to residents and non-residents for tax purposes. It is mandatory that you obtain NIF to carry out any of the following activities:
Apply for credit and a mortgage.
Be legally hired in Portugal and receive income.
Buy or sell properties.
Inherit Portuguese goods and assets.
Opening a bank account in Portugal.
Pay taxes and contributions.
Study.
Enjoy Social Security and other benefits in Portugal.
Get a driver's licence.
Portuguese Bank Account
A bank account in Portugal is essential for your application. You need a tax number and a valid passport to open one. If you are a single applicant, you may need a minimum of €7,000 in your bank account. However, married couples may need to deposit a minimum of €10,500.
It is necessary to have proof verifying the legality of the source of your money or income before opening an account.
Valid Health Insurance Coverage
You must have valid European Health Insurance worth at least $30,000. A European health insurance card entitles you to medical care in any European Union (EEA) country or Switzerland during your stay.
You and any other parties travelling with you, such as dependent children and parents, must have an insurance card each. The medical insurance must guarantee 12-month medical coverage in advance.
Adequate Accommodation
It is mandatory that you have adequate accommodation before travelling to Portugal. You can secure accommodation either by purchasing or renting one. If you choose the option of renting an apartment, it should be on a long-term rental lease of at least 12 months.
Clean Criminal Record
A clean criminal record is a crucial prerequisite to entering Portugal. Get a police clearance certificate that proves you don't have a criminal record before starting your application. There are different procedures to get a police clearance certificate; ensure that you follow the procedure that applies to you as a South African.
Requirements for a Residence Permit
Overview
Getting a residence permit requires that you:
Are a non-EU citizen.
Keep a clean criminal record.
Have sufficient income to sustain yourself during your stay in Portugal.
Plan on staying in Portugal for more than 183 days.
Give evidence of legal residence in Portugal with a registered address, such as property documentation or a tenancy agreement.
Be capable of being a Portugal tax resident.
It is important to note that, throughout the first two years of the D7 residence permit, you must remain in the country for a minimum of 16 months. In addition, for each subsequent three-year period, you must remain in the nation for 28 months. If you are absent from Portugal for six consecutive months, the immigration authority will revoke your residence permit.
Requirement for a Permanent Residence Permit
You must stay for a minimum of 30 months over each 5-year period to qualify for the permanent residence D7 visa grants. If you are absent for 25 consecutive months, the immigration authority will revoke your residence permit.
Eligibility Criteria for South African Dependents
You can include the following dependent family members in your application:
Spouse or partner.
Minor or a child with special needs.
Children over the age of 18 who are single and enrolled at a Portuguese educational institution.
Dependent parents or their spouse.
Minor siblings who are legally recognised to be in your care.
Required Documents for D7 Visa Application
The following are the required documents for a D7 visa:
Visa Application Form
To apply for a Portugal D7 visa, it is crucial that you complete the National Visa Application Form. Be sure to enter accurate information on your application form. Otherwise, your application might be rejected. Also, if you choose to fill out the form online, be sure to save and print the document.
Cover Letter
The purpose of writing a cover letter is to explain the purpose of your visit to Portugal. The letter should provide clear and comprehensive reasons and objectives for the D7 visa application.
The letter should contain your:
Personal data.
Date.
Objectives and motivation for Portugal D7 visa.
Affiliations in Portugal which include friends and families (with legal residency), property, bank account or your landlord's name.
Number of family members joining the trip.
Source of income to fund the cost of living while in Portugal.
Acquired residence address.
Type of accommodation.
Signature.
Valid Passport
It is necessary to have a valid South African passport or other government-issued travel documents. Your passport must be valid for at least six months beyond the D7 Visa application deadline. When applying for your D7 Visa, ensure your passport is valid for at least two years. It will give you plenty of time to get your D7 visa, stay in Portugal for the duration you intend to, and, if necessary, renew your passport.
Passport Photograph
You must provide two passport photos that are not more than six months old. Note that headgear should only be worn in the image for religious purposes, and only daily wear glasses are allowed. Ensure your head is not tilted and the camera captures your entire face. The passport specifications for a Portugal D7 visa are as follows:
Dimension of 45 mm in height and 35 mm in width.
600 dpi resolution.
Suitable for online submission.
Printable format.
Plain and white Background Colour.
Evidence of Sufficient Funds
It is necessary to meet the basic passive income requirements.
Providing proof of sufficient funds does not necessarily mean you should prove that you are employed. It means you have access to assets or funds that are at least equal to Portugal's annual minimum wage. It does not necessarily mean that you have an income.
What's more, there are additional ways to demonstrate your financial capacity to provide for your needs during your visit. You can prove financial sufficiency through other means besides presenting evidence of income.
The following are other means of showing sufficiency:
Bank statements: You must submit a three months statement of account that includes your name and address. If you are running a joint account with your spouse, you can use the same account statements. Your statements must, however, be presented separately or include both of your names.
Traveller's cheques.
Money.
Employment letter with income disclosure.
International credit card with a credit limit.
Statements of investments (only the summary page).
Income derived from property or intangible assets.
Notarized letter from the responsible authority attesting to pension, pension statement, or pension certificate.
Statement of Social Security benefits.
Tax returns from the previous fiscal year or documentation of commercial activity and earnings from the last fiscal year (for self-employed).
International Health Insurance
You have to get international health insurance with at least €30,000 to access health care services and afford medical expenses. Your medical insurance must be valid throughout the Schengen Area because Portugal is a member of the Schengen Area. It must also be useful throughout your stay in Portugal.
Proof of Accommodation
When applying for a D7 visa, you are also applying for a Portuguese residence permit. As a result, it is essential to provide evidence to convince authorities that you secured a legal residence. The viable proof to present is a rental agreement or proof of acquired property in Portugal.
Suppose you have a family member in Portugal with whom you intend to stay. In that case, you will need to provide an official invitation letter from them. The family member hosting you must sign the application form, attach a copy of their ID, and get it notarized in Portugal.
How to Apply for a Portugal D7 Visa
Applying for a D7 visa and residency permit from your home country is mandatory. Thus, you can not apply in Australia if you are a British citizen. You will need to visit the Portuguese Embassy in your country. Your residence permit will be issued to you in Portugal.
The following are the procedures for the Portugal d7 visa application process:
Gather All Required Documents
Getting all the required documents on time is not certain. It could take some time to compile them and fulfil all of the criteria for your visa. Make a document checklist to keep track of what you have acquired and are yet to have ready.
You should get your NIF number, open a Portuguese bank account, secure accommodation, and write a cover letter at this stage.
This stage requires diligence and patience. Any mistake or missing document can delay your application.
The following is a complete document checklist you may need:
Birth certificate (for family application).
Cover letter.
Criminal record certificate.
International medical insurance.
Legal residence.
Marriage certificate (for family application).
National application form.
Proof of financial asset.
Proof of NIF number.
Two passport photos.
Request of criminal record enquiry to the immigration and border services (SEF).
Valid credit or debit card, cashier check, or money order.
Valid passport.
Obtain an Application Form
Once your documents are ready, you can download and fill out the National Visa Application form. Ensure to provide accurate information to avoid rejection.
Submit Your Application
Once you have filled out the application form and compiled all your documents, visit your local Portuguese consulate or embassy to submit your visa application form. Ensure to take all your documents with you.
You will need to pay for a temporary visa (€75) and residency permit (€90). If your application is approved, the Portuguese consulate may ask you to leave your passport since they will attach a new resident visa to it. You can ask the embassy to send your passport when you receive positive feedback.
Receive Your D7 Visa
The Portuguese consulate will inform you if your visa application is approved through email or mail. After getting positive feedback, the consulate will attach your new Temporary Residency Visa to your passport.
Travel to Portugal to Attend Your SEF Appointment
Upon acquiring your new visa, you have four months (120 days) to go to Portugal to schedule a meeting with Serviço de Estrangeiros e Fronteira (SEF).
Another way to schedule a meeting with SEF is through the embassy. If you specify your expected departure date, the embassy will automatically set an appointment for you at SEF. To get the information on your appointment, check your passport. Under the Appointment section, you will find a URL for your SEF appointment. Enter this URL into your browser to view the details of your appointment.
If you are unable to get an appointment through the embassy, you'll need to make one using the SEF portal. Again, it is critical that you arrange your appointment at the SEF bureau in your home country or nearest to you.
When you book your SEF appointment, you may discover that the only available time slot is far from the D7 Visa's expiration date. It will not stop you from receiving your residence permit and getting your SEF appointment.
You should always ask SEF for an email confirmation when making an appointment. Your D7 visa will effectively be extended by the confirmation email. The email should be printed out and kept with your passport. Even if your visa has expired, you will be able to enter Portugal with the printed email.
Attend Your SEF Appointment
Your SEF appointment will last around 20 minutes. Take all required documents and copies of them (translated into Portuguese).
SEF will offer you a temporary residency permit if your interview is successful. The residency permit is valid for one year. After that, you are entitled to all of the visa's perks.
Get Your D7 Residency Permit
The waiting period for obtaining a residence permit is around two weeks. After receiving your D7 residence permit, you finally have residency status. You are entitled to all of the benefits provided by the visa.
The residency visa is valid for a year, so you must renew it before it expires. After two years, you will have to renew your temporary residence permit. After five years of residency, you can apply for Portuguese citizenship or permanent residence.
Application Processing Time for South Africans
Typically, it takes one month to collect all the necessary paperwork. You can hire a professional immigration adviser at Total Law to assist you in gathering the necessary documentation; otherwise, it can take months to identify the proper ones.
The application processing at the Portuguese consulate and Visa Application Centre may take four to eight weeks to complete.
A SEF temporary residency permit may take up to six to twelve weeks.
The entire procedure may take up to four months to complete. This period doesn't include the time between getting your visa and travelling to Portugal for the SEF conference.
That is, of course, supposing you provide all necessary paperwork on time and that the procedure is seamless. This procedure will take much longer if incomplete or incorrectly filled-out forms exist. The consulate will notify you of mistakes and missing documents. You will frequently need to show up in person to fill in the blanks or provide clarification and missing documents.
In Porto and Lisbon, scheduling an appointment with the SEF (Immigration and Borders Service) may take longer.
How Much Does a Portuguese D7 Visa Cost?
In contrast to other specific visa programs, such as the Portugal Golden Visa, the D7 visa has a comparatively cheap cost. The visa cost depends on the Portuguese consulate in your country. You should budget to pay the Portuguese government fee for the D7 Visa application, which is between €50 to €300 per applicant.
It is crucial to clarify that you will have to pay additional fees for the immigration procedure. However, most of the expenses are on the flight, relocation, health insurance, housing, and other necessities.
Bear in mind that the authorities may modify the required charges at any moment.
Can You Apply for a Job with a D7 Visa?
You can not work for a Portuguese employer. You can only work for employers outside Portugal. As long as you can demonstrate your passive income, you can apply for remote jobs or freelance outside Portugal. However, you may be free of this restriction when you get permanent residency.
How Can Total Law Help?
A visa application's most essential and tedious part is getting all required documents ready before submission. Immigration authorities deny visa applications when applicants fill out application forms incorrectly, or the accompanying documentation is insufficient.
Total Law Application Checking Service is your surest guide to completing your document checklist. With the aid of our Application Checking Service, you may get professional assistance from our team of immigration specialists to:
Verify that the evidence in your portfolio is sufficient to support your application.
Review your application forms and the supporting documents for any errors and missing documents before sending them to the Home Office with your application.
Suppose you need qualified immigration legal help and advice on making the best of the Portugal D7 visa. In that case, our Advice Package is the best choice. You can use this service to speak with one of our immigration lawyers in a one-on-one meeting.
Your immigration lawyer will evaluate your situation and give you personalised guidance. They will also suggest the best course of action to pursue to get the outcome you want.
Who are we?
We are a team of specialist Global Immigration Lawyers. We are ready to help you with your immigration issues in South Africa.
Call our immigration lawyers on +44 (0)333 305 9375 for immediate help and assistance with your situation. We're here to help you in person, via the phone or online.
Advice Package
Comprehensive immigration advice tailored to your circumstances and goals.
Application Package
Designed to make your visa application as smooth and stress-free as possible.

Fast Track Package
Premium application service that ensures your visa application is submitted to meet your deadline.
Appeal Package
Ensure you have the greatest chance of a successful appeal. We will represent you in any case.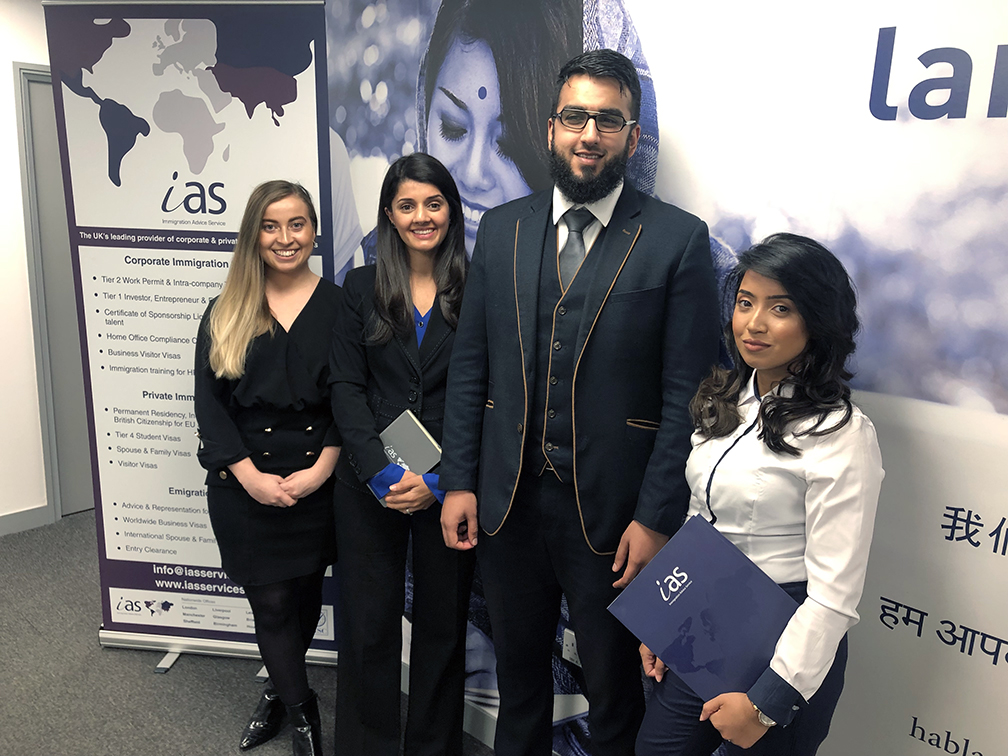 The Advice Package
During this untimed Advice Session with our professional immigration lawyers in London, you will receive our comprehensive advice, completely tailored to your needs and your situation.
Request the Advice Package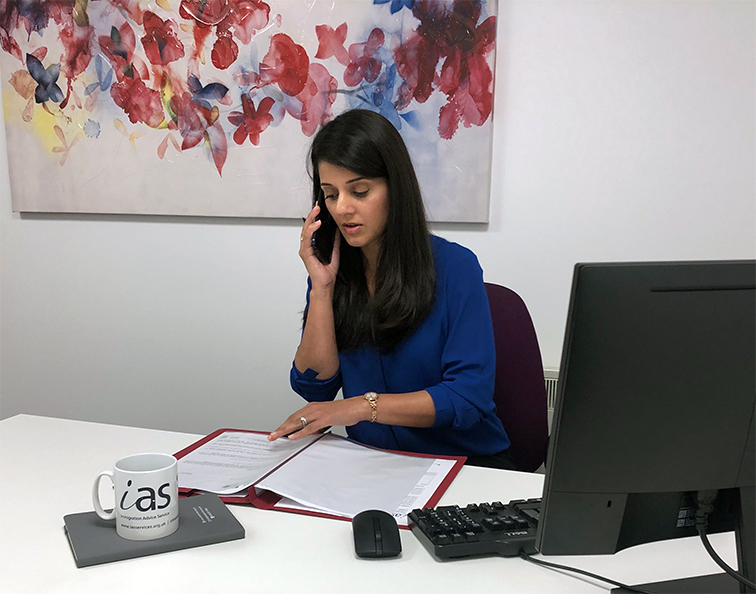 The Application Package
With our Application Package, your dedicated immigration lawyer will advise you on your application process and eligibility. Your caseworker will then complete and submit your forms to the Home Office on your behalf.
Request the Application Package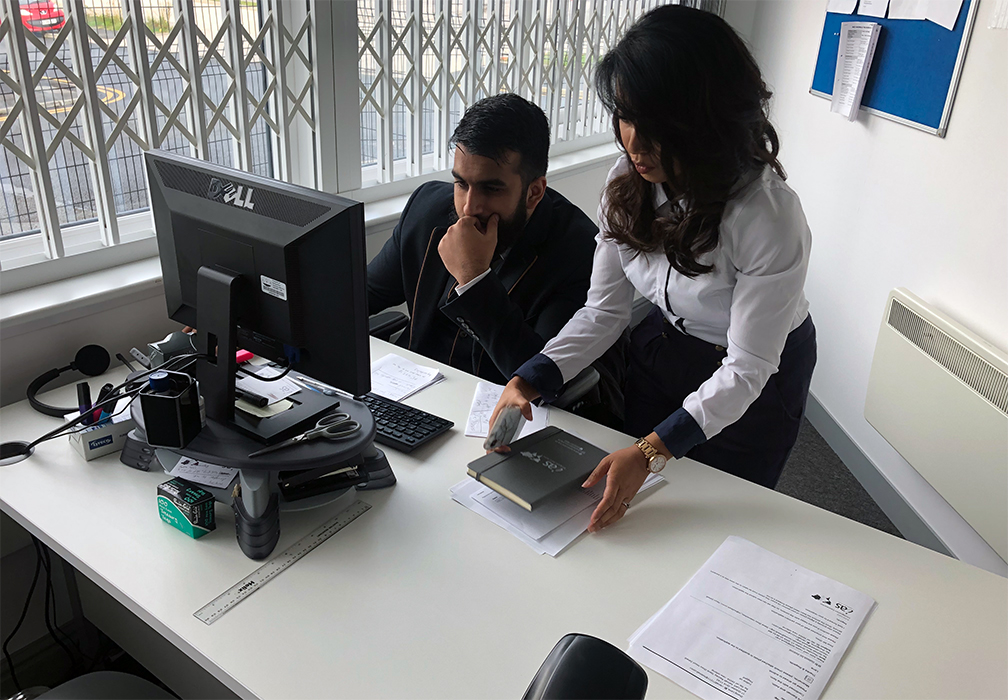 The Fast Track Package
Our Fast-Track Application Package is a premium service for those who need to submit their application in time with their deadlines. Your case will become a top priority for our lawyers and you will benefit from our highest-quality services.
Request the Fast Track Package
The Appeal Package
By choosing our Appeal Package, you can rely on our lawyers' legal knowledge and experience to ensure you have the highest chance of a successful appeal. We will also fully represent you in any hearings/tribunals.
Request the Appeal Package
Related pages for your continued reading.