Portugal D3 Visa For South Africans
The South Africans now have a golden opportunity to expand their opportunities with the Portugal D3 Visa. This visa, specifically designed for highly skilled professionals, offers a chance to thrive in Portugal's evolving economy. At Total Law, we're here to guide you every step of the way.
Contact Total Law at +44 (0)333 305 9375 to let our experts assist you in moving to Portugal.
A Brief Description of The Portugal D3 Visa
The Portugal D3 Visa, also known as the Highly Qualified Activity Visa, is a long-term visa designed specifically for professionals who possess high qualifications and are considered experts in their respective fields. It's a chance for South Africans with top skills to work and live in Portugal.
Why Choose the D3 Visa?
Portugal values skilled workers. The D3 Visa is their way of inviting talented South Africans to join their workforce. But it's more than just a job offer. For South Africans looking for a fresh start, the D3 Visa is a golden ticket. It's a chance to work on exciting projects, learn from the best, and experience life in Europe.
What's Special About the D3 Visa?
The D3 Visa stands out for a few reasons:
It's not just a work visa. It's a step towards making Portugal your home.
It offers a chance to connect with professionals from all over Europe.
If you have family, Portugal makes it easier for them to come with you.
After a while, you might even decide to become a permanent resident or citizen.
"I'm very happy with the standard of training received on the OISC Level 1 course, i passed my exam. Thank you!"
"My application was approved and a huge weight has been lifted from our shoulders this year "
"We used this service for the spouse visa extension application to assure that all the information was valid and correct."
D3 Visa Benefits For Skilled Workers
For South African professionals seeking opportunities in Portugal, the D3 Visa presents a great opportunity. Let's explore the advantages this visa offers to advance your career.
Key Benefits of the D3 Visa in Portugal
The D3 Visa is for highly qualified professionals and senior public administration officers, allowing them to work and live in Portugal.
Initially, the visa allows individuals to live, work, and reside in Portugal for one year. This permit can be renewed for two additional periods of two years each, provided the professionals continue their work in Portugal. After five years of legally authorised residence, individuals can apply for Portuguese nationality and citizenship.
One of the standout benefits of the D3 Visa is the visa-free entry and free movement it offers within the Schengen Area and the European Union (EU), covering 26 European countries.
The D3 Visa facilitates family reunification in Portugal with direct relatives, ensuring families can stay together.
The D3 Visa application process is relatively swift, with visas typically processed within just 30 days.
Specific Advantages of the D3 Visa
After legally residing in Portugal for 18 months under the D3 Visa, applicants become eligible for the EU Blue Card. This card grants access to work and live in 25 EU countries, excluding Ireland and Denmark.
D3 Visa holders can apply for Portugal's Non-Habitual Resident (NHR) tax regime. Additionally, they can benefit from being exempt from certain taxes under the Double Taxation Agreement (DTA) with their country of origin, ensuring they don't pay taxes twice.
After five years, D3 Visa holders qualify for permanent residence or citizenship, granting them access to Portuguese residency rights, education, and healthcare. Furthermore, children born to legal residents for 12 months acquire EU citizenship by birthright.
Eligibility Criteria for the Portugal D3 Visa Application
Here's a comprehensive overview of the eligibility criteria for the D3 Visa application:
Necessary Requirements for a D3 Visa Application
Highly Qualified Activity
According to the Portuguese Law on Foreigners, a highly qualified activity is "the exercise of an activity that requires specialised technical skills of an exceptional nature or an adequate qualification for the respective exercise of the function". The European Commission further categorises highly qualified activities into two groups:
The first category includes executives, officers, legislators, senior public administration officers, company directors, and various managerial roles.
The second category includes professionals like engineers, scientists, teachers, health professionals, ICT specialists, cultural professionals, and legal experts.
Employment Contract
To be eligible, applicants must have either an employment contract or a promise of an employment contract with a Portuguese employer.
Education and Experience
Applicants must prove higher education or have 5-6 years of relevant work experience. If an individual's work is not aligned with their education, they should demonstrate a work experience of 5 years and relevant profile courses.
Salary Requirement
The salary associated with the position in a Portuguese company should be at least 1.5 times the median. As of 2023, this translates to a minimum of €1800 per month or more.
Savings
If applying with the promise of a contract, applicants might need to show savings in a personal account of €9120 or more.
Documents Needed for the Portugal D3 Visa Application
Providing the necessary documents is crucial to a successful application. Here is a step-by-step guide on what you will need:
Required Documents for the D3 Visa Application:
Your passport should be valid for at least three months beyond your intended return date. It should also have at least two blank pages for the visa sticker. Photocopies of used pages, such as previous visas, entry stamps, and the personal information page, may also be required.
Every applicant must fill in and sign the Portugal Visa Application Form individually. For minors, a parent or legal guardian must sign.
Passport-size pictures should be recent and meet the specifications set by the Portuguese Consulate.
An attestation of a diploma of higher education or proof of 5-6 years of relevant work experience is required. If your work isn't aligned with your education, you should provide evidence of 5 years of work experience and relevant profile courses.
A long-term contract or promise of a contract with a Portuguese employer is essential.
Documentation shows the salary from the Portuguese employer.
Proof that you can financially support yourself during your stay. It should cover the entire duration of your stay in Portugal.
Details of your travel plans, including entry and exit from Portugal.
Evidence of where you'll stay in Portugal, such as a hotel reservation or rental agreement.
A letter of invitation would be from a company or individual in Portugal inviting you for a specific purpose related to your visa.
Payslips, tax returns, or other documents prove your current employment status.
A letter explaining the purpose of your visit, your plans in Portugal, and any other relevant details.
Instructions on Obtaining or Preparing These Documents
Ensure your passport is up-to-date and has the required validity.
The application form can typically be downloaded from the official website of the Portuguese Consulate or embassy in your country.
Passport-size photos should adhere to the specifications set by the Consulate.
Gather all employment-related documents, including contracts, payslips, and invitation letters.
Obtain travel health insurance that covers your entire stay in Portugal.
Potential Challenges or Common Mistakes
Ensure all required documents are submitted. Missing even one can lead to application delays or denials.
Ensure that the salary from the Portuguese employer meets the stipulated minimum.
An expired passport can lead to visa cancellation. Always check the validity before applying.
Ensure all details in the application and supporting documents are accurate and consistent.
Costs Associated With The Application For The Portugal D3 Visa
For South African professionals obtaining the D3 Visa Portugal, it's essential to understand the associated costs:
A fee of €90 is required for the initial application, payable at the Consulate in South Africa.
Once in Portugal, a residence permit is needed within the first 4 months, costing €85.
The SEF (Immigration and Borders Service) in Portugal charges an additional €170 to process the residence permit.
After 18 months on the D3 visa, South Africans can apply for the EU Blue Card. The EU Blue Card has an application fee of €140, and its renewal costs €100. Applicants should anticipate a processing duration of up to 90 days.
Other potential expenses include a €80 entry visa application fee.
Notarisation of documents for legal purposes in South Africa can often be done free of charge at a South African Police Service (SAPS) station.
Applicants need health insurance covering at least €30,000 for medical emergencies and evacuation across the entire Schengen Zone.
Applying For The Portugal D3 Visa From South Africa: The Process
Getting to know the visa application process can be complicated. For South Africans, understanding the step-by-step procedure for the D3 Visa can simplify the journey, bringing them closer to their professional aspirations in Portugal.
Application Process
Determine Eligibility
Ensure you meet the eligibility criteria. This includes having a higher education or 5-6 years of relevant work experience and a long-term contract or a promise of a contract from a Portuguese employer.
Gather Necessary Documents
Prepare the necessary documents, which may include:
An international passport.
An attested diploma of higher education.
Proof of the job position in a Portuguese company corresponding to your education.
Proof of salary (at least €1800 per month in 2023).
If applying with the promise of a contract, savings of at least €9120.
Online Application
Prospective applicants can apply for the D3 visa using the online E-Visa Portal. This is especially useful for those in countries not part of the EU, EEA, or Switzerland.
Schedule an Appointment
After completing the online application, schedule an appointment with the Portuguese Consulate or visa centre in South Africa to submit your application and documents in person.
Pay the Visa Fee
The visa fee for the D3 (Highly Qualified Activity) visa for South Africans is €90. This fee is payable at the Consulate in South Africa.
Attend the Visa Interview
During your appointment at the consulate or visa centre, you'll likely have an interview where you'll be asked about your plans in Portugal, your qualifications, and other relevant details.
Wait for Visa Processing
The D3 visa takes about 60 days to process. However, D3 visa candidates are given a priority application turnaround of 30 days for a decision to be made on their visa application.
Visa Approval and Collection
Once approved, you'll be notified, and you can collect your visa from the consulate or visa centre where you applied.
Travel to Portugal
With the D3 visa, you can enter Portugal and establish residence. Remember, once the visa has expired, you can apply for a Portuguese Residence Permit and the European Union Blue Card.
Estimated Processing Times
D3 visa application processing: Approximately 30-60 days.
Portuguese residence permit (after arriving in Portugal): Application should be made within 4 months.
Duration & Renewing the D3 Visa in Portugal
The D3 Visa offers South African professionals a chance to settle in Portugal. Understanding its duration and the renewal process ensures continuity in their professional journey in a new country.
Validity Period of the Visa
The visa allows the holder to apply for a residence permit that is initially valid for two years. After this period, the visa holder can apply for extensions, leading to potential permanent residency and even Portuguese citizenship.
Process and Requirements for Renewing the D3 Visa
After the initial two-year validity of the D3 Visa, holders can apply for a temporary Portuguese residence permit or the European Union (EU) Blue Card.
For successful renewal, it's essential to prove the continuity of your professional activities in Portugal.
The residence permit can be renewed for successive periods of three years.
Specific Documents or Forms for Renewal
While the exact documents can vary based on individual circumstances, generally, you would need:
Proof of continuous professional activity in Portugal.
Updated work contract or promise of work contract.
Proof of residence and financial stability in Portugal.
Any other documents that were initially required for the D3 Visa application.
Potential Challenges or Common Issues During Renewal
Not providing all the necessary documents or providing outdated information.
Any significant gaps in employment or professional activity in Portugal can be a hindrance.
Not meeting the financial requirements, such as a significant drop in salary or savings, can pose challenges.
Tips for a Successful Renewal Process
Begin the renewal process well in advance to account for any potential delays or additional documentation requirements.
Keep all your professional and financial records updated and organised. This will expedite the renewal process.
Regularly check for any changes in the renewal requirements or processes. Immigration laws can change, and it's important to stay on top of them.
Consider consulting with Total Law, an experienced team of immigration lawyers well-versed in the D3 Visa renewal process. They can offer invaluable guidance, ensuring you meet all the requirements and navigate the process seamlessly.
Ensure you stick to all the legal and professional requirements during your stay in Portugal. Any legal issues or discrepancies can complicate the renewal process.
What Happens Once The D3 Visa Is Approved?
Overview
Once the D3 Visa is Approved:
South African applicants receive permission to enter and reside in Portugal.
The visa is tailored for highly qualified professionals.
Visa holders can work and establish their residence in Portugal.
They benefit from visa-free movement within the Schengen Area.
This allows for easier travel and business opportunities across Europe.
The visa holder can start the family reunification process in Portugal.
Immediate family members can join the visa holder in Portugal.
The D3 Visa application process is efficient, typically processed within a month.
Information on Applying for the Residency Permit
It is essential to ensure you have all the required documents, including a valid passport, proof of income or employment, accommodation details in Portugal, a criminal record certificate from your home country, and valid health insurance.
Schedule an appointment at the nearest SEF office in advance.
Accurately fill out the application form provided at the SEF office.
Provide biometric data, including fingerprints and a photograph, as part of the application process.
If called upon, attend an interview at the SEF office to verify the provided information.
Pay the application fee of €85, which is essential for the processing of the residency permit.
The initial residency permit is valid for two years and can be renewed for three years.
The processing time for the residency permit typically ranges from 6 to 8 months.
Successful applicants will be required to pay a fee of €6522.
Upon approval, collect the residency permit from the SEF office and keep it safe as proof of legal status.
Monitor the expiration date of the residency permit and initiate the renewal process well in advance, considering the permit's validity and renewal periods.
Family Members & Residency Permit of D3 Visa Holders
For South African professionals, the D3 Visa isn't just about individual growth. It also allows family members to join and build a life in Portugal, emphasising the visa's comprehensive approach to professional relocation.
Process and Requirements for Obtaining a Residency Permit for Family Members
D3 Visa holders can apply for a Portuguese residence permit for themselves and their families upon arrival in Portugal.
The application for the residence permit should be made within 4 months of entering Portugal.
Family members of the D3 Visa holder, including spouse, children, and dependent parents, can also apply for a residence permit, allowing them to live, work, and study in Portugal.
The initial residence permit is valid for two years and can be renewed for subsequent periods, provided the primary visa holder maintains their status.
Applicants must provide proof of relationship to the D3 Visa holder, such as marriage or birth certificates.
Financial stability is essential. Applicants must demonstrate they have sufficient funds to support themselves without relying on public assistance in Portugal.
The D3 Visa facilitates family reunification, streamlining the application process for family members.
Once the residence permit is nearing expiration, the holder can apply for renewals, and after a certain period, they may be eligible for permanent residency or citizenship in Portugal.
The European Union Blue Card is another option for D3 Visa holders after 18 months of legal residence. It provides additional benefits and mobility within the EU for the primary visa holder and their family.
The Portuguese government offers healthcare and tax benefits to D3 visa holders, which can extend to their families.
Documents and Information Required for Family Members
Here are the key documents typically required for family members when applying for a residency permit in Portugal:
Proof of relationship to the D3 visa holder, such as marriage or birth certificates.
Comprehensive health insurance coverage.
Financial statements or proof of sufficient funds to support the family in Portugal.
Proof of accommodation in Portugal, such as a rental agreement or property deed.
Criminal record certificates from the country of origin or previous residence.
Restrictions or Limitations on Family Members' Residency Permits
The residency permits for family members are likely tied to the status of the primary D3 visa holder. This means if the D3 visa holder's status changes or if their residency permit is not renewed, the family members' permits might also be affected.
How Can Total Law Help
The complexities of the Portugal D3 Visa application for South Africans can be challenging, but with Total Law by your side, the journey becomes simpler. Our dedicated team of seasoned immigration lawyers is well-versed in the details of the application process tailored for South Africans.
We understand the high standards set by the European Commission and are committed to ensuring that every application we handle meets these benchmarks. From thoroughly checking documents for SEF regulation compliance to offering appeal services when necessary, Total Law is the trusted ally South Africans need. Contact us at +44 (0)333 305 9375, and let's turn your aspirations into reality.
Advice Package
Comprehensive immigration advice tailored to your circumstances and goals.
Application Package
Designed to make your visa application as smooth and stress-free as possible.

Fast Track Package
Premium application service that ensures your visa application is submitted to meet your deadline.
Appeal Package
Ensure you have the greatest chance of a successful appeal. We will represent you in any case.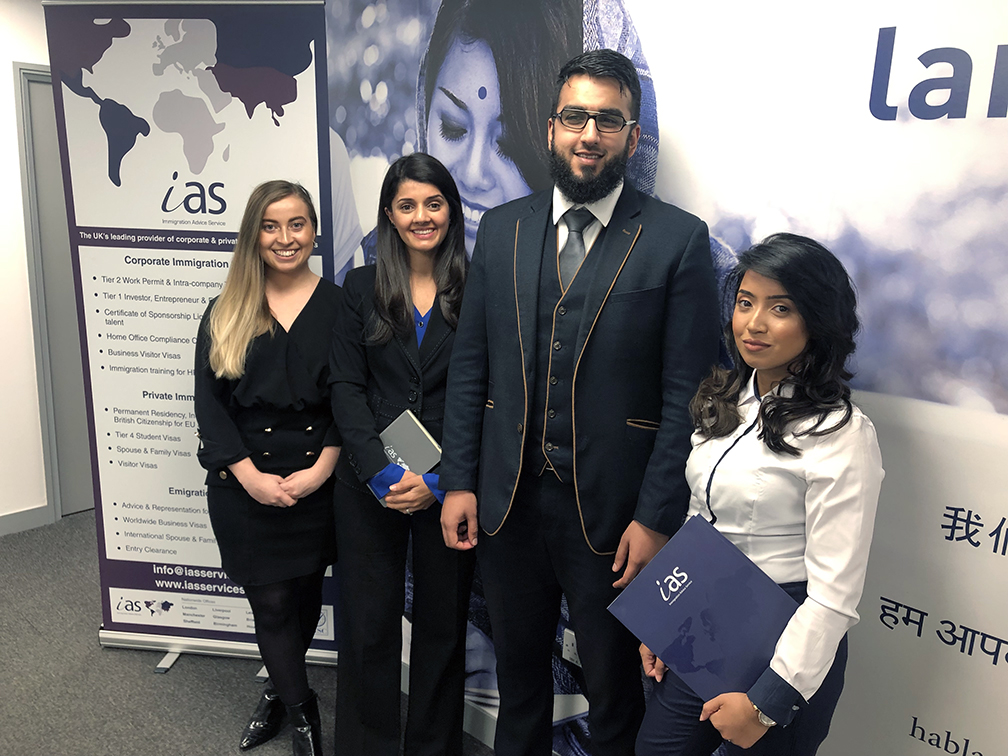 The Advice Package
During this untimed Advice Session with our professional immigration lawyers in London, you will receive our comprehensive advice, completely tailored to your needs and your situation.
Request the Advice Package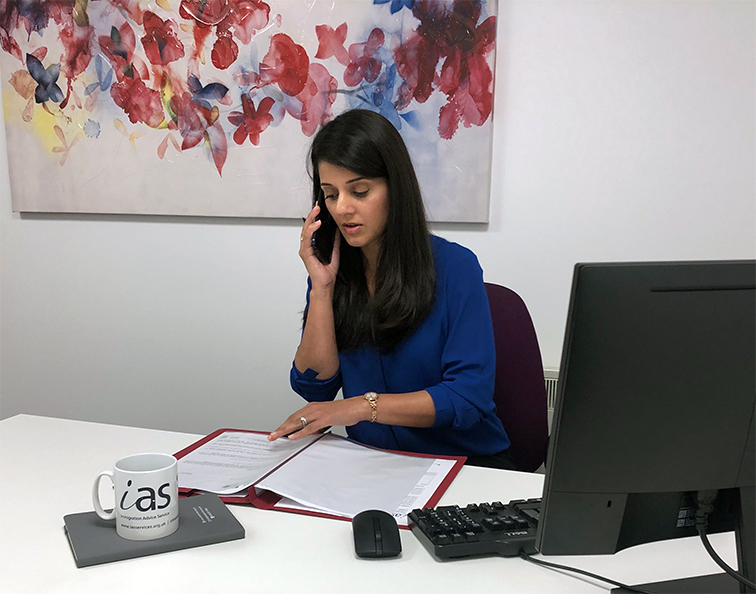 The Application Package
With our Application Package, your dedicated immigration lawyer will advise you on your application process and eligibility. Your caseworker will then complete and submit your forms to the Home Office on your behalf.
Request the Application Package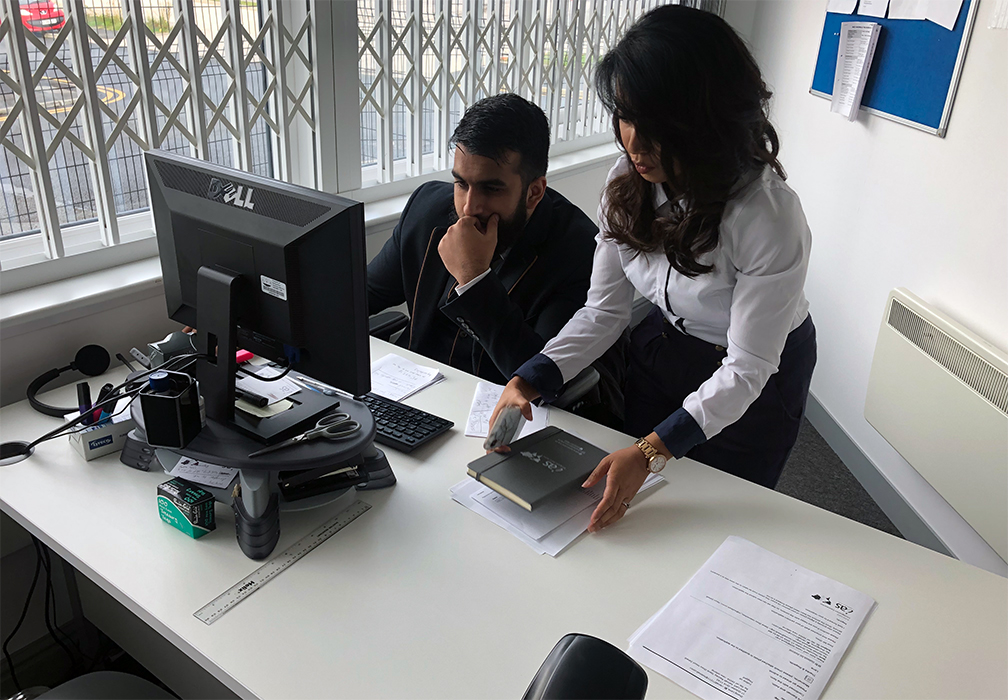 The Fast Track Package
Our Fast-Track Application Package is a premium service for those who need to submit their application in time with their deadlines. Your case will become a top priority for our lawyers and you will benefit from our highest-quality services.
Request the Fast Track Package
The Appeal Package
By choosing our Appeal Package, you can rely on our lawyers' legal knowledge and experience to ensure you have the highest chance of a successful appeal. We will also fully represent you in any hearings/tribunals.
Request the Appeal Package
Related pages for your continued reading.