Portugal Job Seeker Visa From Bangladesh
The Portugal Job Seeker Visa offers Bangladeshi nationals a gateway to explore employment opportunities in Portugal. This visa facilitates a seamless transition from job-seeking to gainful employment in the country. With an increasing number of Bangladeshis showing interest, understanding the complexities of this visa becomes crucial.
Get personalised guidance and a smooth application process from Total Law. Our team of experts is ready to assist you every step of the way. Call us at +44 (0)333 305 9375 and kickstart your journey to Portugal.
Overview Of The Portugal Job Seeker Visa From Bangladesh
The Portugal Job Seeker Visa is designed for individuals looking to relocate and find employment in Portugal. This visa is an entry ticket, allowing applicants to stay and look for a job. Once employment is secured, it can be converted to a work permit visa.
Step-by-step explanation of the visa application process
Important Deadlines or Timelines
Role of Portuguese Immigration Authorities
"I'm very happy with the standard of training received on the OISC Level 1 course, i passed my exam. Thank you!"
"My application was approved and a huge weight has been lifted from our shoulders this year "
"We used this service for the spouse visa extension application to assure that all the information was valid and correct."
Step-by-Step Explanation Of The Visa Application Process
Overview
Navigating international visa processes can be daunting, but with the right guidance, the journey can be made smoother. For Bangladeshi nationals eyeing the Portugal Job Seeker Visa, here's a detailed step-by-step guide to help you through.
Completing the Application Form
The first step towards your Portuguese dream is to fill out the visa application form. This form can be found on the official Portuguese Immigration website. Ensure you provide accurate information that matches your official documents. Any discrepancies can result in delays or potential rejections.
Preparing Necessary Documents
Every visa process requires a set of essential documents that support your application. For the Portugal Job Seeker Visa, these documents will validate your identity, intent, and qualifications.
This usually includes your valid passport with at least two blank pages and recent passport-sized photographs.
Bank statements or other proofs show you have enough funds to sustain yourself in Portugal while searching for a job.
Detailing your qualifications and professional experiences.
These can range from health insurance coverage to specific certifications or qualifications, depending on your profession.
Keep original documents and at least two sets of photocopies. Having them organised in a folder can expedite the process during your interview.
Scheduling an Appointment
Once your documents are in order, the next step is to book an appointment at the Portuguese Embassy or consulate in Bangladesh. The office might not accept walk-ins, so it's recommended to make an appointment.
Attending the Visa Interview
The interview is a crucial step. Here, officials assess your genuine intent to seek a job in Portugal and ensure you're not a potential immigration risk. Dress formally and arrive early to make a good impression.
Questions about your professional background, why you chose Portugal, your plans if you don't secure a job, etc.
Practise potential questions beforehand. Authenticity is key, so be truthful in your responses.
Awaiting the Decision
After the interview, your application and documents will be sent for processing. The Portuguese immigration authorities will examine every detail. Patience is the key at this point.
Refrain from making any concrete travel plans until you receive your visa approval.
Important Deadlines or Timelines
The typical processing time for the Portugal Job Seeker Visa is between 4-8 weeks. However, unforeseen circumstances can sometimes cause delays. Given this, Total Law recommends starting your application process at least three months before departure to accommodate any unexpected difficulties.
The visa application process's main aspect is the Portuguese Immigration and Borders Service (SEF). They ensure that each applicant meets the visa criteria and that the intent behind the application is genuine. Their thorough process is designed to facilitate genuine job seekers and maintain the country's security and employment standards.
The Benefits of the Portugal Job Seeker Visa
The Portugal Job Seeker Visa is a highly sought-after visa category for individuals aspiring to work and live in Portugal. It offers numerous benefits, including:
An in-depth Exploration of the Job Market allows applicants to get a firsthand experience of the Portuguese job market. This means they can identify booming industries and regions where their skills might be in high demand.
With the freedom to travel across Portugal, visa holders can attend various job fairs, industry conferences, and networking events. This can significantly increase their chances of securing the right job.
One of the standout advantages of the Job Seeker Visa is the ease with which it can be converted into a full work permit. This means that once employment is secured, settling in Portugal becomes more streamlined.
The visa also gives individuals the time to understand Portuguese culture and business practices. This cultural exposure can make the transition to working in Portugal smoother.
The duration of the Job Seeker Visa can be used to take short courses or certifications that boost an applicant's employability in the Portuguese job market.
Once converted to a work permit, it offers enhanced mobility within the European Union, opening doors to opportunities in other EU countries.
Portugal is renowned for its high quality of life, safety standards, and friendly locals. This makes the experience of job pursuit more pleasant and assures applicants of a good living environment once they secure employment.
Eligibility Criteria for the Portugal Job Seeker Visa For Citizens of Bangladesh
For Bangladeshi citizens aspiring to seek employment in Portugal, acquiring the Job Seeker Visa is the first step. This visa acts as a gateway to explore job opportunities in the European nation. Here are the key eligibility criteria for the Portugal Job Seeker Visa tailored for Bangladeshi citizens:
Proof of Financial Stability
Before granting the visa, authorities want to ensure the applicant has adequate funds to support themselves during their job search in Portugal. This could involve showing bank statements or other financial documents.
Valid Travel Insurance
Portugal requires visa applicants to have travel insurance that covers their entire stay's duration. This insurance should cover any health or travel issues that arise.
Educational Qualifications
The applicant's academic and professional qualifications should align with the job sectors they aim to explore in Portugal. Having qualifications that are in demand can be a significant advantage.
Country-specific Requirement
For Bangladeshi nationals, a unique requirement is the submission of police clearance certificates. This certificate is a testament to the applicant's clean criminal record, ensuring they do not pose any security risk to the country.
Job Seeker Visa Requirements in Portugal For Citizens Of Bangladesh
To explore job opportunities in Portugal, Bangladeshi citizens need a Job Seeker Visa. Here's a detailed breakdown of the requirements:
Specific Requirements for Obtaining a Job Seeker Visa in Portugal
Applicants should demonstrate that they have sufficient funds to support themselves during the job-seeking phase in Portugal.
A valid insurance policy that covers the entire duration of the stay in Portugal.
Documentation Needed to Apply for the Visa
Passport with a minimum validity of 6 months beyond the visa duration.
Recent passport-sized photographs as per the visa specifications.
Documentation proving the purpose of stay (such as educational qualifications, CV, etc.).
Proof of accommodation in Portugal.
Eligibility Criteria for the Visa
Academic and professional qualifications relevant to the job sectors targeted in Portugal.
A clean criminal record, typically verified through police clearance certificates specific for Bangladeshi nationals.
Additional Requirements or Qualifications
If the applicant has previously stayed in Portugal or other Schengen area countries, details of those stays might be required.
Some proficiency in Portuguese or English can be beneficial, though optional.
Health certificates or medical records might be requested in specific cases.
Do I need a Contract And a Job Offer To Apply For The Job Seeker Visa?
No, you do not need a contract or a job offer to apply for the Job Seeker Visa in Portugal. The visa is designed to allow individuals to enter Portugal to search for employment. However, having a job offer might strengthen your application.
Job Seeker Visa in Portugal
Purpose and Duration
The Job Seeker Visa in Portugal is designed to allow individuals to enter the country and search for a job. The typical validity is up to 6 months. Once employment is secured, applicants can transition to a work permit or change their visa status.
Contract and Job Offer Requirement
At the time of application, neither a job offer nor a contract is required. This visa is designed for those actively seeking employment opportunities within Portugal.
Effective Job Search Strategies
Utilise any connections in Portugal and participate in local industry-related events or meetups.
Explore local job websites and collaborate with recruitment agencies specialising in your field.
Ensure your CV and cover letter are adapted to the specific roles you're targeting.
While English is prevalent in business, acquiring basic Portuguese skills can enhance employability.
Regularly update yourself on industry trends in Portugal to gain a competitive edge during interviews.
Proactively setting up interviews or having potential job leads before arriving can significantly boost your chances of finding employment within the visa's duration.
Portugal Job Seeker Visa Costs
The application for a Portugal Job Seeker Visa entails several fees, which differ based on the kind of visa you're pursuing:
The cost for a Temporary Stay Visa visa is €75.
This Residency Visa comes at a fee of €90.
Apart from these specific visa fees, there are additional charges to be aware of:
The Portuguese Embassy charges €90 for issuing the entry visa.
Once in Portugal, if you're submitting the application for a residence permit for work at the SEF (Foreigners and Borders Service), it will cost you €83.
Once approved, to receive the residence permit for work from the SEF, you'll be charged €72.
For general visa applications, the fees are:
Adults: €80
Children (6-12 years old): €40
Processing the Portugal Job Seeker Visa can typically take 3-6 months, but this period can vary. Factors like the time of year and the completeness and correctness of your documents can influence the processing time.
Ensure that your application is backed with comprehensive travel insurance. Coverage should be at least €30,000 for medical expenses, as failure to provide this can lead to the rejection of your visa application.
The fees associated with the Portugal Job Seeker Visa application are generally non-refundable, irrespective of the outcome of the visa application. This means that your application for the visa must be accepted to be reimbursed for the fees paid. It's essential to ensure all the documentation and requirements are met to maximise the chances of visa approval.
Applying for the Portugal Job Seeker Visa From Bangladesh: The Process
Applying for the Portugal Job Seeker Visa from Bangladesh involves a systematic process.
Initial Research
Understand the visa requirements and determine your eligibility.
Familiarise yourself with the necessary documents, such as a passport, proof of funds, travel insurance, CV, and educational certificates.
Application Form
Visit the Portuguese Embassy or consulate's official website in Bangladesh.
Download the Job Seeker Visa application form.
Please fill it out diligently and accurately, ensuring no section is left incomplete.
Prepare Supporting Documents
Have all your documents translated into Portuguese or English, as necessary.
Ensure that essential documents like your passport are valid for at least six months beyond your intended stay.
Get necessary documents attested if required.
Schedule an Interview
Once your application form and documents are ready, book an appointment with the Portuguese Embassy or consulate in Bangladesh for an interview.
Remember, punctuality is crucial. Make a note of your appointment date and time and ensure you're there well in advance.
Payment of Fees
After successfully booking your appointment, pay the required visa fee.
Always retain the payment receipt, as it may be needed during your interview or for future reference.
Attend the Interview
Be prepared to answer any questions about your purpose of visit, background, qualifications, and plans in Portugal.
Processing Time
After your interview, your application will be processed. The processing time for the Portugal Job Seeker Visa from Bangladesh is typically between 3-6 months. However, it's essential to check with the Embassy for the most up-to-date timeframe.
Receive the Decision
The Embassy or consulate will inform you once a decision has been made on your visa application.
If approved, you'll be informed about the next steps and when to collect your visa. In case of rejection, you'll be notified about the reasons for denial.
Key Deadlines and Timeframes
Begin applying at least 6-8 months before your intended travel date. This gives you ample time to prepare and adjust if any issues arise.
Once the visa is granted, ensure you travel to Portugal within the visa's validity period.
Renewing / Extending The Job Seeker Visa In Portugal
Being familiar with the world of visas can be a difficult task. Especially when you're in a foreign country with dreams of extending your stay, every detail matters.
For those in Portugal on a Job Seeker Visa, consider renewal or extension, given the country's opportunities. Let's dive into the requirements and procedures to make this process as smooth as possible.
Understand the Grounds for Renewal/Extension
Portugal may allow for the renewal or extension of a Job Seeker Visa under specific circumstances:
If you can provide proof that you're in the advanced stages of securing a job (e.g., correspondence with a potential employer, second or final interview notifications), this could be a valid reason for the extension.
If you've faced health issues that prevented you from job searching effectively, the authorities might consider an extension.
Necessary Documentation
Similar to the initial application, the renewal process demands a thorough compilation of documents. While the exact requirements can vary, typically, you'll need:
Ensure your passport is valid for the duration of the intended extension.
This could be a rental agreement or a letter from your host if you reside with someone.
This ensures you can support yourself in Portugal for an extended period without employment.
Having coverage ensures you won't be a burden on the country's healthcare system.
Communication from potential employers or medical records ensures they are in order.
Application Procedure
The Immigration and Borders Service (SEF) is the go-to for visa-related affairs. Schedule an appointment to discuss your visa status.
Fill out the application form provided by SEF detailing the reasons for your extension request.
Just as with the initial application, there will be a renewal fee. Ensure you keep the receipt after payment.
Await the Decision
Once your application is submitted, SEF will review your documents and reasons for an extension. The duration for a decision can vary, but it's crucial to apply well in advance to stay within your current visa.
Transitioning to a Different Visa
If your Job Seeker Visa extension is not granted, and you've secured employment, you can transition to a regular Portugal work visa or residence permit. Alternatively, if you decide to pursue studies, you can switch to a Portuguese student visa.
Switching From a Job Seeker Visa To Other Visas
Transitioning from a Job Seeker Visa to a more permanent or different visa type in Portugal is a process that requires careful planning, timely execution, and, most importantly, a comprehensive understanding of the requirements.
Transitioning to a Residence Visa for Work Purposes
Once you've secured employment in Portugal, the natural progression is to move from a Job Seeker Visa to a residence visa for employment.
Requirements:
The most crucial document is a valid employment contract from a recognised Portuguese employer.
You must have an income that's equivalent to the Portuguese minimum wage unless you're in specific professions which might demand higher pay scales.
Ensure you have a clean criminal record in Portugal and your home country.
Entrepreneurial and Highly Qualified Professionals Visa
For those looking to set up a business or those with unique skills, Portugal offers a special visa category.
Requirements:
If you're setting up a business, a comprehensive business plan is essential.
Evidence that you have the necessary funds to invest in an existing Portuguese business or establish a new one.
Professionals should possess qualifications that are recognised and deemed beneficial to Portugal.
Golden Visa
Golden Visa is primarily for investors willing to invest in the Portuguese economy.
Requirements:
Different types of investments have different criteria, depending on whether they involve capital infusion, job creation, or other economic initiatives.
Study Visa Transition
For those wishing to pursue further education in Portugal, a study visa might be the next logical step.
Requirements:
A confirmed admission from a recognised educational institution in Portugal.
You can cover tuition fees, living expenses, and other associated costs.
Application Process
Once you have gathered all the necessary documents:
Make an appointment with the Immigration and Borders Service (SEF).
Fill out the application form detailing your purpose and provide all relevant documents.
Pay the applicable fee, which varies depending on the type of visa.
The visa application process and legalities can be challenging to navigate. At Total Law, our seasoned professionals have the expertise and commitment to guide you every step of the way. With a dedicated approach specific to your individual needs, Our Team simplifies the complexities and ensures a smooth legal journey.
Ready to experience unparalleled legal assistance? Contact Total Law now at +44 (0)333 305 9375. Let our experts provide the clarity and support you deserve.
Advice Package
Comprehensive immigration advice tailored to your circumstances and goals.
Application Package
Designed to make your visa application as smooth and stress-free as possible.

Fast Track Package
Premium application service that ensures your visa application is submitted to meet your deadline.
Appeal Package
Ensure you have the greatest chance of a successful appeal. We will represent you in any case.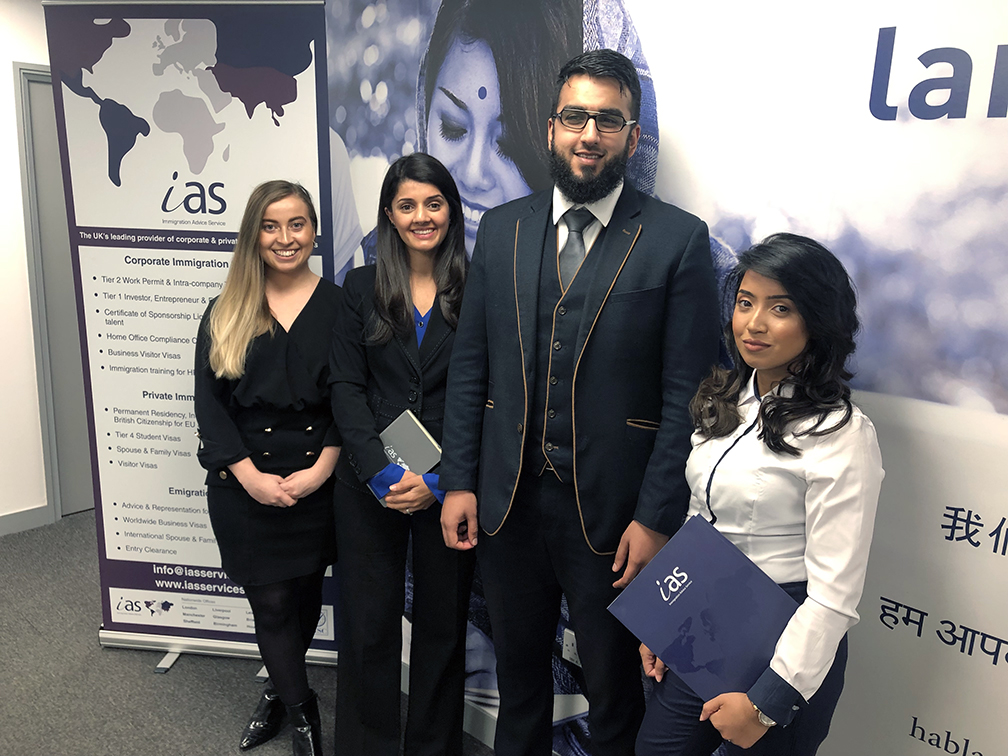 The Advice Package
During this untimed Advice Session with our professional immigration lawyers in London, you will receive our comprehensive advice, completely tailored to your needs and your situation.
Request the Advice Package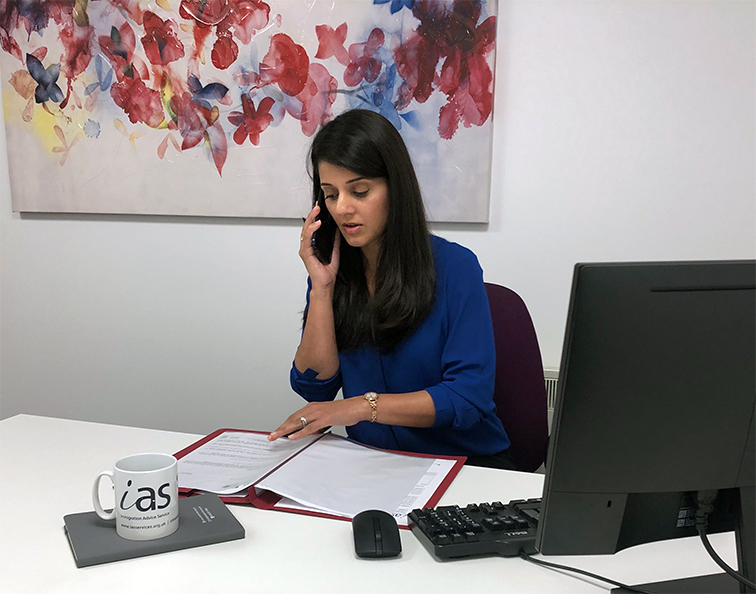 The Application Package
With our Application Package, your dedicated immigration lawyer will advise you on your application process and eligibility. Your caseworker will then complete and submit your forms to the Home Office on your behalf.
Request the Application Package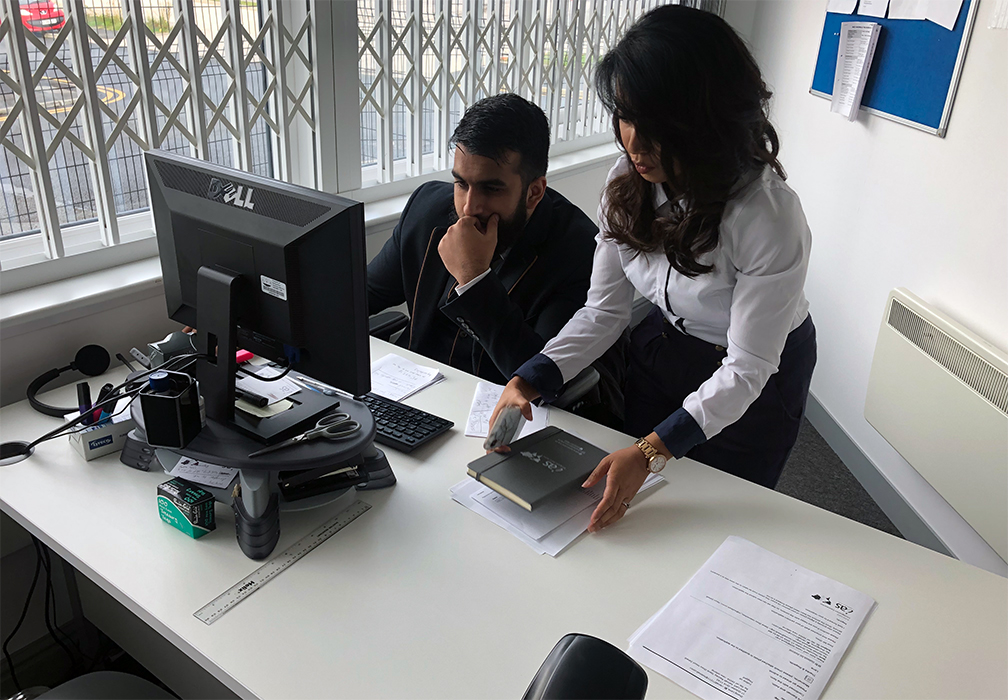 The Fast Track Package
Our Fast-Track Application Package is a premium service for those who need to submit their application in time with their deadlines. Your case will become a top priority for our lawyers and you will benefit from our highest-quality services.
Request the Fast Track Package
The Appeal Package
By choosing our Appeal Package, you can rely on our lawyers' legal knowledge and experience to ensure you have the highest chance of a successful appeal. We will also fully represent you in any hearings/tribunals.
Request the Appeal Package
Related pages for your continued reading.
Frequently Asked Questions
No, a job offer is not mandatory. The primary purpose of the visa is to seek employment in Portugal.
Yes, a job seeker visa in Portugal can be a pathway to permanent residency. However, it's not direct. Initially, the job seeker visa allows the holder to stay in Portugal with the primary purpose of finding employment. Once the individual secures a job, they can apply for a residence permit based on employment. After maintaining legal and continuous residence in Portugal for a set number of years, typically five, the individual can apply for permanent residency. Throughout this period, the individual must meet all residency requirements, maintain a clean criminal record, and demonstrate ties or integration into the Portuguese community.
A job seeker visa is intended for those looking for work. If an international student wishes to work, they'd need to ensure they comply with the terms of their student visa or look into transitioning to a work permit.
The main restriction is the duration; you have a limited period to find a job. During that time, you can only take on work once you receive a work visa or permit.