Portugal Citizenship By Marriage
If you are a Bangladeshi citizen looking to build a life in Portugal with your Portuguese partner, you may be eligible to acquire Portuguese citizenship through marriage.Need help with the application process? Our attorneys can advise you on eligibility,  make sure you have the right documents, and prepare you for the interview. Contact Total Law now at +44 (0)333 305 9375 or reach out to us online.
Overview of Portugal Citizenship by Marriage
According to the Portuguese Nationality Law, a non-EU spouse of a Portuguese citizen can apply for Portuguese nationality after being married for at least 3 years. The couple must have lived together in Portugal during these three years of marriage or union.
To be eligible for Portuguese citizenship through marriage, the Bangladeshi applicant has to meet certain eligibility criteria and pass examinations on the Portuguese language and culture.
If approved, the spouse can have dual Portuguese citizenship, without giving up their Bangladeshi citizenship but they still need to seek permission to do so. This allows them to live, work and study in Portugal and the EU.
"I'm very happy with the standard of training received on the OISC Level 1 course, i passed my exam. Thank you!"
"My application was approved and a huge weight has been lifted from our shoulders this year "
"We used this service for the spouse visa extension application to assure that all the information was valid and correct."
Portuguese Citizenship by Marriage: Eligibility Criteria
To gain citizenship through your marriage to a Portuguese citizen, you need to meet the following requirements:
Be either 18 years old or emancipated according to Portuguese law
Proof of a legally recognised marriage or partnership with a Portuguese citizen for at least 3 years (with children) or six years (without) is required
Basic knowledge of Portuguese language, culture and society
Have a clean criminal record
Both you and your Portuguese spouse must prove that you lived together in Portugal for the 3 years of marriage/partnership
Valid passport
Copies of the Portuguese spouse's ID documents
Demonstrate good character
You can apply for Portuguese citizenship as long as you remain a couple. You won't lose the nationality (even if the union gets annulled later).
If you married abroad, the marriage must be approved and documented in Portugal. However, if you and the Portuguese citizen live in a partnership, you must get judicial recognition of the status by a civil court in Portugal.
Grounds for Refusal
Certain circumstances can complicate or even lead to the rejection of an application for Portuguese citizenship through marriage or non-marital partnership. These include:
Being convicted of a serious crime under Portuguese law that leads to at least a 3-year prison sentence
Being a threat to public health, safety, security, involvement in terrorism
Falsifying documents to support your application
Performing non-mandatory military service for another country
Working in public office in another country that is not primarily technical in nature
Entering the marriage or partnership only to get citizenship
Failing to show a genuine connection to the Portuguese partner or Portuguese community
Applying after the marriage or partnership ended from divorce or death
If the registrar believes any of these situations apply to your application, they must notify the Public Prosecutor. After getting the report, the Prosecutor can start legal proceedings in the Portuguese Administrative Court. When examining these circumstances, you have an opportunity to provide evidence defending yourself. The Prosecutor and Registrar can also give evidence against you.
Do any of these situations apply to you? Total Law's team of immigration experts can review your case and find solutions. If there are grounds to deny your application, we'll help you address them properly. Call +44 (0)333 305 9375 now and get professional help.
Documents Needed To Apply For Portugal Citizenship by Marriage
To apply for Portuguese citizenship through marriage, you must submit certified Portuguese translations along with the original documents. An accredited translator must do the translations, and a Notary must certify each translated document.
Required documents include:
Completed application form
Original and copy of your current Bangladeshi passport
Full birth certificate of your Portuguese spouse
Certified copy of your birth certificate legalised by Apostille or by the Portuguese Consulate with jurisdiction over the area of birth
Copies of your spouse's Portuguese ID and passport
Criminal record from your home country and any countries lived in after age 16
FBI Nationwide Criminal Record- authenticated by Apostille
Proof you never worked as a civil servant or served in foreign armed forces
Proof of Portuguese language skills. However, If you have been married for 5 years or longer, you do not need to prove your language skills.
Although there is no formal citizenship test, you must show that you are proficient in Portuguese. This is most often done by passing a Portuguese culture and language exam called the Certificado Inicial de Português Língua Estrangeira (CIPLE).
You can take the CIPLE exam for a fee of about €70 at any Portuguese-approved testing centre. To pass, you need to score at least 55% overall.
However, you do not need to take the CIPLE language exam if you:
Take free language and culture classes from the government
Show certificates or diplomas from Portuguese classes you passed
Provide school records if you went to school in Portugal
Provide college transcripts if your degree is in Portuguese
Provide letters from employers saying you use Portuguese at work
As a Bangladeshi citizen, you will also need to provide evidence of connections to Portugal and the Portuguese community beyond family. This can include:
Visits to Portugal (photos, receipts, etc.)
Participation in Portuguese clubs or associations
Ownership of property in Portugal
Receipts from hotels, restaurants, medical bills, airlines
In the past, applications were often rejected for lack of proven ties to Portugal. But recent legal changes have made this easier. Specifically, if you have children with your Portuguese spouse or have been married for over six years, your application cannot be rejected for insufficient connections.
Costs Associated With The Application
The main application processing fee is €250 but the total cost of the application process depends on your specific situation.
You also need to pay costs related to getting required documents like official certificates and translations. Any exams or language tests to prove Portuguese proficiency will have their charges too.
Estimate examples of additional costs:
Birth certificate with apostille – €140-250
FBI record with apostille – €70
Language test – €70-150
Translation fees per document – €30-50
How to Apply for Portuguese Citizenship: The Process
Before applying for citizenship you must register your marriage or non-marital partnership in Portugal. This establishes your formal relationship according to Portuguese law. At least one member of the couple must be in Portugal for the registration process.
If married abroad, you will need to register the marriage at the nearest Portuguese Civil Registry Office or "Conservatória dos Registos Centrais". For this you will need the following documents:
A statement from the bride about the name she will use after marriage
A completed declaration form
Birth certificates, legalised by the Apostille
Spouse's ID documents
Prenuptial agreement
The long-form Marriage Certificate that corresponds to the ceremony type (religious or civil) legalised by the Apostille of the Government of the country where the marriage took place
If you are in a domestic partnership, you need legal recognition of the relationship in Portugal. If the partnership started outside of Portugal, a Portuguese court must review and approve the document that recognises the partnership.
After registering your marriage in Portugal, you can begin the application process for citizenship.
You will have to submit the required documents to the Central Registry Office in Lisbon and pay the processing fee.
Portuguese Citizenship by Marriage Processing Time
On average it takes 3 months to register a marriage in Portugal.  Once you receive the marriage certificate in Portuguese, you can apply for your naturalisation as the spouse.  It then takes around 24 months to receive citizenship.
Factors that can delay the process include high application volumes, background checks, and verification of submitted documents. Bangladeshi applicants who meet all requirements can expect to become dual Portuguese citizens within 2-3 years after marriage.
Alternative Routes To Obtain Portuguese Citizenship
Besides marriage or non-marital partnership, there are a few other options for Bangladeshi citizens to obtain Portuguese citizenship.
Naturalization – living legally in Portugal for at least 6 years can make you eligible to apply for citizenship through naturalisation.
Sephardic Jew pathway – this allows for citizenship for descendants of Sephardic Jews expelled from Portugal in the 15th century. The application requires proof of Sephardic heritage.
Investment – investing 1 million euros in Portugal can make you eligible for citizenship.
Exceptional service to Portugal in scientific, artistic, economic or sporting fields.
Each route has specific requirements and procedures to follow. Contact one of our immigration attorneys for the best advice. We're ready to take on your case and provide the support you need every step of the way. Call Total Law now at +44 (0)333 305 9375.
How Can Total Law Help?
At Total Law Help, we specialise in streamlining citizenship processes. With an unmatched success rate, we've assisted many families with relocating to Portugal. Our team of experienced lawyers is here to carefully assess your situation and determine the quickest and most effective path to getting your citizenship.
We handle everything – paperwork, legal formalities, compliance. Plus, we provide you with detailed guidance that is tailored to your specific needs and circumstances.
Don't let complex immigration processes stand between you and life in Portugal. Contact our experts today to start your journey. Call Total Law at +44 (0)333 305 9375 or get in touch with us online.
Advice Package
Comprehensive immigration advice tailored to your circumstances and goals.
Application Package
Designed to make your visa application as smooth and stress-free as possible.

Fast Track Package
Premium application service that ensures your visa application is submitted to meet your deadline.
Appeal Package
Ensure you have the greatest chance of a successful appeal. We will represent you in any case.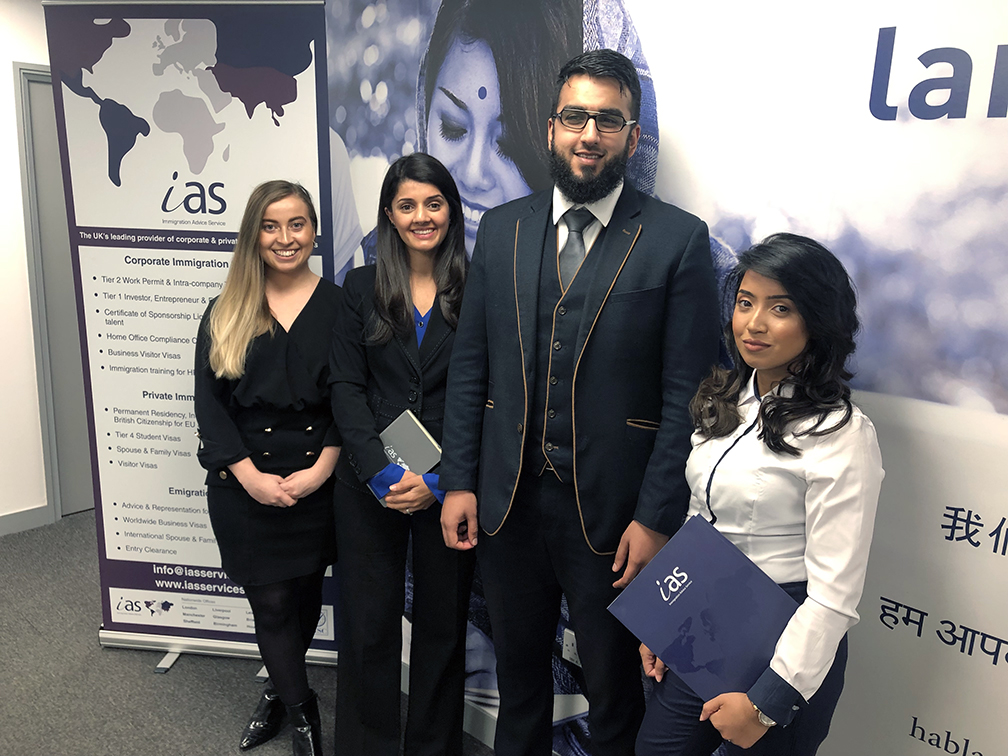 The Advice Package
During this untimed Advice Session with our professional immigration lawyers in London, you will receive our comprehensive advice, completely tailored to your needs and your situation.
Request the Advice Package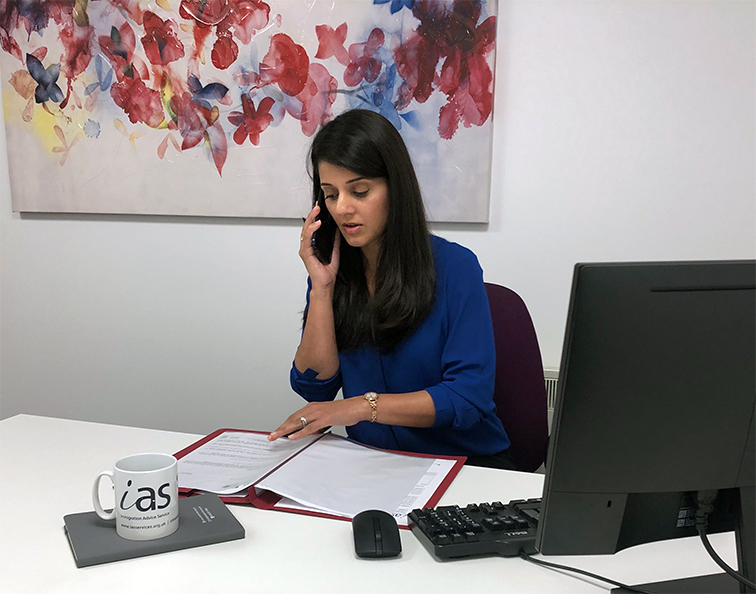 The Application Package
With our Application Package, your dedicated immigration lawyer will advise you on your application process and eligibility. Your caseworker will then complete and submit your forms to the Home Office on your behalf.
Request the Application Package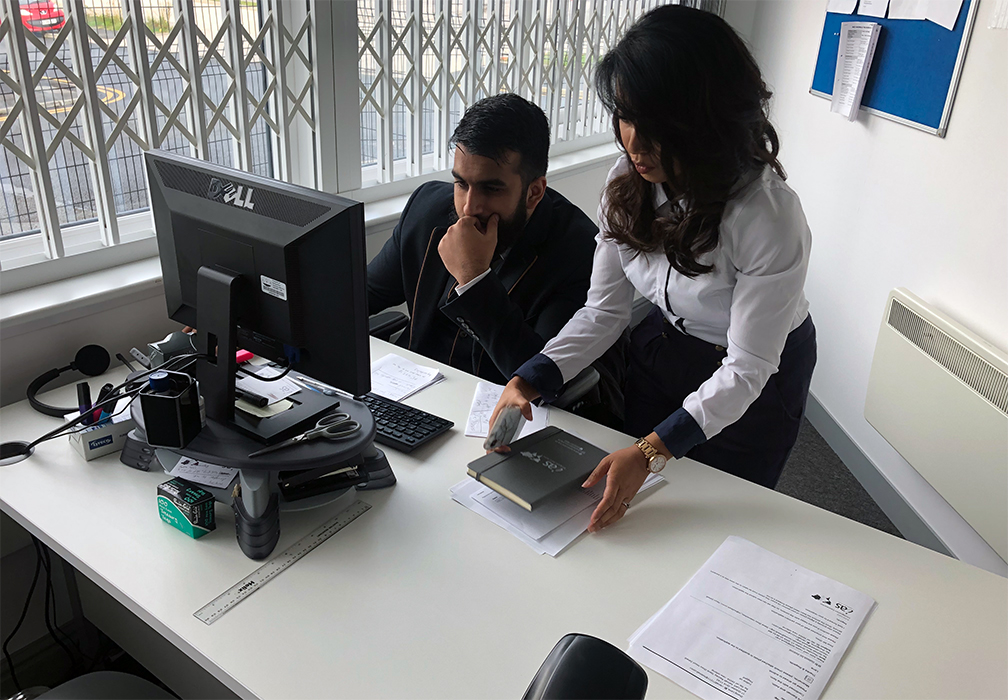 The Fast Track Package
Our Fast-Track Application Package is a premium service for those who need to submit their application in time with their deadlines. Your case will become a top priority for our lawyers and you will benefit from our highest-quality services.
Request the Fast Track Package
The Appeal Package
By choosing our Appeal Package, you can rely on our lawyers' legal knowledge and experience to ensure you have the highest chance of a successful appeal. We will also fully represent you in any hearings/tribunals.
Request the Appeal Package
Related pages for your continued reading.
You can still qualify for Portuguese citizenship through your spouse even if they are only a naturalized citizen. Your spouse does not need to be native-born Portuguese for you to be eligible.
Living in Portugal is not required to get Portuguese citizenship as a foreigner. However, it can help with the process. You do not need to reside in Portugal, but it is recommended you learn some Portuguese. Speaking basic Portuguese shows your ties to the country, even if you do not live there.
Yes, both Bangladesh and Portugal allow citizens to hold dual citizenship.
Bangladeshi citizens are able to obtain a Dual Nationality Certificate, allowing them to have both Bangladeshi and Portuguese citizenship.
If you're a citizen of another country, you should check if dual citizenship is allowed. If not, you may have to give up your existing citizenship to be granted Portuguese citizenship.