France Residence Permits For Canadians
Canadians who wish to move to France can apply for any of the France residence permit types. However, they'll need to meet the eligibility criteria.
Do you want to know more about residence permit France? At Total Law, we have expert immigration caseworkers who can advise you on the kind of French permit you need, how much it will cost, eligibility criteria, and the application procedure. Call +1 844 290 6312 or send us a message online.
The Different Types Of French Residence Permits
There are different French resident permits, and the one you should apply for depends on what you intend to do in France.
The categories of French resident permits are:
Carte de Sejour
For this category of resident permit, you'll need to be in France before you can apply for it. Your application must be made to the French local government near your place of stay in France.
If you live in Paris, you must apply to the Paris Police Prefecture.
Carte de Sejour is the residence permit people with long-stay visas apply for.
Canadians who enter France on a long-stay visa can either have their visas validated to a residence permit or apply for the Carte de Sejour within 3 months of entry into France.
Carte de Resident
You also need to apply for this category of residence permits at the sub-prefecture or prefecture (local government office) in France. The resident permit is for Canadians married to French citizens, retirees, parents of a French national and those who have applied for the renewal of their Carte de Sejour for more than 3 years.
EU Blue Card
The EU Blue Card is a unique residence permit allowing highly skilled Canadians to stay in France and work for up to 3 years.
Authorization of Stay
Canadians can apply for this residence permit if they are volunteers or parents of a sick child living in France.
Below are the general types of residence permits Canadians are eligible for in France:
10-year residence permit.
Residence permit for private and family life.
Residence permit for family members of European Union nationals.
Temporary visitor residence permit of a foreigner.
Foreigner in France: Multi-annual residence permit for seasonal workers.
Talented passport: Residence permit "talent passport (family)".
Talented passport: Multi-year residence permit for a foreigner in France.
Loss of residence permit of family member.
Subsidiary protection.
Long-stay resident permit.
Job seeker residence permit.
ICT trainee residence permit.
ICT seconded employee residence permit.
Trainee residence permit.
European Blue Card.
Liberal/Entrepreneur residence permit.
General multi-year residence permit.
Temporary worker/Employee residence permit.
Retired residence permit.
Residence permit for volunteers.
Residence permit for parents of sick children in France.
"I'm very happy with the standard of training received on the OISC Level 1 course, i passed my exam. Thank you!"
"My application was approved and a huge weight has been lifted from our shoulders this year "
"We used this service for the spouse visa extension application to assure that all the information was valid and correct."
Requirements & Eligibility Criteria of France Residence Permits
You have to meet the France residence permit requirements just as you met the eligibility criteria and requirements for a French visa.
Note that France visas in Canada are meant to grant you entry. However, you must also apply for a residence permit in France.
Below are the documents you need to provide to demonstrate that you meet the e criteria for the French residence permit:
Canadian Passport
You must submit your Canadian passport to be eligible for the France residence permit. The passport proves your nationality and identity. Note that your passport must be valid for up to 3 months after your visa expires.
Again, the passport must have a French visa stamp on it.
Passport Photograph
You must submit 2 recent passport photographs. These photos must comply with the French photo rules. The background of the photos must be neutral; it must only show from your head to your shoulders. Your passport photo must not be older than 6 months.
Proof of Domicile
Canadians who want a French residence permit must show they have somewhere they are staying in France. To prove this, you must present a utility bill bearing your address, like your electric bill. You can also submit proof of your rental contract with a French landlord or a statement of domicile.
Evidence of Income
A French residence permit application requires you to prove you have enough money to live in France. How you demonstrate this depends on the kind of visa that you are on.
If you are a student, self-employed or retired, you must present a bank statement showing you have enough money to last you for at least a year. Students can also submit sponsorship or scholarship letters instead of a bank statement.
If you are employed, you must present your job contract stating your salary. If you are applying for a residence permit renewal, you need to show previous payment slips.
Medical Insurance
You have to show you have travel medical insurance. The insurance policy must be valid in every country in the EU.
Birth/Marriage Certificates
If you are married or have children, you must present these documents as proof.
Note that you have to translate and legalize every document you present that is not written in French. You must submit the original and translated copies to the office handling your application.
10-year Residence card France Requirements
Overview
The 10-year residence card is Carte de Résident de 10 ans. It is a long-term residence permit issued to some foreign nationals.
The permit is renewed after 10 years.
One advantage of the 10-year resident card is that you can work in France without an employer sponsoring your application.
You can get the 10-year resident card as a first-time applicant for a resident permit or after renewing a multi-year or temporary resident permit.
To be eligible for the 10-year resident card, you'll have to fall into one of the categories below:
Spouse of a French Citizen
You must be married to a French citizen for at least 3 years and fulfill the republican integration condition. To prove you have been integrated into the republic, you have shown you have adequate knowledge of French. You must also commit to obeying the rules of France.
You Entered France on a Family Reunification Visa
To be eligible under this category, you must be a family member (child or spouse) of a foreign national with a resident permit. You also must have entered France via a family reunification visa. Lastly, you must have lived in France for 3 consecutive years.
You also need to prove that you have been integrated into the republic.
Parent of a French Citizen
Another way to meet the eligibility criteria for the 10-year resident card is to be the parent of a French national. In addition, you must have held a private and family life residence permit for at least 3 years. You also have to show that you are dependent on the French citizen.
If you leave France for over 3 years, your 10-year resident card will no longer be valid.
Refugee or Beneficiary of French Protection
You and your family can apply for the 10-year resident card if you are under the protection of the French government or a refugee . Your application must be made to the prefecture near your home in France.
Beneficiary of Work Accident Pension
If a French company pays you an occupational illness or work accident pension due to permanent injury, you can apply for a 10-year residence card.
If you are a family member of a foreign national benefitting from a death pension, occupational illness or work accident from a French company, you are also eligible for the 10-year resident card.
Victim of Pimping/Human Trafficking or Domestic Violence
If you are a victim of human trafficking, domestic violence, pimping or forced marriage, you can apply for the 10-year residence card. This route is the only route of obtaining a 10-year residence card that does not require you to pay an application fee or purchase a tax stamp.
Service to the French Legion
This category is reserved for Canadians who served in the army or with an allied force. You can also apply for the 10-year resident card if you had at least a 3-year contract with the military and were issued a certificate of good conduct due to your bravery.
You can also apply if you fought with the FFI (French forces of the interior).
Born in France to Canadian Parents
You can apply for the 10-year resident card if you were born in France to Canadian parents. This option is usually the option if you do not want to apply for French citizenship yet.
Retired Canadians
If you want to retire in France, you can apply for a 10-year residence card. However, you must show that you already hold another resident permit. You will also need to justify why you finally want to settle in France.
How To Apply For a Residence Permit In France As a Canadian
Before applying for a residence permit as a Canadian citizen, it is essential to know where to make your application.
If your visa has the inscription, carte de séjour à solliciter, you are obligated to switch your visa for a residence permit. In this case, you must do this within 60 days of entering France.
Canadians living in Paris must apply for this permit at the Police headquarters.
Canadians living elsewhere must apply for this permit at the sub-prefecture or prefecture near you.
To apply for the residence permit, follow the steps below:
Step 1: Visit the website of your prefecture close to your home in France. If you are in Paris, visit the Police headquarters.
Step 2: Make an appointment with the prefecture, sub-prefecture or Police.
Step 3: Gather all your supporting documents.
Step 4: Visit the prefecture on the day of your appointment. Remember to go with the originals of all your documents.
Step 5: Pay the residence permit application fee of €200. You will also be asked to buy a tax stamp, which will be used to pay for tax on the application fee. This tax stamp will cost you €25. For students, the application fee is €75.
If your visa has the inscription CESEDA R.311-3, you are not obligated to apply for a residence permit. However, you must validate your visa to VLS-TS (Visa de Long Séjour – Titre de Séjour).
You must visit the Office Francais de I'Immigration et de L'Integration (OFFI) within 90 days of entering France.
The process of applying for the VLS-TS is done online.
To apply for the VLS-TS, take the following steps:
Step 1: Go to the website of the Ministry of Interior.
Step 2: You need to supply certain personal information about yourself. Here are the details you need to submit:
Your visa number
Your date of entry into France
Your address in France
Your credit card details, which you will use to pay for the VLS-TS
Your fully completed and signed OFII application form
Your passport photograph
Upon receiving your supporting documents, the OFII will queue your application. It may take up to 3 months for them to respond to your application. After they have reviewed your application, you will get a letter instructing you on the next step.
Step 3: The letter from the OFII may instruct you to go for a medical check, interview, or visit the OFII for an integration contract. You have to follow the directions strictly. If you have had medical examinations done by a doctor approved by the OFII, you can present the certificates you got from them.
Step 4: Pay the VLS-TS administration fee and tax. The admin fee is €200, while the tax on stamp fee is €25.
Step 5: Attend an interview at the OFII. Remember to take along all your supporting documents when going for the interview.
Step 6: Receive your VLS-TS.
If you do not validate your visa or get a residence permit after 3 months of entering France, you will become an illegal occupant and may be forcefully removed from the country.
Furthermore, if you leave the country without validating your visa or getting a residence permit, you'll have to apply for another visa before gaining entry.
The Next Steps After You Arrive In France
Immediately you enter France, you have to apply for a residence permit or have your visa validated.
You can also open a bank account to transact in France easily.
You'll have to choose a good area in France to live in.
Renewing / Extending France Residency Permits
You can renew or extend your French residence permit. You have to make an application two months before it expires.
To apply for a renewal, you must visit the sub-prefecture/prefecture or Police headquarters and submit the same document you submitted when applying for the residence permit.
How Can Total Law Help?
Many people find applying for a residence permit challenging because they do not know how to go about it. This is also coupled with the fact that France's system of applying for residence permits is complex and discourages people from applying for a visa in the first place.
But you can surmount these challenges if you opt for Total Law to help you. Our team of immigration experts have helped many others apply for and get their residence permit. We can help you, too.
Our team boasts of having the best immigration lawyers you can find. They are experienced in French immigration laws, and we can help you apply for a French visa and a residence permit.
Our services include looking over your documents to see if you qualify for the residence permit you are going for. We can also advise you on the proper permit to apply for, help you gather your documents, and finally make an application. Our job is to ensure that this process is smooth and seamless.
Do you want to know more about what we do? You can send us a chat online or call us at +1 844 290 6312 or send us a message online.
Advice Package
Comprehensive immigration advice tailored to your circumstances and goals.
Application Package
Designed to make your visa application as smooth and stress-free as possible.

Fast Track Package
Premium application service that ensures your visa application is submitted to meet your deadline.
Appeal Package
Ensure you have the greatest chance of a successful appeal. We will represent you in any case.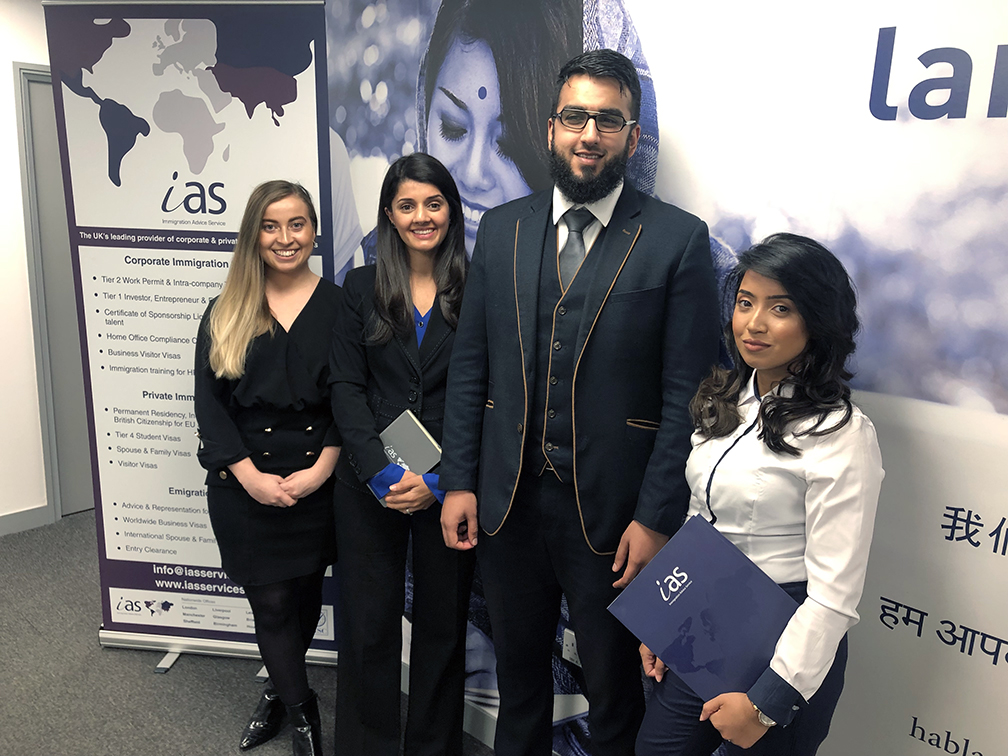 The Advice Package
During this untimed Advice Session with our professional immigration lawyers in London, you will receive our comprehensive advice, completely tailored to your needs and your situation.
Request the Advice Package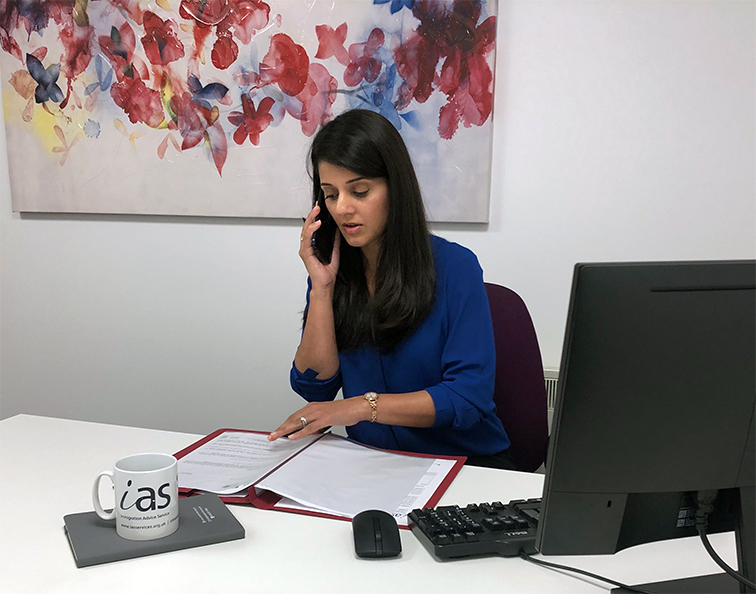 The Application Package
With our Application Package, your dedicated immigration lawyer will advise you on your application process and eligibility. Your caseworker will then complete and submit your forms to the Home Office on your behalf.
Request the Application Package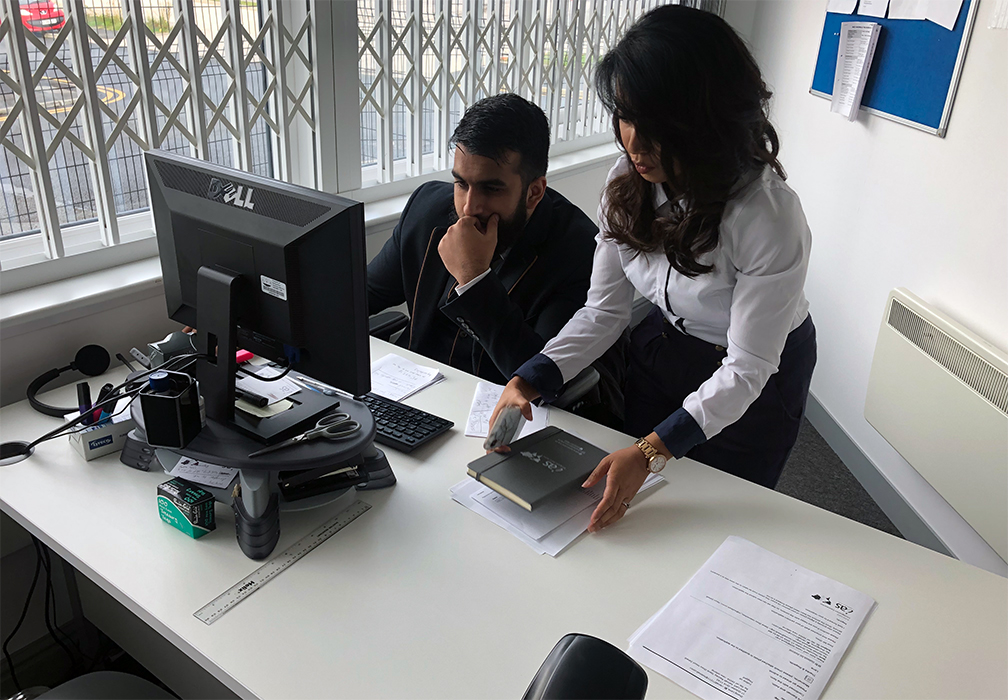 The Fast Track Package
Our Fast-Track Application Package is a premium service for those who need to submit their application in time with their deadlines. Your case will become a top priority for our lawyers and you will benefit from our highest-quality services.
Request the Fast Track Package
The Appeal Package
By choosing our Appeal Package, you can rely on our lawyers' legal knowledge and experience to ensure you have the highest chance of a successful appeal. We will also fully represent you in any hearings/tribunals.
Request the Appeal Package
Related pages for your continued reading.
Frequently Asked Questions
Applications for a residence permit in France can be made online. However, you may need to visit the sub-prefecture/prefecture, Police headquarters or the OFII for an interview. There, you will submit the original documents and their translated copies.
Proof of residence in France demonstrates that you have a place to stay in France. You must prove this by submitting a rental agreement showing your name and address. You can also show that you are living in a hotel or were sponsored or invited to France.
You can bring your family with you when you are moving to France. When you get there, you can also apply for residence permits for them. The validity of their residence permit is also tied to yours.
You can work in France with a residence permit. However, the residence permit must be valid for work. Note that employment-based residence permits can work full-time while students can only work with a residence permit for limited hours. The only category of residence permits that you cannot work is the residence permit for the retired.
You can study in France with a residence permit. However, the residence permit must accompany a long-stay study visa. You may not be able to study in France if your residence permit does not state that you are a student.