F1 vs F2B - which visa is faster?
It can be a confusing process for family members wanting to join lived ones in the US.  One of the most difficult decisions can be deciding which visa route is the most appropriate and an important factor can be how long it will take to obtain either a F1 or F2B visa.
Working with a specialist immigration lawyer can help maximize your chances of a successful application. Call Total Law on +1 844 290 6312 for a confidential discussion about how we can help you and your loved ones settle in the United States.
The F1 and F2B visas
The F2B Visa is a Family Preference Visa that grants a Green Card to unmarried adult children of existing Green Card holders in the US.
This is compared to the the F1 Family Preference Visa is for unmarried sons and daughters of US citizens – a subtle but key difference that impacts on the demand and Green Card processing.
There are fluctuating timescales for the F1 and F2B visas so you may wish to seek advice on which one could be the best option for your current circumstances.
Timescales for the F1 or F2B visa
At the present time, the processing of the F2B visa is quicker than for the F1 visa. However, this situation can often change depending on the progress of the visas so it is worth keeping up to date with the situation in the Department of State's monthly visa bulletin.
Which route is faster also depends on the status of your sponsor and whether they are an American citizen or an American Lawful Permanent Resident (LPR). A US citizen is classed as the highest individual status, while a permanent resident remain a citizen of their birth/home country.
If your sponsor is a LPR there is the possibility they could be deported and there are restrictions on how many family members they are able to sponsor.
US Immigration Services will update the visa category from F2B to F1 if the petition is filed by a LPR who is granted citizenship before the visa is processed. However, it is important to note that this change is optional and can be reversed – which is relevant if the F2B timescales are shorter.
How do processing times change for the F1 and F2B visas?
Many US visas do not have a set timescale for processing and they can change almost on a daily basis due to changing demand and quota caps.
Under the quota system, there are 23,400 F1 visas made available per annum and 114,200 F2 visas (of which 70 per cent or 79,940 are F2A and 30 per cent or 34,260 are F2B).
In addition, no single country is allowed to have more than seven per cent of the total applications for the year.
Once your sponsor has filed Form I-130 (Petition for Alien Relative) it will join the wait queue and it can take a considerable time to reach the top of this. Once, it does you are able to submit an application for either a F1 or F2B visa.
Estimated wait times for F1 and F2B
Waiting to be approved to move to the US can be a very long and stressful process – for both unmarried children and their parents. Unfortunately, there are not guarantees on how long it takes to process a visa or on a priority date can change.
It also depends on individual circumstances and it is not unheard of people wanting several years to be granted permission to move to the US. However, in most cases the average waiting time can be around two years.
Therefore, it is vital that you ensure you complete your application correctly and ensure you provide all required paperwork to avoid any additional delays. If you are unsure what is required that it may be helpful to seek the advice of an immigration law expert.
Changing visa routes?
Under certain circumstances it is possible to switch visa category once the process has started and this could help to reduce waiting times for family members. As mentioned if the sponsor becomes a citizen then the application will be automatically switched from the F2B to F1 route.
This is because F1 visas are for the unmarried sons and daughters of US citizens and their minor children, while F2B visas are for the unmarried children of a green card holder (LPR).
However, it is important to consider this change on the potential waiting times – especially if the F1 category is facing lengthy delays.
Therefore, is is possible to file a formal request with United States Citizenship and Immigration Service (USCIS) to keep to the original route, and retain the original priority filing date.
All of our lawyers are fully accredited with the appropriate legal bodies and you may be confident that the information we provide is fully accurate.
No matter how complex your case is, we can provide a tailored plan to help you achieve your goals. We work tirelessly on your behalf, attempting all legal options to assist you in immigrating to the U.S. with your loved ones and do our best to ensure that your petition is approved.
We recognize that immigration and visa applications are major decisions in a person's life and that they can impact many lives.
That is why we provide the highest care and attention to all of our clients and ensure that they are given all their legal options so that they may make an informed decision about their future and the future of their families.
Your dedicated immigration lawyer will work with you throughout the entire process, communicating with you regularly to answer your questions and advise on the next steps.
At the beginning of the process, you can expect us to give you clear and accurate information about how much the process will cost and an anticipated timeline.
If you have any questions at any stage, our friendly and professional client care teams can work directly with you so that you feel confident in the process.
Call us on +1 844 290 6312 for a confidential discussion about how we can assist you with your immigration case. We look forward to assisting you over the phone or by online call.
You may be interested in reading about.
Advice Package
Comprehensive immigration advice tailored to your circumstances and goals.
Application Package
Designed to make your visa application as smooth and stress-free as possible.

Fast Track Package
Premium application service that ensures your visa application is submitted to meet your deadline.
Appeal Package
Ensure you have the greatest chance of a successful appeal. We will represent you in any case.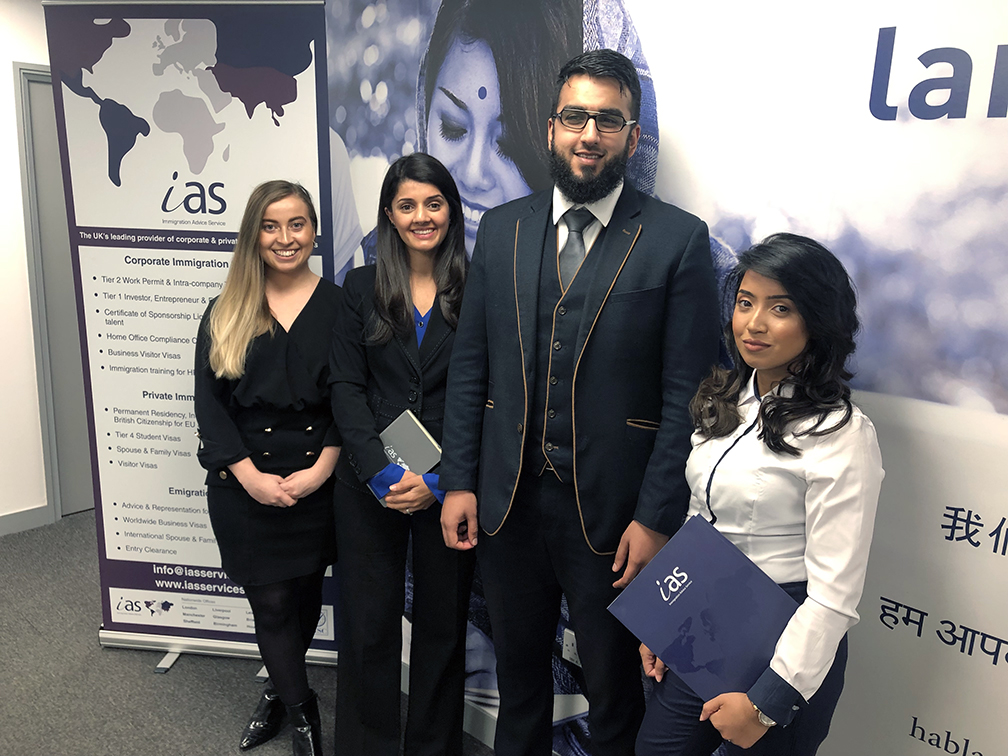 The Advice Package
During this untimed Advice Session with our professional immigration lawyers in London, you will receive our comprehensive advice, completely tailored to your needs and your situation.
Request the Advice Package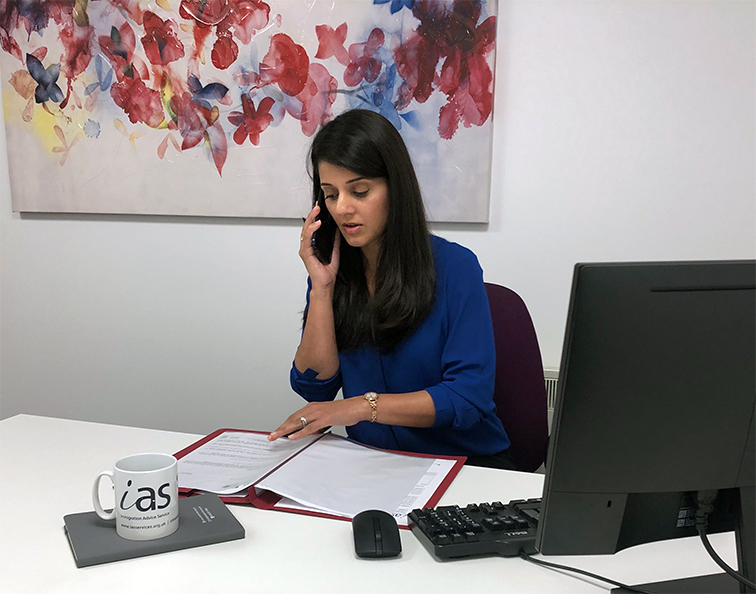 The Application Package
With our Application Package, your dedicated immigration lawyer will advise you on your application process and eligibility. Your caseworker will then complete and submit your forms to the Home Office on your behalf.
Request the Application Package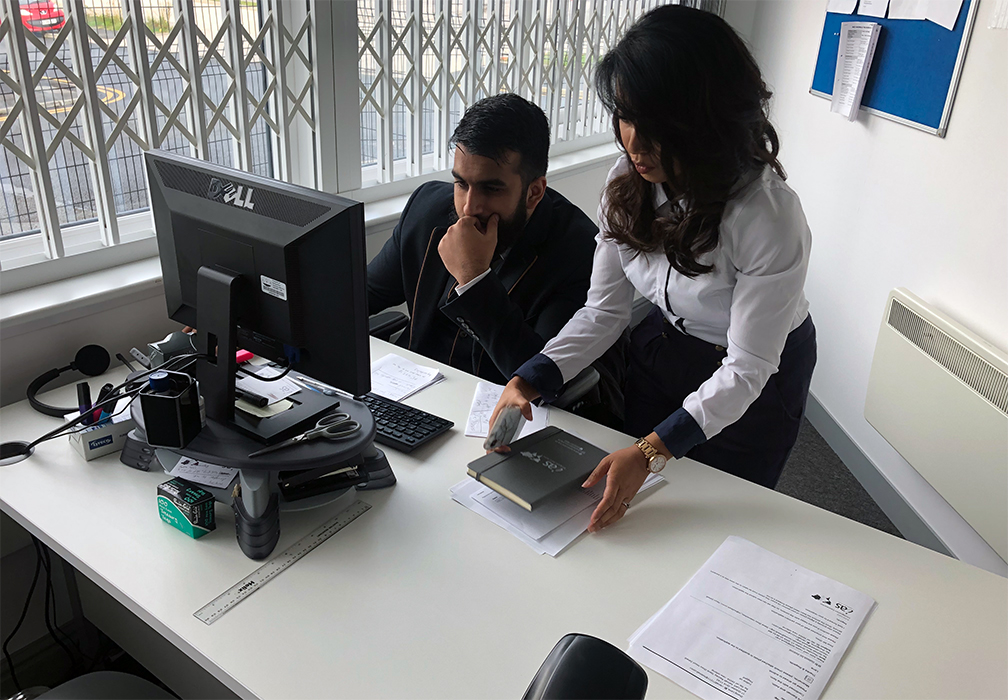 The Fast Track Package
Our Fast-Track Application Package is a premium service for those who need to submit their application in time with their deadlines. Your case will become a top priority for our lawyers and you will benefit from our highest-quality services.
Request the Fast Track Package
The Appeal Package
By choosing our Appeal Package, you can rely on our lawyers' legal knowledge and experience to ensure you have the highest chance of a successful appeal. We will also fully represent you in any hearings/tribunals.
Request the Appeal Package