Next steps after IR5 visa approval
Once your application for IR5 visa approval has been successfully processed there are a number of steps you need to follow to start your new life in the United States.
Working with a specialist immigration lawyer can help maximize your chances of a successful application. Call Total Law on +1 844 290 6312 for a confidential discussion about how we can help you and your loved ones settle in the United States.
The IR5 Visa
The IR5 visa is a family based green card for parents overseas of US citizens who wish to join their child in the US.
The Citizenship and Immigration Services does not put a yearly cap on IR5 visas as it is classed as an Immediate Relative Visa and applicants do not have to wait until their application becomes current.
It is important to make an IR5 visa application for each parent individually and once approved holders can live and work freely in the US without the requirement of an Employment Authorization Document.
The IR5 visa is only for parents so if parents have other minor children living abroad with them they can not bring them to the US on this visa. Instead, the sponsoring child in the US will need to petition for a F4 (Sibling Visa) separately – F4 visas are not regarded as immediate relative green cards by US Immigration Services and therefore do have an annual cap in place.
After your IR5 visa has been approved
There are a number of important next steps once you have been informed that your application for a IR5 visa has been approved by the Citizenship and Immigration Services.
You will receive your supporting documents, such as birth certificate, marriage certificate, vaccination documents etc back – including your passport that will be sent with a courier service.
Your passport will have been updated with a valid visa. You will also receive a sealed packet – you must not open this packet. Instead, it should remain sealed until you travel to the US when it will be given to immigration services on your arrival into the country.
The sealed packet
It can be tempting to open up the sealed packet to check the contents but you must avoid doing this as it must not be tampered with before you arrive in the US.
The sealed packet contains the following documents:
A copy of your IR5 visa application
A copy of your medical examination
Copies of your I.D. such as your birth certificate
I-864 (Affidavit of Support) and any other financial supporting documents
Documents supporting your relationship to the U.S. citizen such as a birth or adoption certificate
Any other information and supporting documents regarded as important to your immigrant visa application
If you do unseal the packet then you will need to contact your local US embassy or consulate to ask them to reseal it.
Travelling to the US
Before you travel to the US you will also need to make sure you have paid the USCIS immigrant fee. This fee can be paid online via the USCIS Electronic Immigration System (ELIS). It is advised that you pay this processing fee as soon possible after being notified that your green card application has been approved- otherwise you could risk potential delays.
You also need to ensure that you travel to the US before your new visa expires – in most cases this means entering the United States within six months.
When you arrive in the US, the sealed packet will be opened by an immigration officer. You should not pack the sealed packed into your checked baggage but keep it in your carry-on so you can access it easily. Once it has been verified you will then be given an "alien number".  This very important number allows you to work in the US and it will be added to your valid passport. It will also allow you to travel in and out of the country while your green card is being processed.
Approval and Welcome Pack
Once your green card application has been approved, the USCIS will send you a welcome pack – "Welcome to the United States: A Guide for New Immigrants". This will be sent within 30 days of application approval.
This pack includes a lot of information about living and working in the US, such as:
Information about your rights and responsibilities as a Green Card holder
Information about potential consequences for criminal behavior
Lists of Federal Government agencies and departments and their contact information
Information about U.S. government assistance programs
Information about how to properly maintain your permanent resident status
Information about how to get a Social Security number, find a job and place to live, seek out childcare, get a driver's license, open a bank account, etc
An overview of U.S. history and civics
Information about becoming a naturalized U.S. citizen
Permanent resident card after approval
The timescale for receiving your permanent residence card will vary as it depends on when you paid the USCIS immigrant visa fee.
If you paid the immigrant fee before entering the U.S. then you will receive your green card within 90 days of entry.
If you paid the immigrant fee after entering the U.S. then you will receive your green card within 90 days of payment receipt.
If you have not paid the immigrant fee then the card will not be processed or sent.
All of our lawyers are fully accredited with the appropriate legal bodies and you may be confident that the information we provide is fully accurate.
No matter how complex your case is, we can provide a tailored plan to help you achieve your goals. We work tirelessly on your behalf, attempting all legal options to assist you in immigrating to the U.S. with your loved ones and do our best to ensure that your petition is approved.
We recognize that immigration and visa applications are major decisions in a person's life and that they can impact many lives.
That is why we provide the highest care and attention to all of our clients and ensure that they are given all their legal options so that they may make an informed decision about their future and the future of their families.
Your dedicated immigration lawyer will work with you throughout the entire process, communicating with you regularly to answer your questions and advise on the next steps.
At the beginning of the process, you can expect us to give you clear and accurate information about how much the process will cost and an anticipated timeline.
If you have any questions at any stage, our friendly and professional client care teams can work directly with you so that you feel confident in the process.
Call us on +1 844 290 6312 for a confidential discussion about how we can assist you with your immigration case. We look forward to assisting you over the phone or by online call.
You may be interested in reading about.
Advice Package
Comprehensive immigration advice tailored to your circumstances and goals.
Application Package
Designed to make your visa application as smooth and stress-free as possible.

Fast Track Package
Premium application service that ensures your visa application is submitted to meet your deadline.
Appeal Package
Ensure you have the greatest chance of a successful appeal. We will represent you in any case.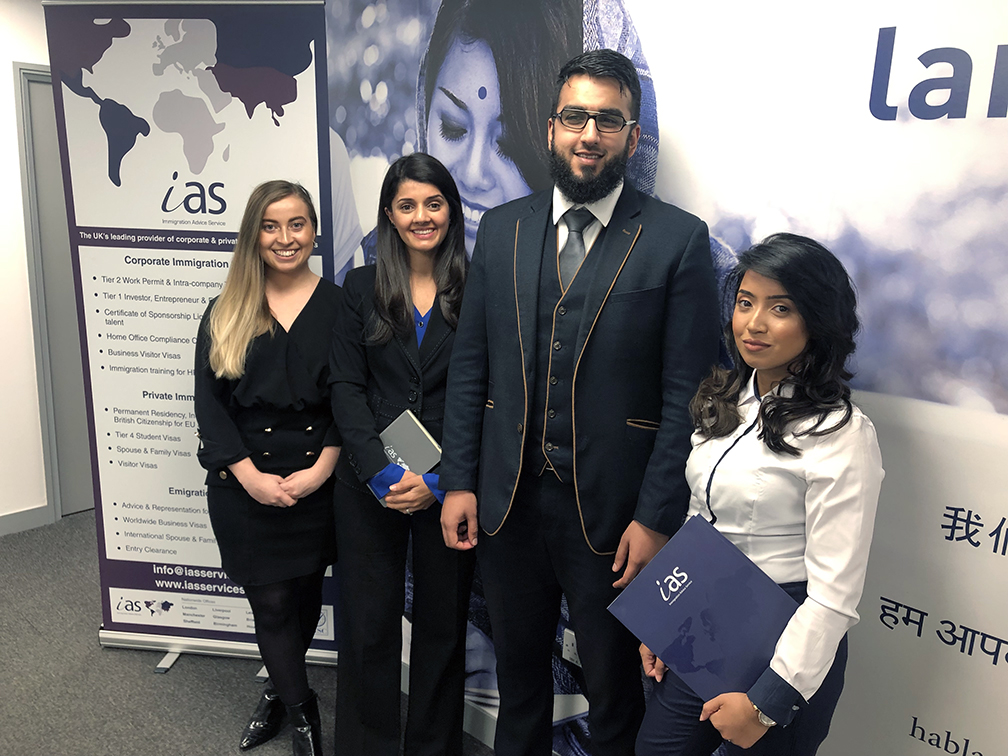 The Advice Package
During this untimed Advice Session with our professional immigration lawyers in London, you will receive our comprehensive advice, completely tailored to your needs and your situation.
Request the Advice Package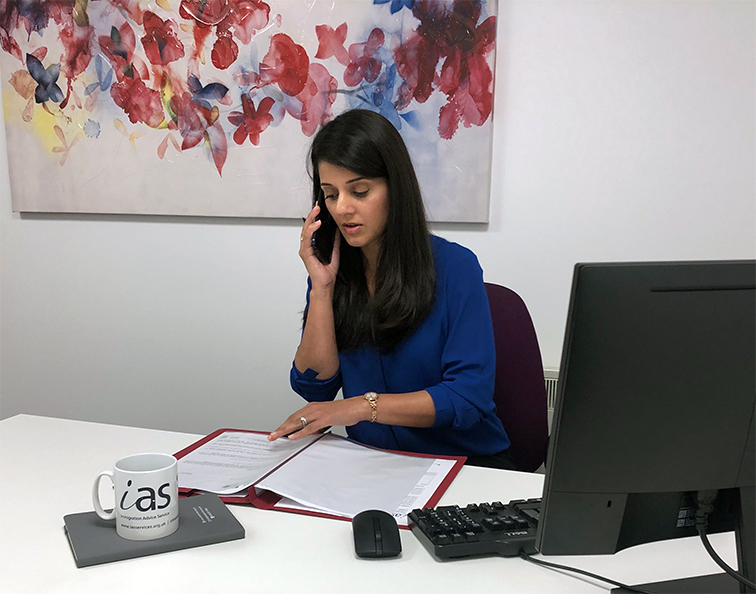 The Application Package
With our Application Package, your dedicated immigration lawyer will advise you on your application process and eligibility. Your caseworker will then complete and submit your forms to the Home Office on your behalf.
Request the Application Package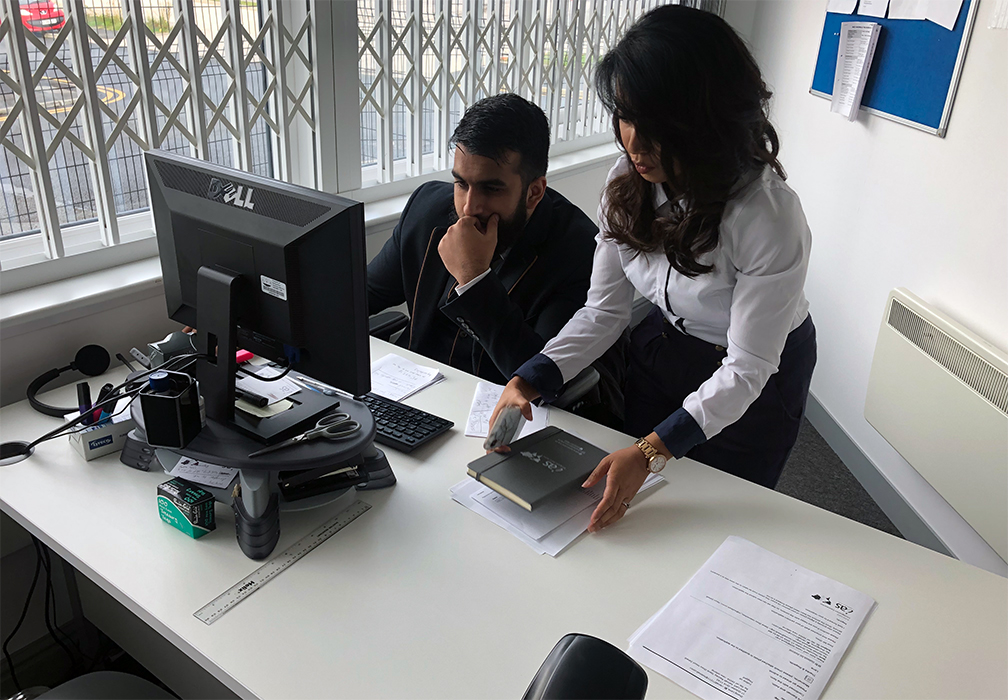 The Fast Track Package
Our Fast-Track Application Package is a premium service for those who need to submit their application in time with their deadlines. Your case will become a top priority for our lawyers and you will benefit from our highest-quality services.
Request the Fast Track Package
The Appeal Package
By choosing our Appeal Package, you can rely on our lawyers' legal knowledge and experience to ensure you have the highest chance of a successful appeal. We will also fully represent you in any hearings/tribunals.
Request the Appeal Package