K3 vs CR1 Visa
The CR1 visa and the K-3 visa are both family-based visas. They allow U.S. citizens to bring their foreign spouses to the United States. But there are a few differences between these two visa types that you should know about if you're considering one of them for your partner.
To get help with the visa application process, call us at +1 844 290 6312 for immediate help and assistance with your situation. We're here to help you in person, via the phone, or online.
What is a K-3 Visa?
The K-3 nonimmigrant visa is for the foreign-citizen spouse of a United States citizen. A K-3 visa lets a nonimmigrant stay in the United States while waiting for an immigrant visa petition to be approved.
The K-3 visa allows foreign spouses to enter the United States and live here permanently while waiting for their green cards. It was created to help US citizens who are separated from their spouses while those spouses complete lengthy immigrant visa paperwork.
In order to obtain a nonimmigrant K-3 visa, a foreign national must have an immigrant visa petition filed on his or her behalf by his or her U.S. citizen spouse and pending approval. It is important to know that a foreign citizen who marries a U.S. citizen outside the U.S. must apply for the K-3 visa in the country where the marriage took place.
People who apply for K-3 visas are eligible to apply for K-4 visas, which allow their recipients to stay in the United States while immigrant visa petitions are pending approval by the USCIS service center.
"I'm very happy with the standard of training received on the OISC Level 1 course, i passed my exam. Thank you!"
"My application was approved and a huge weight has been lifted from our shoulders this year "
"We used this service for the spouse visa extension application to assure that all the information was valid and correct."
What is a CR1 Visa?
A CR1 (or Conditional Resident) visa is an immigrant visa that allows spouses of U.S. citizens to enter the United States.
To qualify for a CR1 visa, the applicant must have been married for less than two years at the time of applying for the visa.
The conditional visa is valid for two years after its issuance. Within that time, the beneficiary and their U.S. citizen spouse must apply to remove the conditions on the green card, at which point they will receive an updated 10-year permanent resident card.
Difference Between K3 and CR1 Visa Application
A K-3 visa and a CR1 visa are both types of visas that can be used to bring your foreign spouse to the United States. The difference between them is in their intended uses.
The main difference between the two is that the K-3 visa allows you to apply to enter the U.S., while the CR1 visa does not allow entry until after your spouse has already been approved for citizenship in the U.S.
In addition, a K-3 visa allows you to live in the U.S., but you can't work unless you have authorization from USCIS or your employer obtains an employment authorization document (EAD) for you from USCIS; however, if you have an EAD, it will allow you to work legally in the United States while waiting for permanent residency status (green card).
Although the K-3 visa is available to spouses of U.S. citizens living abroad, it is usually not the best option and should generally be avoided. This is because the lengthy processing times make it difficult to use this visa as a means of entering the U.S. quickly or avoiding a lengthy application process with expensive fees involved. In most cases, a CR1 visa is a better option because there are no restrictions on employment or travel during its validity period.
K-3/CR1 Spouse Visa Eligibility Criteria
The K-3 visa is available to spouses who are legally married outside the U.S. and meet these eligibility requirements:
Applicant must be a legal spouse of U.S. citizen
Applicant must currently reside outside the United States
A U.S. citizen must have already filed Form I-130 with USCIS (U.S. Citizenship and Immigration Services)
Evidence of your ability to financially support yourself
To qualify for a CR1 visa, you must meet the following requirements:
You and your spouse must be married and provide a valid marriage certificate
The authenticity of your marriage must be proven with evidence, such as photographs or flight itineraries
You must be at least 18 years old and the sponsor must have a residence in the U.S.
K-3/CR1 Spouse Visa Required Documentation
To obtain a K-3 visa, you must bring the following forms and documents to the visa interview:
Completed Form DS-160, Online Nonimmigrant Visa Application
Passport valid for six months beyond duration of stay in the U.S., with at least one blank visa page available for stamping by U.S. Customs and Border Protection (CBP) upon entry into the country
Birth certificate
Two photographs that meets Department of State specifications (2″ x 2″, full face, white background)
Evidence of financial support
Proof of any divorce decrees, annulment documents, or death certificates from any prior marriages
Proof of the relationship with your U.S. citizen spouse
For a CR1 visa, you will need to include following documents:
A passport that will remain valid for at least six months after your arrival
Form DS-260
An affidavit of support (I-864)
Two passport style photographs
Your wedding documents (such as a marriage certificate, wedding albums, and photos of your honeymoon)
Police certificates and court records
Medical exam papers
K-3/CR1 Visa Application Fees
To apply for a K-3 visa, you must submit your I-129F petition and pay the $535 filing fee per applicant. You must also submit Form I-130, Petition for Alien Relative to USCIS. This will cost $535.
The CR1 visa application requires the submission of Form I-130 and Form DS-260 fees, which amount to $535 and $445 respectively.
You will also have to pay a medical examination fee (required for each K visa applicant; costs vary from post to post) and biometrics fees.
There are other costs involved in the application process. These can include translations, photocopying charges, the cost of obtaining documents you need for the visa application (such as a passport and police certificates), and expenses for travel to your visa interview. Costs vary from country to country and case to case.
Sponsor's Minimum Income Requirement For K-3/CR1 Visa
During your visa interview, you will be required to prove that you will not become a public charge in the United States. You can present evidence of your ability to support yourself or your U.S. citizen spouse's ability to provide for you. The consular officer may ask for Form I-134, Affidavit of Support from your spouse.
You will need to submit Form I-864, Affidavit of Support Under Section 213A of the Act, with your application for adjustment of status to that of legal permanent resident following your marriage.
Which is Faster K3 or CR1 Visa?
How long it takes for either of these visas to be processed depends largely on where you file your application—and since there are multiple field offices and service centers across the country, this can vary widely from one region to another.
In general, it usually takes between 4 months and 16 months for K-3 visa applications to be processed. For a CR1 visa application, the waiting time can vary between 10 months and 30 months!
This visa processing time is based on the average time it takes USCIS service center to complete 80% of its cases over the past six months. This may give you an idea of how long your own case will take, but each case is unique and some may take longer than others.
K3 and CR1 Visa Comparison
While the K-3 and CR1 Visas are both a type of visa for spouses of US citizens, there are differences between them, such as the application process and rights and benefits.
Here are the main differences between the two visa types, so you'll know which one is right for you:
| | K-3 Visa | CR1 Visa |
| --- | --- | --- |
| Need to be Married | Yes | Yes |
| U.S. Consulate Involved | Yes | Yes |
| Spouse Location | Spouse is living overseas | Spouse is living overseas |
| Marriage Interview | Yes | Yes |
| USCIS Fees | $535 + Consulate Fees + Adjustment of Status Fees | $535 + Consulate Fees |
| Ability to Travel to the U.S. | Yes, in some cases | Yes, in some cases |
| Processing Time | 4 to 16 Months | 10 to 30 Months |
| Required Forms | Form DS-160, Form I-129F, Form I-130, Form I-134 | Form DS-260, Form I-130, Form I-864 |
How Can Total Law Help?
Are you thinking of immigrating to the United States? If so, we can help you with your K-3 visa or CR1 visa application process.
At Total Law, we specialize in helping people from all over the world who want to move to America. We have a highly experienced team of immigration lawyers and paralegals who are ready to help you with any questions that you may have about your immigration status.
We can help you with everything from preparing the necessary documents to submitting them to USCIS on time, as well as making sure that everything is in order for when they arrive at the embassy.
We'll also be available during processing times if you have any questions or concerns; just give us a call at +1 844 290 6312 for a confidential discussion. We're here to help you in person, via the phone, or online.
Advice Package
Comprehensive immigration advice tailored to your circumstances and goals.
Application Package
Designed to make your visa application as smooth and stress-free as possible.

Fast Track Package
Premium application service that ensures your visa application is submitted to meet your deadline.
Appeal Package
Ensure you have the greatest chance of a successful appeal. We will represent you in any case.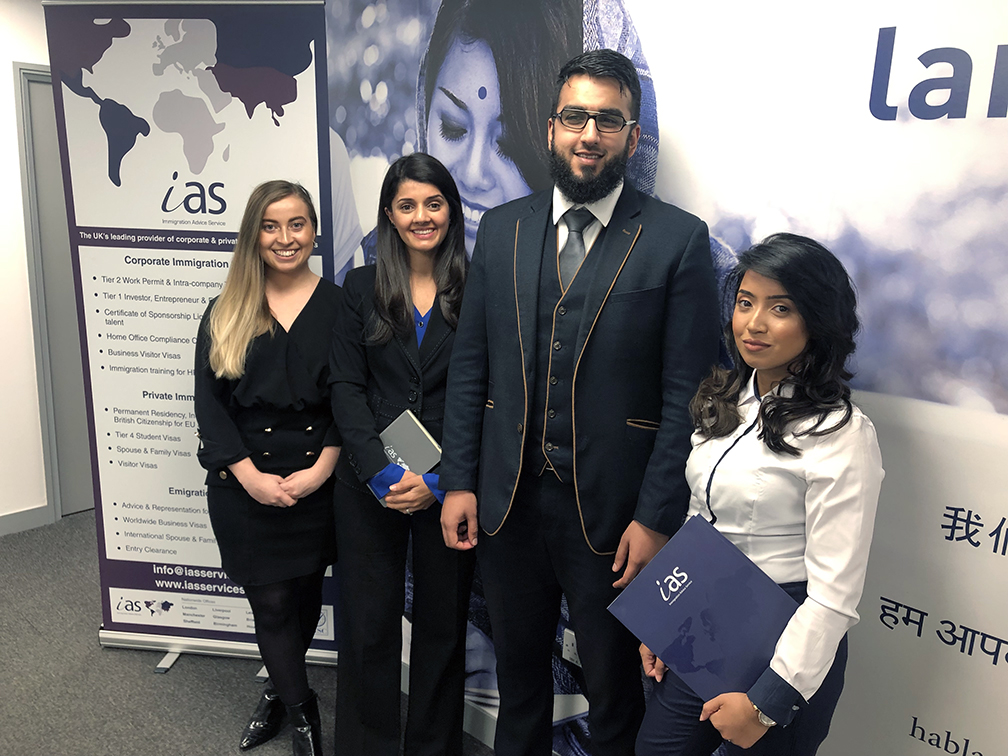 The Advice Package
During this untimed Advice Session with our professional immigration lawyers in London, you will receive our comprehensive advice, completely tailored to your needs and your situation.
Request the Advice Package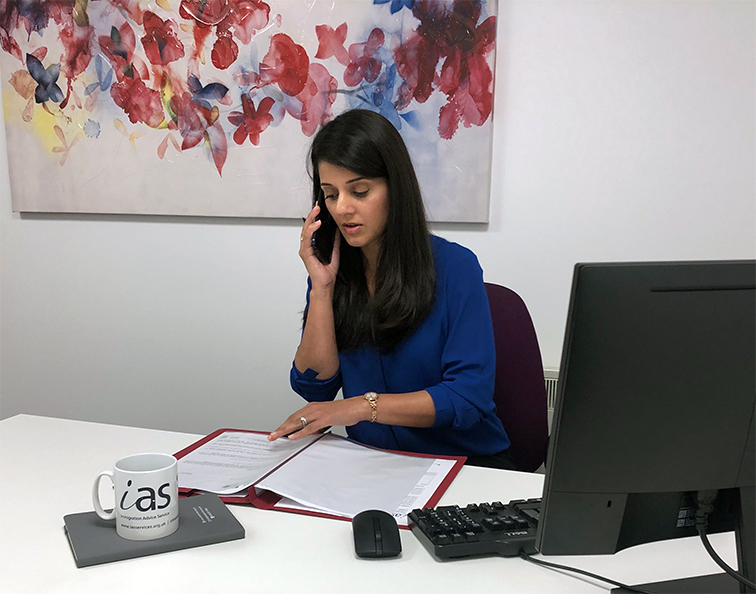 The Application Package
With our Application Package, your dedicated immigration lawyer will advise you on your application process and eligibility. Your caseworker will then complete and submit your forms to the Home Office on your behalf.
Request the Application Package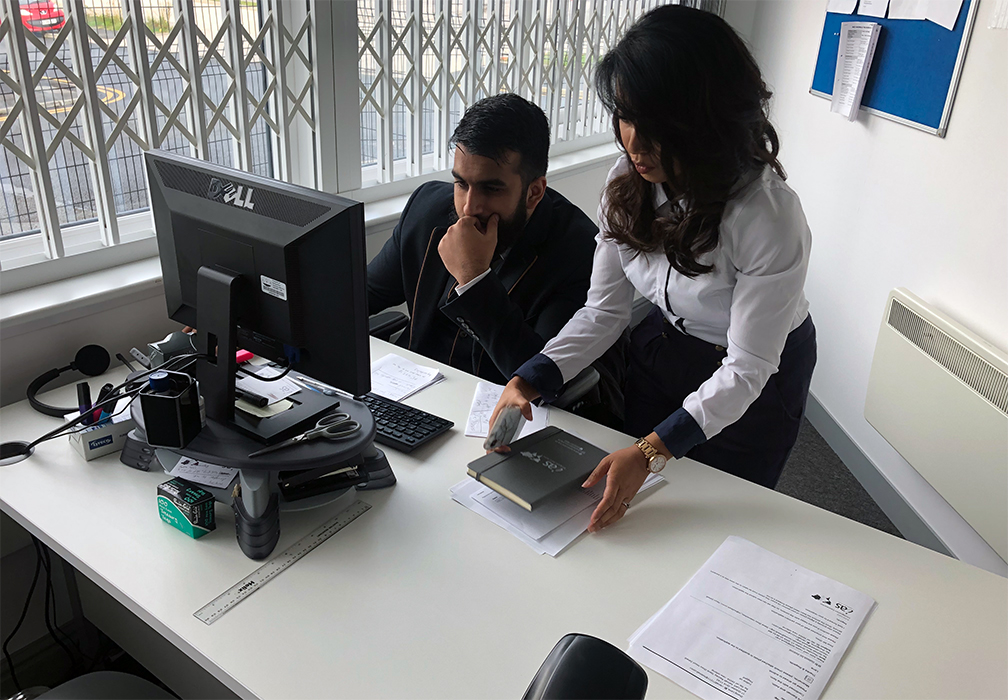 The Fast Track Package
Our Fast-Track Application Package is a premium service for those who need to submit their application in time with their deadlines. Your case will become a top priority for our lawyers and you will benefit from our highest-quality services.
Request the Fast Track Package
The Appeal Package
By choosing our Appeal Package, you can rely on our lawyers' legal knowledge and experience to ensure you have the highest chance of a successful appeal. We will also fully represent you in any hearings/tribunals.
Request the Appeal Package
Related pages for your continued reading.