US Family Visas for Indian Citizens
Are you an Indian citizen who wants to be with your family in the United States? Learn about the different Family Visa options for Indians that can help you bring your loved ones to the USA.
For more information about US Family Visas for the citizens of India, contact Total Law immigration lawyers at +1 844 290 6312. Alternatively, you can connect with us online to access expert legal advice.
Overview of US Family Visas
Family Visas for the citizens of India are the category of US visas that allow Indian citizens to enter and reside in the United States or reunite with their family members who are either US citizens or Lawful Permanent Residents (Green Card holders).
The visas are available for immediate family members, such as spouses, parents, and children, as well as distant relatives in certain cases.
Individual family relationships and circumstances will determining which type of Family Visa is the most suitable.
If you are unclear about the right pathway to take as an Indian citizen then reach out to an immigration expert for support.
"I'm very happy with the standard of training received on the OISC Level 1 course, i passed my exam. Thank you!"
"My application was approved and a huge weight has been lifted from our shoulders this year "
"We used this service for the spouse visa extension application to assure that all the information was valid and correct."
Overview
When it comes to US Family Visas for Indian Citizens, there are categories designed to accommodate various family relationships and reunification needs. Understanding these types of visas is crucial for Indian citizens seeking to bring their families to live in the United States.
Every category of US Family Visa comes with different eligibility criteria, application procedures, and waiting periods. Some routes can be sponsored by US permanent residents while others require the sponsor to be a US citizen
You should seek the advice of an immigration expert if you have questions about which option is the most suitable.
Green Card for Family Preference Eligibility
F1 (Family First Preference Visa) for the unmarried son or daughter of a US citizen aged 21 or over.There is no upper age limit for this Green Card pathway and the sponsor must be a US citizen not a permanent resident.
F2A (Second Preference) for the spouses and unmarried children (under 21 years old) of permanent residents in the US.
F2B  (Second Preference)  is for unmarried children over 21 years of age, whose parent is a permanent resident.
F3 (Third Preference) suitable for the married son or daughter of a US citizen.
F4 (Fourth Preference) is for siblings of adult US citizens.
IR Visa (Immediate Relative Visa)
This category is suitable for close relatives of US citizens. Eligible family members are granted the opportunity to obtain IR visas, which can eventually lead to a Lawful Permanent Residency in the United States.
You're eligible if you're a close family member of a US citizen, including a spouse, unmarried child under 21, or parent. If you're applying for this visa, there's no long wait, as the approval period can be faster. A family member who is a US citizen must complete Form I-130 for you.
CR Visa (Conditional Resident Visa)
The CR Visa, or Conditional Resident Visa, is a category that applies to spouses of US citizens. This visa grants conditional permanent residency status to the spouse and is only suitable for applicants that have been married for two years or less.
When you get a CR visa and enter the US, you become a conditional resident. After two years, you must apply to remove the conditions within 90 days before your second anniversary. If this is successful, you become a permanent US resident.
K1 Visa (Fiancé Visa)
The K1 Visa, often referred to as the Fiancé Visa is available for Indian citizens who are engaged to marry US citizens.
To qualify for a K1 Visa, the petitioner (the US citizen) must be in a genuine and legally binding relationship with the foreign fiancé(e). Both parties must be eligible to marry and they must intend to marry within 90 days of the foreign fiancé(e) entering the US.
The US citizen petitioner initiates the process by filing a petition (Form I-129F) with the United States Citizenship and Immigration Services (USCIS). Once the petition is approved, the foreign fiancé(e) can apply for the K1 visa at the US Embassy or Consulate in India.
After entering the US on a K1 Visa, the foreign fiancé(e) and the US citizen petitioner should marry within 90 days. Following the marriage, the foreign fiancé(e) can apply for adjustment of status to become a Lawful Permanent Resident (Green Card holder).
If the foreign fiancé(e) has unmarried children under the age of 21, they can apply for K2 Visas to accompany their parents to the US. The children must be listed on the K1 Visa petition.
Like the parent, the child can also apply for adjustment of status after the marriage between the parent and the US citizen petitioner takes place.
Applying for a US Family Visa
Here's a process on how to apply for a US Family Visa from India.
Step 1: Determine Your Visa Category
Before you begin the application process, it's crucial to determine the appropriate visa category for your situation.
As an Indian citizen, you may be eligible for various Family Visas, such as F1, F2, F3, F4, K1, K2, IR, or CR, depending on your relationship with the US citizen or Green Card holder sponsoring you. Make sure you meet the specific eligibility criteria for the chosen category or get advice if you are unsure to avoid possible delay or even refusal.
Step 2: File the Petition (Form I-130)
The US citizen or Green Card holder family member who wishes to sponsor you must initiate the process by filing Form I-130, Petition for Alien Relative.
This form establishes the qualifying relationship between you and the petitioner. Ensure that the petitioner provides all needed supporting documents and pays the appropriate filing fee, usually $535.
Step 3: Wait for USCIS Approval
After submitting Form I-130, the USCIS  will review the petition. Processing times may vary between 13 to 53 months, so it is essential to check the USCIS website for updates. Once approved, USCIS will forward your case to the National Visa Center (NVC).
Step 4: Pay Fees and Submit Visa Application
You will receive instructions on how to pay the necessary fees and submit your visa application. The fees may include the visa application fee($185), the Affidavit of Support fee($120), and the visa issuance fee ($185).
After payment, complete the Online Nonimmigrant Visa Application (Form DS-160) and print the confirmation receipt.
Step 5: Collect Supporting Documents
Gather the necessary supporting documents for your visa application. These documents may include:
A valid passport.
Passport-sized photos meet the US visa photo requirements.
Birth certificates, marriage certificates, and other proof of relationships.
Police clearance certificates.
Medical examination reports.
You'll need to show financial evidence. If there are two people, you need at least $22,888. But if there are eight people, you'll need more money, around $58,288.
Step 6: Attend Visa Interview
Schedule a visa interview appointment at the nearest US Embassy or Consulate in India if required.In most cases, children under 14 will not have to attend an interview.  Be prepared to pay the visa application fee, attend a fingerprinting appointment (if needed), and participate in a visa interview. The consular officer will assess your eligibility and the genuineness of your relationship with the petitioner.
Step 7: Visa Approval and Issuance
If the consular officer is satisfied with your interview and supporting documents, they will approve your visa application.
After receiving your visa, you can make travel arrangements to the United States. Keep in mind that the visa allows you to enter the US, but the Customs and Border Protection officers at the port of entry will make the final decision regarding your admission.
What if Your US Family Visa Is Denied?
Visa denials can be disappointing, but they don't necessarily mean the end of your journey. If your visa application is denied, you will receive a written explanation stating the reasons for the denial.
In some cases, you may be able to address the issues that led to the denial and reapply for the visa. This may apply if you failed to provide sufficient supporting documentation or did not complete the form correctly. If your application is refused you will not be refunded your fees.
If the denial is based on immigration issues, consult with an immigration lawyer to understand your options and potential remedies.
Maintaining Your Visa Status
After successfully obtaining your US visa and reuniting with your loved ones, you will need to maintain your visa status and ensure you do not break any of the immigration restrictions placed on you.
Different Family Visas come with varying rights and restrictions, so understanding the rules associated with your visa is essential. Pay close attention to the period for which you are authorised to stay in the US. Overstaying your visa can lead to serious consequences, including deportation and future visa ineligibility.
You should notify USCIS of any change in your circumstances, such as a change in relationship status or address.
Visa Renewal and Extension
If you wish to extend your stay in the United States or renew your Family Visa, you must take specific steps depending on your visa category:
Visa renewal: Some visas may be subject to expiration. To renew your visa, you will need to return to your home country and apply for a new visa at the US Embassy or Consulate. Be prepared to provide updated documentation and demonstrate the continued validity of your relationship with the sponsoring family member.
Visa extension: For certain visa categories, such as the IR Visa, extensions may not be necessary. These visas typically grant permanent residency, allowing you to live and work in the United States indefinitely.
Total Law immigration lawyers understand US immigration laws and regulations, ensuring that your visa application complies with the latest legal requirements.
With our expertise and attention to detail, our legal advisers increase your chances of visa approval by presenting a strong case to the US authorities. We keep you informed about changes in immigration policies, processing times, and any additional requirements, allowing you to stay ahead.
In case of visa denials, Total Law immigration experts can provide legal representation and advocate on your behalf, working to find solutions to overcome obstacles. We ensure that your rights as an applicant are protected throughout the process, safeguarding you from potential fraud or exploitation.
Total Law immigration lawyers maintain open and clear communication channels with you, addressing your concerns and providing regular updates on your case's progress.
For more information about US Family Visas for the citizens of India, call Total Law immigration lawyers on +1 844 290 6312 or contact us online.
Advice Package
Comprehensive immigration advice tailored to your circumstances and goals.
Application Package
Designed to make your visa application as smooth and stress-free as possible.

Fast Track Package
Premium application service that ensures your visa application is submitted to meet your deadline.
Appeal Package
Ensure you have the greatest chance of a successful appeal. We will represent you in any case.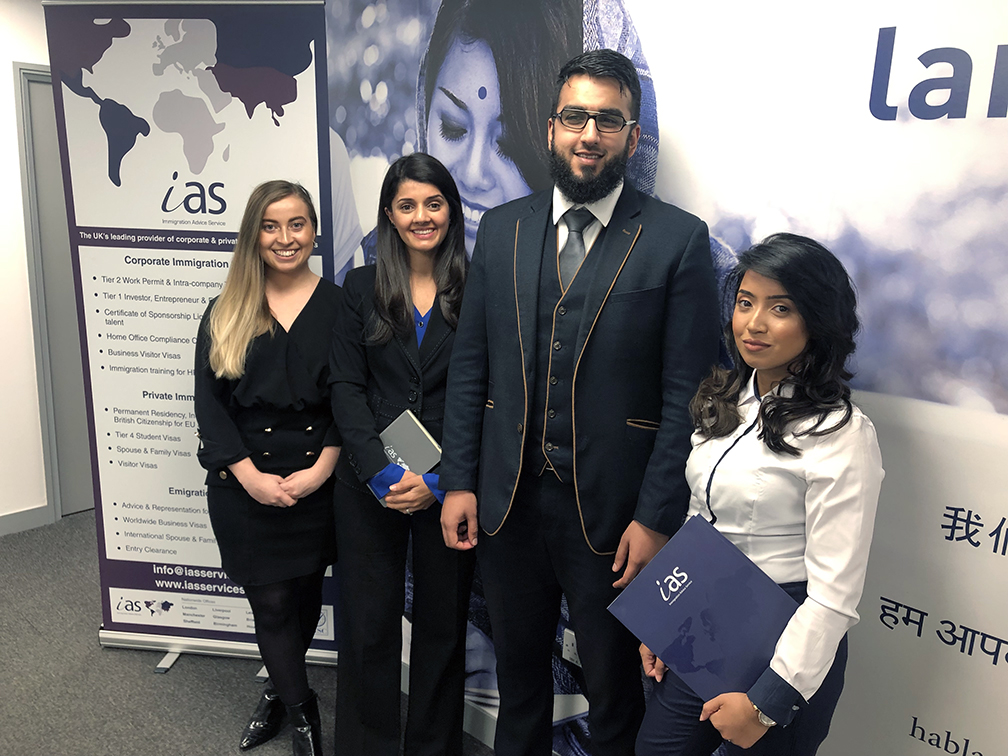 The Advice Package
During this untimed Advice Session with our professional immigration lawyers in London, you will receive our comprehensive advice, completely tailored to your needs and your situation.
Request the Advice Package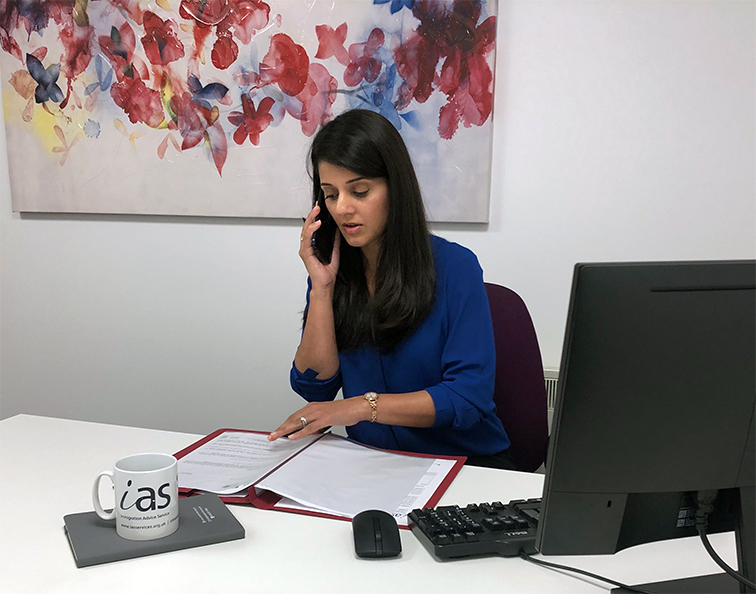 The Application Package
With our Application Package, your dedicated immigration lawyer will advise you on your application process and eligibility. Your caseworker will then complete and submit your forms to the Home Office on your behalf.
Request the Application Package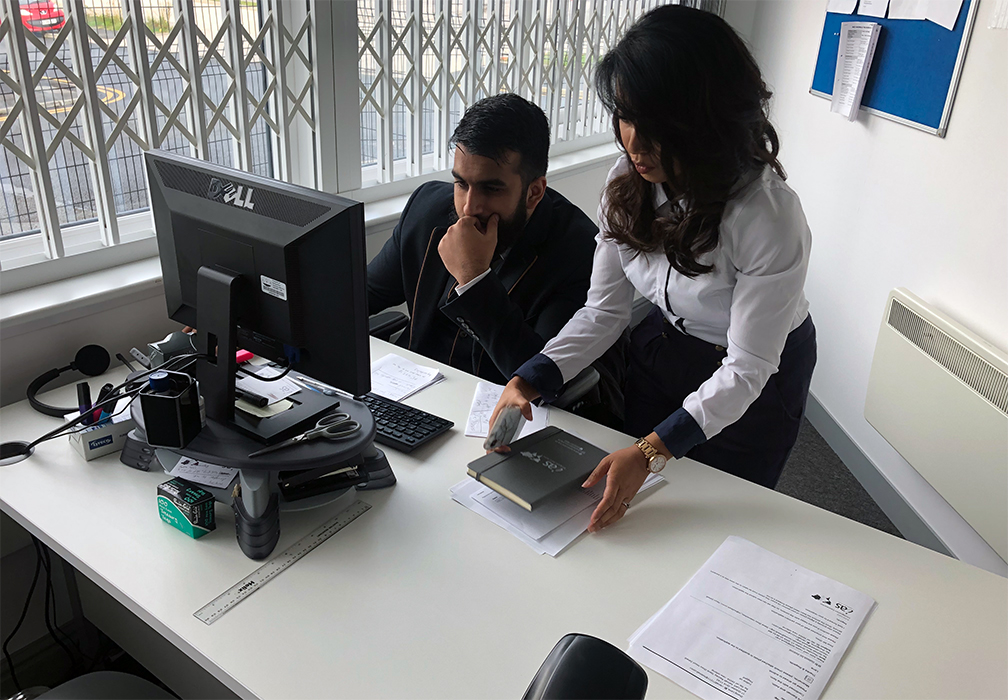 The Fast Track Package
Our Fast-Track Application Package is a premium service for those who need to submit their application in time with their deadlines. Your case will become a top priority for our lawyers and you will benefit from our highest-quality services.
Request the Fast Track Package
The Appeal Package
By choosing our Appeal Package, you can rely on our lawyers' legal knowledge and experience to ensure you have the highest chance of a successful appeal. We will also fully represent you in any hearings/tribunals.
Request the Appeal Package
Related pages for your continued reading.
Frequently Asked Questions
A Green Card, also known as Lawful Permanent Residency, grants you the right to live and work in the US indefinitely. Family Visas are typically temporary and have specific durations. Some Family Visas can lead to Green Card eligibility, while others do not.
In most cases, you must apply for a Family Visa from outside the US. Attempting to change or adjust your status from within the US can be problematic and may require specific eligibility criteria.
Yes, you can travel outside the US while on a Family Visa. However, you must ensure that your visa remains valid and you meet the requirements for reentry.