Ireland Medical Treatment Visa Application
If you need to receive medical treatment in Ireland, the Medical Treatment Visa may be the right visa for you. This visa allows foreign nationals to receive private medical treatment at a private hospital in Ireland.
We can help you acquire a Medical Treatment visa. Call us now on (+353) 061 518 025 for immediate assistance or advice. Or, reach out to us via our online contact form.
What is the Medical Treatment visa?
The Medical Treatment visa is a Short Stay 'C' visa that allows foreign nationals to come to Ireland to receive medical treatment at a private medical facility for up to 90 days.
This Irish visa is designed for those who cannot be treated in their home country. So, applicants must prove they have sought treatment in their country of permanent residence and the hospital they sought treatment is referring them to the hospital in Ireland.
During the application process, they are to provide documents from the referring hospital explaining the diagnosis and the procedure required and confirmation that the procedure cannot be carried out in the referring hospital and country. More information on the requirements is below.
For assistance with this visa, contact our visa experts on (+353) 061 518 025 or reach out to us via our online contact form.
"I'm very happy with the standard of training received on the OISC Level 1 course, i passed my exam. Thank you!"
"My application was approved and a huge weight has been lifted from our shoulders this year "
"We used this service for the spouse visa extension application to assure that all the information was valid and correct."
Who is eligible for the Medical Treatment visa?
To be eligible for the Ireland Medical Treatment visa, you must be a citizen of a visa-required country. Non-visa-required countries are those in the EU/EEA – European Economic Area – and Switzerland. A few other countries in Asia, Africa, and South America are exempt from applying for visas to visit the country.
Another eligibility requirement is that you must have a confirmed appointment with a private hospital in Ireland. You'd be expected to prove this with a letter from the referring hospital detailing your diagnosis, discussions with your referring doctor, and other necessary information.
When applying for Ireland's Medical Treatment visa, ensure that the medical procedure cannot be performed in your country of permanent residence and that you can pay for the treatment in full without needing to work while in Ireland or rely on Irish public services.
We assist with all matters of the Medical Treatment visa application. For information on how we can help you or advise, call (+353) 061 518 025 or contact us online.
Financial and accommodation requirements
To qualify for this visa, you must prove that you have enough money to support yourself while in the country. Although there is no minimum amount, you should be prepared to prove you can cover your accommodation, feeding, medical treatment, and other needs while in the country. The visa officer will decide if you have enough based on your circumstances.
If you pay for your treatment and visit to Ireland, include your bank statement showing transactions over the last six months. If a third party is paying for your trip and treatment, include the name, contact details, proof of relationship, and an explanation of how and why the third party is paying for the treatment.
The Irish government also expects that you have a plan for your accommodation while in the country. You are to describe where you will stay and the dates you will stay there in your application. Printed reservation confirmations are to be included as well.
If you are staying with a friend, family member, or anyone else (not a hotel or similar accommodation), your host must send you a letter with their details which you would submit to the Irish immigration authorities.
How to apply for the Medical Treatment visa
The Medical Treatment visa application process is as follows:
Apply online on AVATS (the visa application website of the Irish Naturalisation and Immigration Service – INIS)
Pay the Irish visa application fee
Send your passport and documents to the Irish visa office for processing
Give your biometric information, if it applies
Not every applicant needs to provide their biometric information. If you live in China, Hong Kong, India, Nigeria or Pakistan, you must provide your fingerprints while submitting your documents at the Irish visa office, embassy, or consulate.
You should apply for a medical treatment visa from your home country (one of which you are a citizen) or a country where you are a legal resident. If you are not a citizen of the country, you are to submit proof of your permission to enter that country.
To prevent delays in your plans, ensure you apply for the Medical Treatment visa at least three months before your planned travel date. You can apply for a Single Journey or entry visa or a Multiple Journey/entry visa.
After submitting your online application, you will be given information on where to send your documents in an application summary. The application summary also includes your visa application transaction number. You will need the visa application transaction number to check the progress of your application.
The application summary would also include the application summary sheet. You are to print, sign, date, and send the summary sheet to the application office along with your documents and passport.
We can help you obtain an Irish visa. For immediate assistance or advice, please call us at (+353) 061 518 025. You can also reach out to us on our website through live chat or our contact form.
Required documents for the Short Stay Medical Treatment visa
You are required to provide the following documents:
Application summary sheets
Application letter
Letter from the referring hospital in your home country
Letter from your private hospital in Ireland
Detailed accommodation plan
Medical or Travel Insurance
Proof of payment of visa application fee
A valid passport and photocopy of previous passports
Travel plans to-or-from Ireland through a different country, if it applies
Proof of permission, if you are applying from a country of which you are not a citizen
Two coloured passport-sized photographs
Finance plan
Obligations to return home
Previous visa refusals from any country
The above documents are to be sent within 30 days of creating your visa application online. Ensure you prepare your documents carefully and submit all necessary ones to avoid delays in processing or visa rejection.
What is the Medical Treatment visa processing time?
The Irish government aims to process all Short Stay 'C' visas within eight weeks. The Medical Treatment visa is a Short Stay 'C' visa, so you can expect to receive a decision about eight weeks after you submit all your documents.
There's no premium processing, but you can reduce delays in processing times by submitting all the documents and not including false or misleading information in your application and documents. Doing so may not only cause delays but may also lead to visa refusal or you being blocked from acquiring an Irish visa for 5 years.
We can help you obtain an Irish visa. For immediate assistance or advice, please call us at (+353) 061 518 025 today.
What is the Medical Treatment visa fee?
The Irish Medical Treatment visa application has two fees, depending on the type of visa you want. They are:
Single entry visa – €60
Multiple entry visa – €100
If you are applying from outside Europe, you may be given other currency options depending on your application office. Extra charges may also apply, such as consular fees; that also depends on your application office.
Citizens of the following countries are exempt from paying fees for Irish visas: Bosnia, Côte d'Ivoire, Ecuador, Indonesia, Jamaica, Kosovo, Kyrgyzstan, Montenegro, Morocco, North Macedonia, Peru, Serbia, Sri Lanka, Tunisia, Uganda, Zambia.
Irish Medical Treatment visa application decision
INIS will assess your application after you have submitted your documents and completed the application. An immigration officer may contact you if they require more information or documents.
The immigration authorities may also contact the Irish police, international agencies, and government departments, if necessary.
If satisfied with your application, your passport will be stamped with the Medical Treatment visa and returned to you alongside your original documents, such as marriage certificates, birth certificates, and other documents.
If your application is refused, you will receive a refusal letter alongside your original documents. The letter will explain why your application was rejected. You can appeal a rejection within 2 months after the date on your letter of refusal.
Duration of stay and visa extension for the medical visa
When your Medical Treatment visa is approved, it is given a validity period. That doesn't guarantee that you can stay in Ireland throughout that time.
When you get to the port of entry to Ireland, an immigration officer will examine your documents and ask you some questions to determine if you should be allowed to enter Ireland for short stay medical treatment.
If the border control officer is satisfied, they will place a landing stamp on your passport, and you will be allowed to enter the country for medical treatment with a specific duration of stay. For Short stay visas, that is usually 90 days. If not satisfied, you will be refused entry.
As a general rule, you cannot extend a Short stay visa. Still, you may be able to extend your visa under unforeseen or emergency circumstances that occurred while you are in the country and before your visa expires. Alternatively, you must leave Ireland and apply for a Long Stay 'D' Visa.
How can Total Law help with the Ireland Medical Treatment visa application?
Total Law is a team of experienced immigration consultants and immigration law specialists with expertise in Ireland's immigration system and law. We can help you obtain a Medical Treatment visa. We understand that navigating the Irish immigration system can be challenging, especially when you do it alone. With us, you have assistance with the application process and any question you may have. Our expertise has helped several individuals secure Irish visas, and we can offer the same quality service as an immigration lawyer, to you.
We provide immigration services that cover advice, which is advising you on your options, the best route for your particular circumstances, and documents or evidence that can help convince the immigration authorities that you meet the requirements for the Irish visa. Also, we provide application assistance, which covers filling out your application to the highest standards and quality to maximise your chances of a favourable decision. We will also help gather the necessary documents and liaise with the Irish immigration authorities on your behalf.
For further information on how we can help you with your visa applications or for immediate assistance or advice, please call us at (+353) 061 518 025. You can also reach out to us on our website through live chat or our contact form.
Advice Package
Comprehensive immigration advice tailored to your circumstances and goals.
Application Package
Designed to make your visa application as smooth and stress-free as possible.

Fast Track Package
Premium application service that ensures your visa application is submitted to meet your deadline.
Appeal Package
Ensure you have the greatest chance of a successful appeal. We will represent you in any case.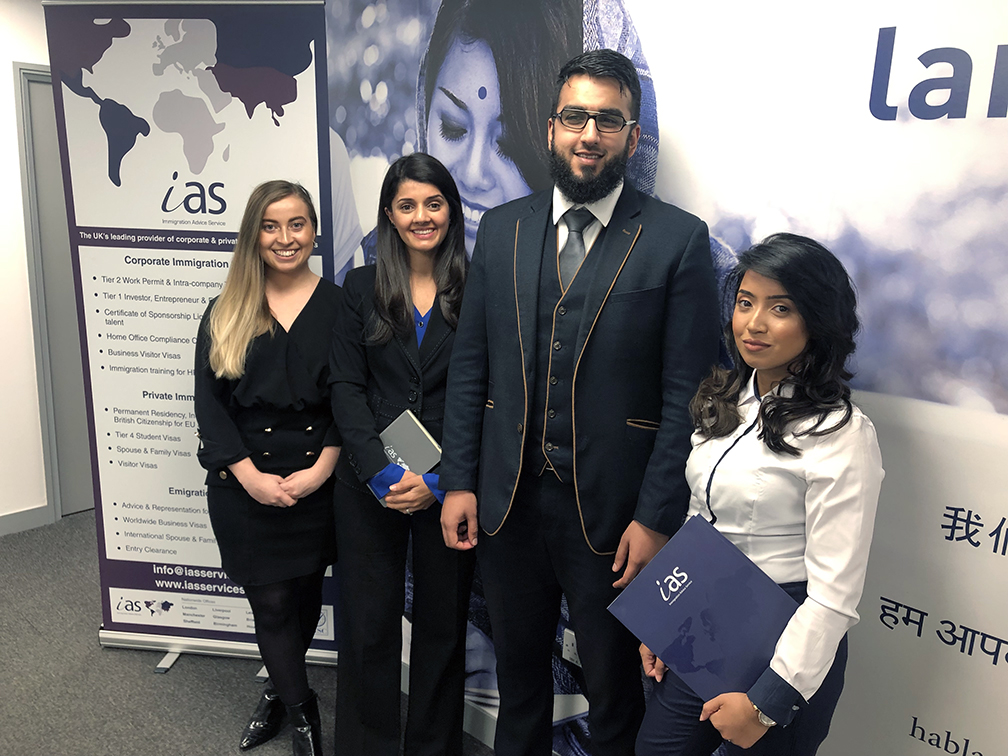 The Advice Package
During this untimed Advice Session with our professional immigration lawyers in London, you will receive our comprehensive advice, completely tailored to your needs and your situation.
Request the Advice Package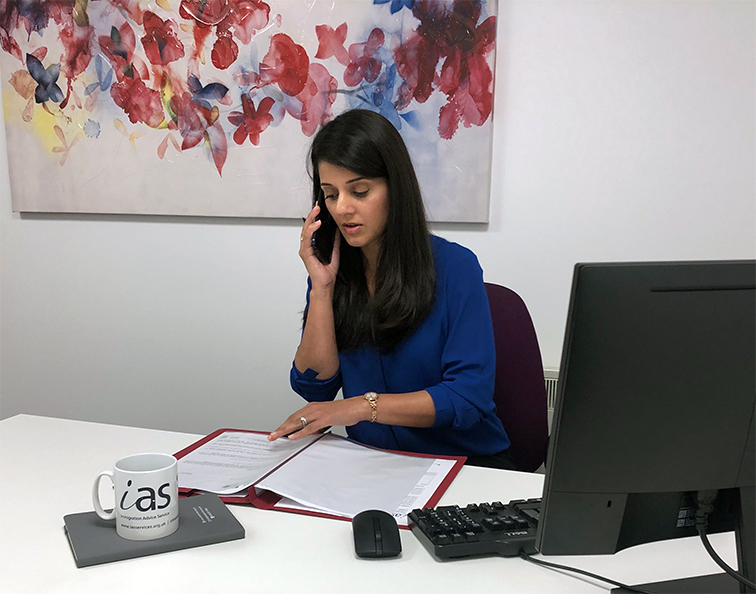 The Application Package
With our Application Package, your dedicated immigration lawyer will advise you on your application process and eligibility. Your caseworker will then complete and submit your forms to the Home Office on your behalf.
Request the Application Package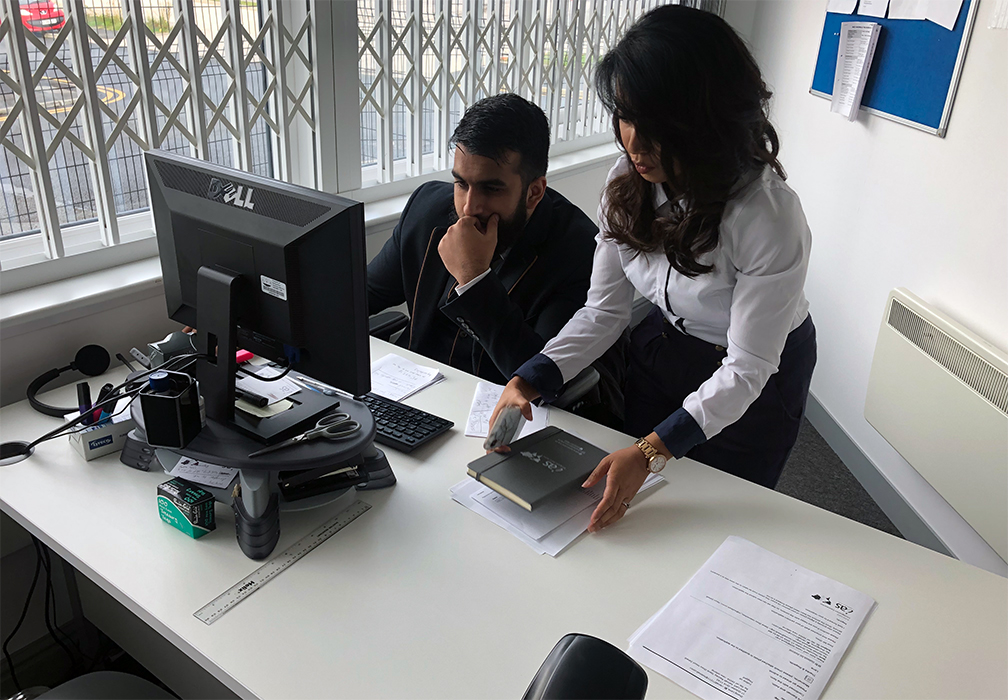 The Fast Track Package
Our Fast-Track Application Package is a premium service for those who need to submit their application in time with their deadlines. Your case will become a top priority for our lawyers and you will benefit from our highest-quality services.
Request the Fast Track Package
The Appeal Package
By choosing our Appeal Package, you can rely on our lawyers' legal knowledge and experience to ensure you have the highest chance of a successful appeal. We will also fully represent you in any hearings/tribunals.
Request the Appeal Package
Related pages for your continued reading.
Frequently Asked Questions
You should send your documents and passport to your application office. When you submit an application on AVATs, you get an application summary that includes the office address to send your documents. Your application office may be an international visa office or an Irish Embassy or Consulate. If you apply from Ireland, your application office may be the Dublin visa office.
The Irish Long Stay 'D' visa gives holders immigration permission to stay in Ireland to work, study, or settle with family members for longer than 90 days. This is the opposite of the Short Stay 'C' visa, which only allows holders to stay in the country for 90 days or less.
Although both territories have Irish people and similar names, you cannot visit Northern Ireland with a visa issued by the Republic of Ireland. To visit Northern Ireland, you need a visa issued by the UK.
The single entry visa allows you to travel to Ireland once during its validity period. Multiple entry visas enable you to visit Ireland more than once during their validity period, subject to the visa conditions, such as not staying for more than 90 days in 12 months if it is a Short Stay visa. In most cases, applications for a multiple entry visa are only approved to those who have had previous visas and complied with Ireland's immigration rules while on those visas.